In February, I purchased a 24" floor loom from my friend Deanna. I warped up her first project while at Joy's, with the girls helping me to get it set up. It took me a while to get it done - I didn't really LIKE the project I was doing, which made me not want to work on it.
But I finally got it done - two towels that I gave a young friend for a wedding present.
I then started another project for another young friend for her wedding. Sister Candy is right - we need to stock up on our items so that a sudden wedding doesn't through us into panic modes (at least ME).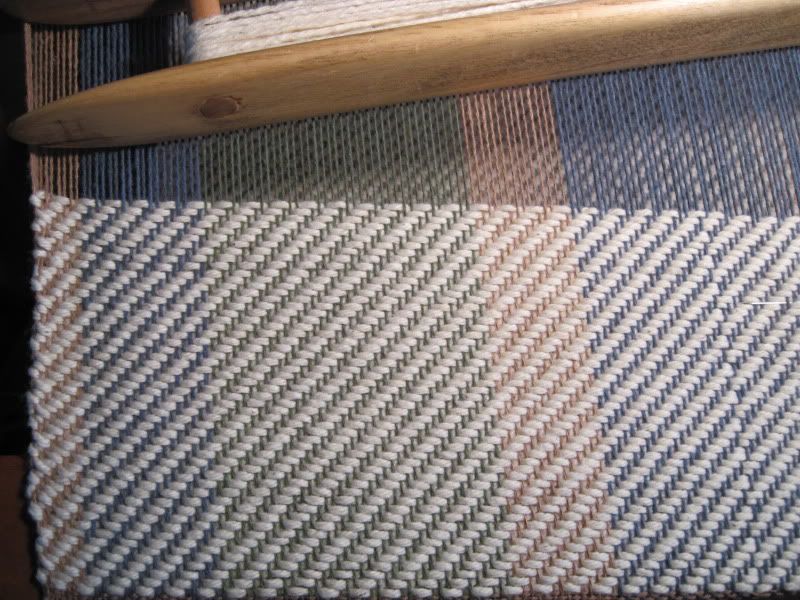 Deanna has had this loom for many years. When we lived at Historic Murphy's Landing, I tested it out, as she offered to sell it to me. I did not have the room or the money at that time.
But I sold a larger loom about a year ago, so had the money and sell
ing the big loom gave me room in the studio.
I have named her "Harriet Dare" ... don't know where that name came from but it fits her. Old fashioned in a way, modern in others.
Now, I have a little bit to talk about in the case of weaving. My fans who are not weavers might like to avert their eyes at this point. The weavers, this is an idea you might like to use.
I have started using "floating" selvedges a few years ago. These are, if you don't know, the selvedge edges put through the reed but not through heddles. Hence, "floating" ... you can raise or lower them to catch as needed. Once you get used to them, there's a great rhythm to it. You lift or lower the selvage as you slide the shuttle through the warp. That way you don't have to worry about getting the selvedge correct while threading the heddles, which is always been my problem.
A while ago I read that some weavers hang their floating selvedges separately with weights rather than have them rolled onto the back beam with the rest of the warp. I tried this with the towels that I made. I think that's one of the reasons I didn't like the towels, as I didn't like that kind of floating selvedge. I went back to attaching them to the back beam, as normal, for these place mats and I like that much better.
Anyway, back to the basics (non-weavers may look this way again). I have the towels done and given away. The mother of the bride approached me last week and told me that Dawn (the bride) had used the towels as table runners (another way of using them) and told me where they were located in her house. I always love to hear how my gifts are being used.
And if I keep in the rhythm for the weaving amount each day, I will have these next ones done before the next wedding.
However, I will not be able to weave for the next three days as Candy and I are meeting Mom in Mitchell, SD. She wanted me to come out but we decided that we would meet in the middle and have Candy join us. Mitchell is about half-way for each of us, and is a nice "little" town to play around in. I will take pictures of what we do and post that some time next week.
Until then, it's a beautiful day today - didn't get down to freezing (just almost) and it will be sunny and warmish today. A brilliant fall day, again. You have a beautiful day.