The last week of September / first weekend of October (last weekend) was Big Island - the educational rendezvous at Albert Lea, MN.
We left here on Monday the 27th to spend a few days with Joy and family. It was Bubba's 12th birthday on Thursday so we wanted to celebrate before we left for Albert Lea on Wednesday.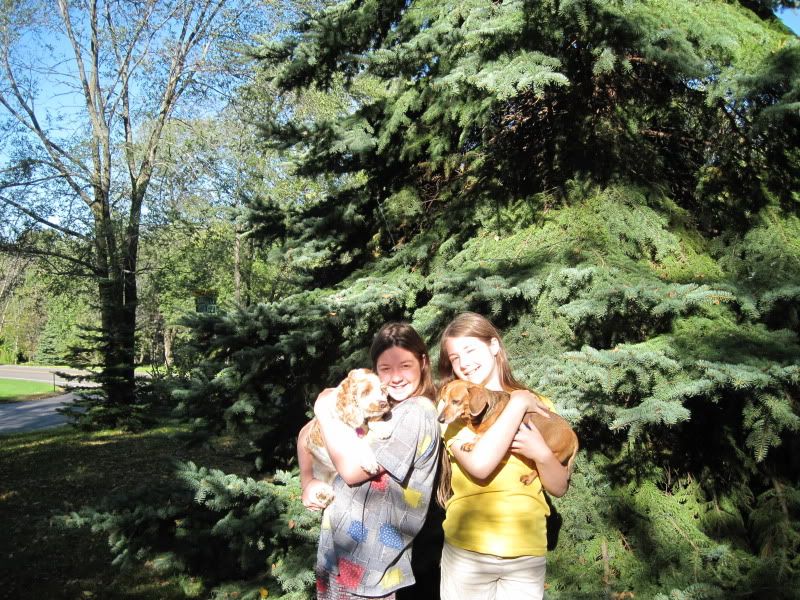 Bitty with Tasha, Bubba with Peanut
We had to take a secondary route to the Cities because Highway 169 was closed between Mankato and Henderson ... the only MAIN way to get from Mankato to the Cities. This closure was because of the rain on September 22nd and 23rd. Many areas, including ours, got up to and over 8" of rain in 24 hours. This caused the Minnesota River, among others, to go out of it's banks and flood many roads all over southern Minnesota.
We arrived in Albert Lea around noon on Wednesday, grabbed some lunch at the local Hy-Vee grocery store and headed to the campground. We stopped at the gate, got our location and started to set up. Once the tent was up, we organized and also visited with friends as they showed up to do their set-ups.
My nice new bed set up before sides go up on the tent
School tours started bright and early on Thursday morning. Norm has a separate set-up for him so that we are not competing with each other when talking / demonstrating to each group.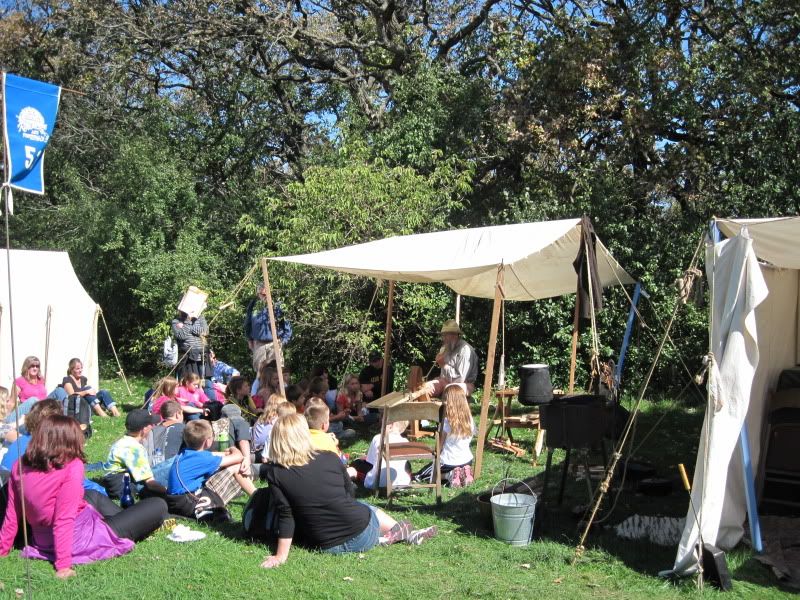 The tent with kitchen and my demonstration area
School tours were both Thursday and Friday - starting at 8:30 and ending about 2:30. So by 3:00, we were free each day to play, visit, get supper ready, relax, whatever.
Demonstrators across the "road"
Food is a slight challenge when camping rustically. We don't use those little propane stoves but either cook over a fire pit or (in my case) a brazier. Bending is a problem for me these past few years, so the brazier is at my height; this year Norm attached a ring to hold the water pot that will swing away so I have both grates free without having to lift the pot up and down, and can always keep hot water for either coffee, tea or washing dishes. I plan ahead and have most of the meal cooked and frozen or home-canned to just put on the fire to heat up. We like to invite friends to meals to add to our camping pleasure.
We had blacksmith Wally come for beef stew and dumplings, as well as a cherry cobbler cooked in a dutch oven. Dave came for supper with hamburgers and purchased potato salad. Ole came for biscuits and gravy for breakfast one morning (NOT a school morning - that's usually just some bacon, eggs and toast). Patience and Harley came for popcorn one night and then chicken and dumplings as well as a blueberry cobbler for desert. Harley complained that he ate too much chicken to enjoy the cobbler!
The weather was perfect! The nights were chilly (alright, downright cold - we had ice on the water buckets one morning) but the stove in the tent kept us comfortably. We bundled up in the mornings until the sun hit the tent to warm the air up; the afternoons were almost hot!
Sunday afternoons are hectic with everyone packing up to go home, so we decided to spend one last night there and head home on Monday - what a great idea (glad that *I* thought of it). There were people who also did the same so we could do some more visiting before heading out.
Then home again on Monday and all the junk of returning from anywhere - unpacking, laundry, re-organizing our thoughts and lives again.
It was a beautiful weekend! Oh, and that floozy? One of Patience's many characters is "Icky Ethel" ... and she always comes to sit on the ground next to my tent and show her pet skunk (pelt that looks real if you move your hand in it) and her Hissing Cockroaches to children. She's the Pied Piper of dirt!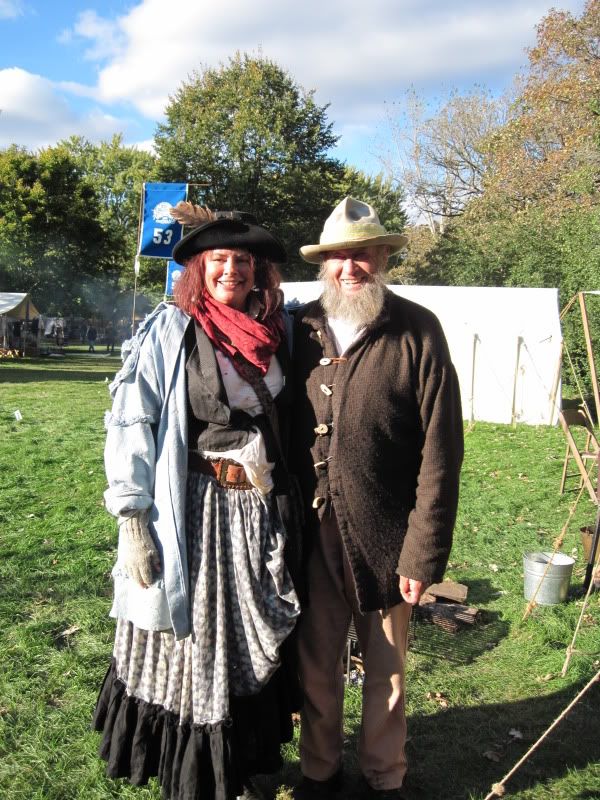 It will be another beautiful fall (summer?) day - it was in the high eighties these past two days. You have a beautiful day.