Yup, you got it ... my mom! Grace Anna Saueressig Childs was born today, 90 years ago on June 10, 1920. She was the youngest surviving child of Robert and Caroline Saueressig. Grandfather S was born in America but Nana (our name for our Grandmother) was born in Norway and came over at the age of 8 or 9.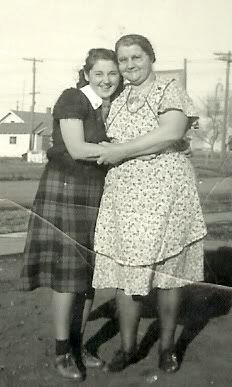 Mom and Nana when Mom was in High School
Mom is on the far left of the picture
Mom is in the center of this picture
In her lifetime, Mom has seen great changes - she has lived through the Great Depression and "Dirty Thirties," World War II, the Korean Conflict, Vietnam and now the Mideast Wars.
She has been married 68 years this summer to my dad. Now, that's a VERY long time to be married! Perhaps not a record but it's the longest marriage that I know of! They got married just after Dad got his wings and became an officer in the Air Force.
Since then, she has followed him to nearly every place that he has been stationed and has taken us along, as well. We have lived in many of the States and in Japan. Mom made a comfortable home of all of us in every place that we lived.
Since Dad retired from the Air Force, their home has been in Rapid City, SD, but they have traveled all over the world, visiting family and friends. They owned several motor homes and crossed the whole nation and went into Canada and Mexico as well.
Now that both of them are older, they have limited their travels but still go traveling. Last year they hit Washington State and Florida, driving to and from by circuitous routes to get there and back.
Recently they moved from the house they lived in for 40+ years and are now in an apartment - NOT a senior citizen complex - they aren't "old enough" for that. But they don't have to worry about plowing snow from the driveway or yard work.
My grandmother, Nana, lived to be 101; my mother has no reason to NOT make it to that great age.
Happy Birthday, Mom!! May you have many more years, blessed with friends and family who surround you!