I forgot to take pictures this weekend!! I had the camera out and ready to use, but never grabbed it!
This weekend was fun, though. We arrived on Friday and got our things unpacked from the van. We have a special corner in the basement area; since it is the two of us demonstrating, we have two tables. There is a bar in that corner, in a little "room" – since it isn't used during our weekend, we put our beds up in there. The manager, Virginia, remembered, last year, that we sleep there, so she left some curtains up from some celebration so we had a private room. Last year I had to take several naps since I had just had my knee surgery.
This year, the curtain was up again. I don't know if Virginia put it up special for us or if there was another celebration, but it was nice to have … we keep out cooler on the bar counter and tuck our boxes and bags in corners. I brought a hot pot and plugged that in for tea in the morning.
We took Peanut's crate in and got that set up so she was comfortable in finding it and sleeping in it. Peanut likes to wander around when it's quiet but heads for the crate when it gets noisy. It makes it easy for me to lock her in when we leave the area for any reason.
On Friday, then, we set up, went up to have a potluck with chili (I don't get it, as it's always too spicy for me) and visited with friends. After going back down, I let Peanut out and visited with friends downstairs.
Our dear friends Tom and Kitty from Pepin arrived; Norm helped them bring their things in and set them up. They started coming last year but think they will not be coming back as the sales are so small that they don't cover travel, much less the cost of the tables.
It was a slow year, according to most people; Norm didn't sell as much as he normally does but I sold four of Joy's handspun skeins and got two special orders for her. This helps her and helps the business, "A Sisters' Thing" – the business that Candy and I are doing. It's a small one and will remain small but will help (hopefully) feed our habits. It's helping Joy, as she gets a large percentage of what she supplies. Joy has become a "production" spinner and her quality is above excellent!
At ten that night, lights were put out. The laughter and talking around the room stopped as everyone went to bed, if they weren't already in bed. I've mentioned in years past about the "Great Minnesota Sleep-Over" – and it is. Most of the people who sell or demonstrate sleep under their tables, in the walkways or (in our case) in corners. Some splurge and stay in motels; some have friends and stay at their houses. One dear friend, Lynn, stayed with a friend last year but mourned that it wasn't as much fun – she missed so much and tucked herself under her table this weekend, a much happier camper.
Saturday morning the lights came on at seven, as people started moving around. It's almost like a camp – lights out at a certain time, rise and shine at a certain time. Some people bring breakfast (Kitty and Tom had cereal and milk), some go to a fast food place, some go to restaurants, and others pop upstairs and get rolls and coffee. Norm always goes up to get his coffee and brings me down a donut or roll. We had fruit in the cooler to add to the breakfast. I had my tea while Norm drank his coffee.
Guests start coming in about nine so we need to be dressed by then. Some have jammies they wear (neighbor leather gal wore red and white flannel cuties)' others wear part of their costume.
I (and other gals) just take my skirt and drawers off and wear my chemise as a nightgown, as the women "back then" would do. The drawers (unmentionable in decent company, but mentioned here to give you more details) are ankle length. The chemise works as a petticoat as well as a blouse as it's worn under a skirt. Some women wear very fancy skirts and over-blouses or jacket called "short gowns" - I have never been comfortable in a short –gown so I am now wearing my working woman's shawl which works as a jacket of sorts. What the woman needs is to cover up her shoulders, back and front with something, as the chemise IS an undergarment and the only things "legally" allowed to be seen in decent company are the sleeves and the top of the garment. Although if you look at pictures or see an older-age movie, a lot of the women show a lot of their fleshy front (to be conservative in words, here) and that was allowed and encouraged. There are some gals at New Ulm that show a lot of their "assets" and I have a hard time looking at them as they pass as it is embarrassing to me to see them. There are fewer and fewer each year, as the ones that used to show a lot are getting older and not willing to corset up as much.
So, here we are at Saturday and the guests are coming. It was hot upstairs (as always) so they left the front door open and the cold air came DOWN – I ended up getting a shawl to wear as it was so cold. Peanut was in her crate with a blanket covering it – not only to disguise it as a gray plastic modern dog kennel but to help keep her warm in there. I let her out several times to go outside but I usually had to reach in and PULL her out!
Norm and I had good questions – not many stupid ones that make demonstrating so much easier on our mentalities!! I had many, many people interested in the weaving this year. I had several that were going to contact weaving guilds to find teachers and / or looms (some had looms gifted them already).
Saturday night we had "our" traditional potluck – the small group of close friends who have chosen to eat together rather than going out to eat or eat alone at the tables. This year it has grown to ten people at the table so we had to find a long table to fit us all on. We each bring something from home that has been fixed and is able to be either re-warmed or chilled, depending on what it is. We sat around visiting and having a good time but headed "home" to our little places early as the time change was that night. I was in bed by nine (old time, ten by morning's time – have I mentioned that I HATE time changes?). Norm went to the bar and got a beer and picked a "screwdriver" up for me, which helped me go to sleep quickly.
We all slept in a little bit later on Sunday; lights didn't come on until eight (new time – seven, old time). We then got dressed, did our hair (doesn't take Norm long), and got ready for another day.
Sunday was a slower day as far as sales and guests but a wonderful day for me because so many of my non-New Ulm friends come to visit all of us. There was Deanna – past owner of new (still unnamed) loom who brought more magazines for me to drool over; she was our boss when we worked at Historic Murphy's Landing. We had Connie J – my criminal other half; while we were both at Murphy's, most people didn't want us together as they felt the "two Connies" would get into trouble – who, us? Sweet little Connies get into trouble? Her daughter, Catie, came down with her. The Murphy's folks raised Catie. She started at about ten and has really grown; she graduated from college and is in the process of finding a job – she has a part-time job that might grow to full time. Kevin and Julie (no, wait, they came on Saturday) are Murphy's friends, too. Kevin is a woodworker like Norm and was my neighbor many weekends while we were out there. The daughter, Melissa, also was a Murphy's child that we raised: she is now in Washington State at college. Patience and Harley – the weekend would not have been complete if they didn't come. Norm and I met them at Murphy's (wait, ALL our friends that came to visit were "Murphy's" people!) when we lived there. They convinced Deanna to allow them to camp (period correct, of course) the whole summer and they spent their vacation there. They were our closest neighbors (a quarter of a mile away from our house in their tent) so Deanna and we would stop over after supper for a visit around their campfire. The friendship has continued; we don't see them often enough but we still stay close.
Then three o'clock came and it was time to tear down. Norm had taken the beds out before opening in the morning so was just a matter of putting things in our plastic tubs (which are hidden during the day) and hauling them upstairs to the van. Peanut's crate was one of the last things taken out so she would be enclosed and safe with all the traffic. Within forty-five minutes, we had said goodbye to everyone and were on the road home.
What a great weekend! Although I don't have current pictures, I did dig up some from last year to share … actually the people stay the same, the booths stay the same, for the most part.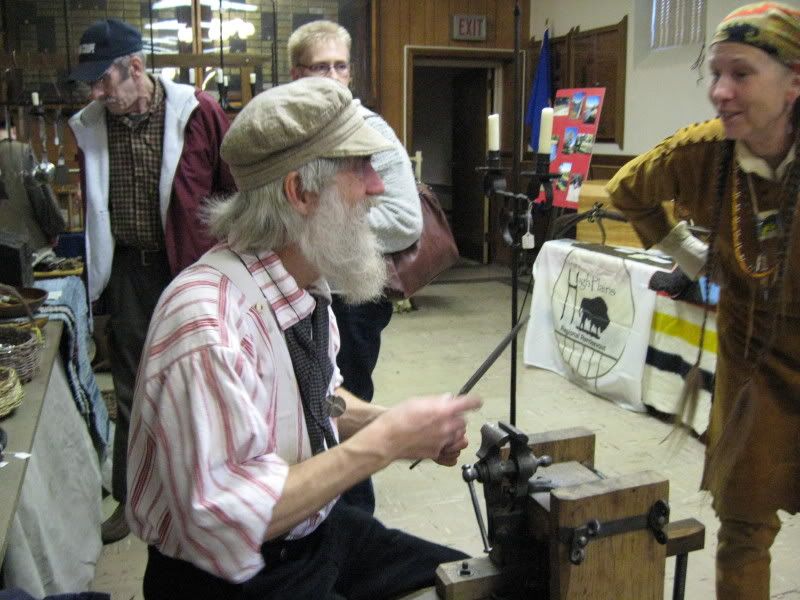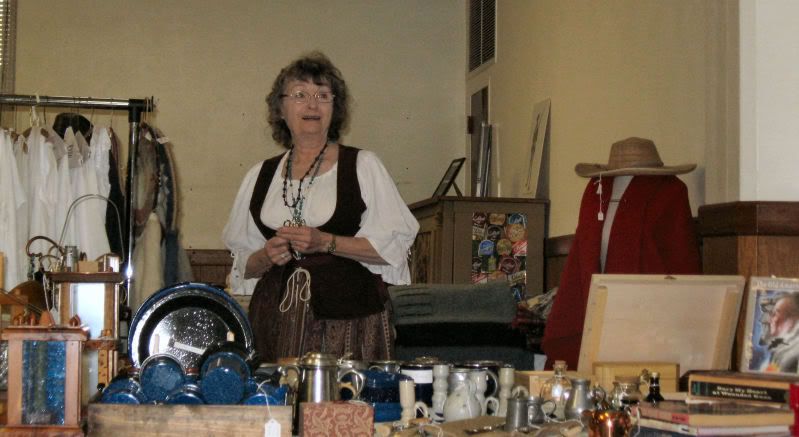 On a weather note, we left on Friday in pouring rain and drove in heavy fog. New Ulm (down in a valley) was overcast and cool but no rain or fog. When we left yesterday afternoon, it was sunny!!! But in fifteen minutes, the sun had disappeared and we drove in heavy, heavy fog. Norm even missed our turn off because of the fog!
It was a beautiful weekend; it will be a beautiful (less foggy) day today. You have a beautiful day!