And the hunter home from the hill."
This is part of a poem by Robert Louis Stevenson. It expresses what I feel when I come home. I am HOME.
I love being with my family and I love traveling but I love being home the best.
Being with my granddaughters for nine days was wonderful. Being able to spend time with Joy and with Ken was also wonderful. I am sure that most of you know that my family is the most important thing to me and I love being with everyone.
Coming home, though, and being home, is the best thing in the world. Now, if I could have family HERE, I'd be happy as a clam.
Ken is slowly getting better. He's stronger and can do more things but is having trouble sleeping. He can't really get comfortable with the staples in his head and the holes in the back of his head. They screwed bolts into the back and the front of his head to hold his head still while doing the surgery. They are tender and bother him when pressed against, even with a very soft pillow. He has gone to church and also to "Small Group" – a small group (of course) that meet once a week for bible study. He goes for short walks on nice days, if Joy is available to go with him. Joy does not allow him out of the house by himself.
While at Joy's, I helped Bitty get her loom fixed … it had problems that needed severe work on. Norm has promised if she works on her loom, he will re-vamp it from a 2 harness to a 4 harness, which makes her very excited.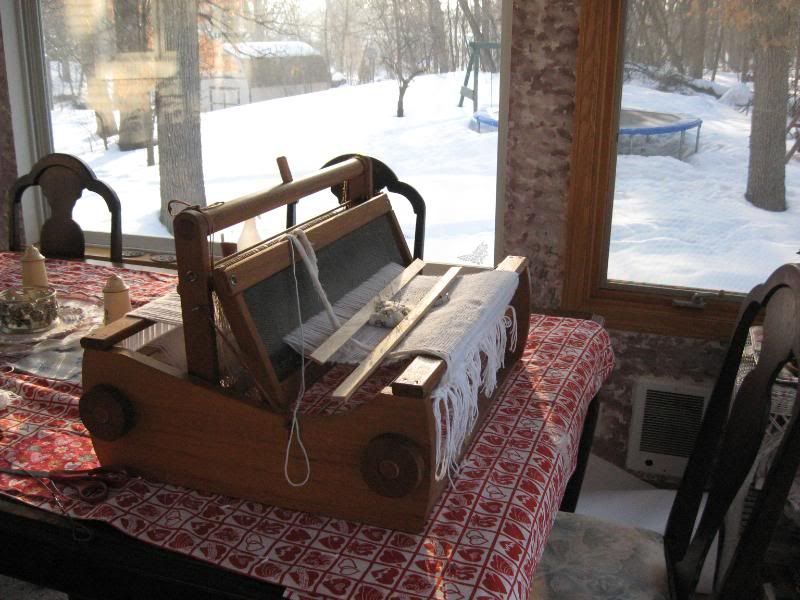 Two-harness loom - making a pillow cover
I also collected my new floor loom from friend Deana (and had a nice lunch and talk with her at the same time). I set it up at Joy's and the girls helped me dress it.
Now that I am home, I have been getting my new loom put in place. I want to name her but haven't come up with a good name. I thought "Pixie" because she's so petite for a floor loom but I think Candy's little wheel has that name claimed. Any ideas?
Please excuse the mess in the studio. I am NOT a tidy person!
I have the first towel going along nicely. It took a while to get into the rhythm of the pattern but it's looking nice. I have about six inches done. I'm still struggling with the tension, but will get it better the next time.
Cherry was emptied, due to the Olympic place mats being done. So I'm threading up another pattern. I think I'll make a table runner with this – about twelve inches wide and about three feet long. Any suggestions as to color? Blue (dark or light?), yellow, yellow / orange, red, brown, tan, green? Suggestions would be gratefully received. If I had a person in mind, right now, I'd have fewer problems.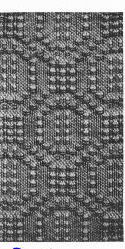 The pattern that I will be weaving ... color ideas would be appreciated
I gave the Olympic placemats (Blooming Leaf) to Ken to use on the TV trays and lap tray that he uses when in the recliner.
Matilda is going great guns … a Bird's Eye pattern. That is designated for my dresser / sideboard in the living room. I've started many projects to go there and always end up giving them away. THIS time, it's for ME!
This weekend we will be going to New Ulm for our annual "Great Minnesota Sleepover" and Rendezvous Trade Fair. Norm is working on spoons to sell and I'm starting to get my boxes repacked for the weekend. Norm has already got the beds out and into the van so that they will be last out. We take a lot of stuff for just the two days but it's worth it. We enjoy going there very much; a lot of good friends are there to spend time with, as well as all the guests who come by to see what we do and (hopefully) purchase something.
It's a foggy / rainy day with the weather just above freezing. It sounds like it will be the same for the next three days or so.
It is a beautiful day to be home. You have a beautiful day.