I finished weaving the four placemats I wanted to get done during the Olympics. I have not hemmed them, yet, but will do so this weekend. Then steam press and they are done!
I finished a small table 'square' of Wall of Troy pattern on "Matilda" (36" loom); I have a long, LONG white warp on so I rethreaded it for a Birdseye pattern and started a table runner today. I might use it myself or I might gift it --- I'd love to sell some of my work but it doesn't seem like hand-woven is selling on Etsy, so it doesn't seem worth the effort to attempt to sell.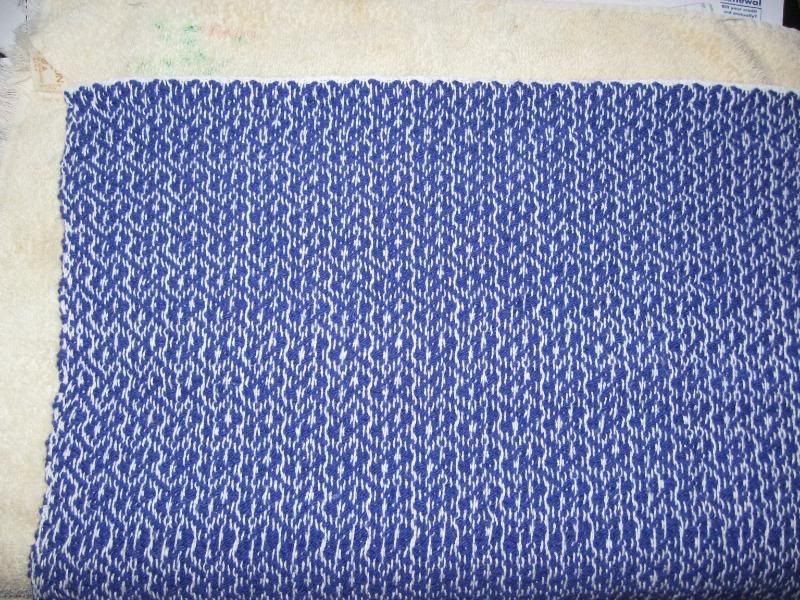 Wall of Troy


I found a "new" weaving blog today; "Weaving Spirit" designs kits for Cotton Clouds, the place I purchase my cotton for weaving. She does exquisite work!
I heard on the news last night that of the first fifteen days of February, we had snow on eleven days. Technically, the Cities had snow that often. Down here, we had it more. When we snowed, very likely it wasn't snowing up there. So I would guess out of fifteen days, we had about thirteen.
We DO get sun once in a while, though. After yesterday's blowing us in, we had sunshine today and a warm fourteen degrees with very little wind.
This morning we head to the Cities to be with Joy and family. Ken's operation is on Friday. I will spend about a week there; Norm will come home and then drive back to pick me up next weekend.
I'd like to stay longer but we have our New Ulm event in two weeks and I need to get ready for that.
Please keep Ken and family in your thoughts and prayers. We are confident that all will work out well, but the more people involved, the better it will be.