A couple of days ago I got a phone call from my darling Bitty. Now, she is 13 ½ and really growing UP in all kinds of ways. It's amazing that this "little" girl is my granddaughter, but it won't be long before she tops me in height! (But many people say … What's new? Nearly everyone does!)
Anyway, she called to talk about weaving. She got a 24" 2-harness loom for Christmas when she was 10. For Christmas this year, she and Bubba requested warp for their looms (Bubba has a 12" 2-harness loom that SHE got for her 10th Christmas).
She wanted to know what kind of patterns you could do on the 2-harness. When she was here for New Year's, we warped up her warp and I gave her instructions on how to dress her loom, which she did with many phone calls to me for assistance. Now she is ready to weave; she told me she had purchased some Peaches and Cream for the weft. (For those of you who don't weave --- most of you, I bet --- the warp is the long threads that go through the harnesses and the reed. The weft is the threads that go sideways and interlock with the warp.)
When Bitty was here, she helped do some weaving on "Cherry," my 15" 4-harness. She wanted to do "twill" on her loom, but you cannot do twill on 2-harness. But I promised her that if she got "into" weaving more, her Grandpa would convert her 2-harness into a 4-harness.
So, when she called (long story to get to this point, isn't it?), we talked about what she could make on her loom. She has a 20" wide warp so she has many choices; I cannot tell you what she has decided to do because she thinks she'll make presents for somebody on the loom. (I told Joy that if she needs help to help her and forget what Bitty was doing so that if it was for Joy, she could be surprised.)
So, again, we talked for a very long time about what I was doing and what she could do; it was a very exciting time for me. I love it when I "convert" someone to a craft I love; to have my very own favorite granddaughter (with brown eyes) fall in love with weaving, my all-time favorite craft!
And, now that we are speaking of weaving, I can finally show you the gift that I finished and sent off. This is for my brother and his soon-to-be wife; their wedding is today! I wanted to be there, but with weather problems all over the nation, Charles talked me out of coming. Well, Norm did, too. Calmer, more logical heads spoke and I had to listen. But I did get his runner done. Actually, technically, it is for Donna. I picked some of her favorite colors and it will fit on her dining room table. It's about 14 ½ inches wide by about 7 feet long.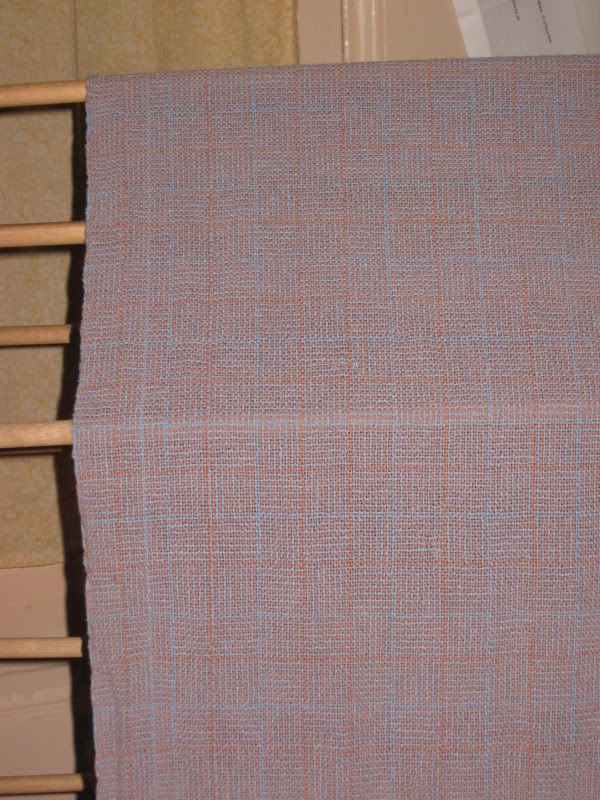 Now that it is done, I have finished a short bread cloth for my own use and have re-threaded Cherry for my next project.
There is a group called Ravelry that is mostly knitters, but other fiber crafters are welcome. The group has an Olympic event going on (Yarn Harlot has one, too); you start your project on Opening Ceremony night and have to have it finished by the Closing Ceremony. I have chosen "Blooming Leaf" for the pattern – the warp is white and the pattern will be Prussian Blue. I have enough warp to do more but my goal is to finish this project by the end of the Olympics.
My project is 4 place mats that need to be off the loom, at least, if not hemmed and pressed and ready for sale or gifting. I have the loom ready to weave now, and will start that this afternoon. I have been preparing it this weekend so need to get moving. I will probably put a movie in on my portable DVD player (from my mom) and watch while weaving, if the treadling is not too difficult to keep track of. It would be nice to watch the Olympics themselves during the day, but I'll just not weave at night, since I don't have a TV in the studio.