Today is George Washington's birthday! Now, I don't care what people say about celebrating "President's Day;" I am of the "old school" (which means, my children, that I am OLD and I look to the past more than I look to the future) and I want to celebrate Lincoln's birthday as well as Washington's.
I will admit that I didn't get a mention of Lincoln on his birthday (shame on me) but I did celebrate it quietly at home and I am celebrating two birthdays today.
The first, of course, is the Father of Our Country, as he is often called. George Washington was a brilliant young man in all that he did and was a brilliant soldier as he grew older. He was also a brilliant president. He founded many of the traditions of presidency, including refusing to be called "Your Majesty" and refusing to be treated like a king. The reason we have a limited two-term presidency now is mainly because he refused to run for a third term; it was a tradition followed by all and only made into law after Roosevelt ran for (and won) a third term during World War Two.
His wife, Martha, was a very gracious First Lady and started many of the traditions still followed by most of the following First Ladies.
When they retired from public office, the two of them went home to their beloved Mount Vernon and lived happily and lovingly the rest of their lives.
The second birthday I am celebrating is that of my cousin, Kathy. She is two years older than I am and has been a constant in my life. When she was born, my mother wanted my aunt to call her "Martha Georgina," but (thankfully for Kathy, they named her Kathleen Kay).
As I was growing up, our family would spend vacation time in North Dakota. Our hometown, McClusky, was where my mother was born. Nana, her sister, Auntie Pete (Mildred), and her brother, Uncle Hooky (Hugo) lived there with their families. We even lived there one year while my dad was stationed in Greenland and I experienced for the first time the joys of a small town life. I was also able to spend more time on my uncle's farm and learn more about driving tractors and milking cows, both tools in my future life.
So Happy Birthday, Kathy! And many, many more!
Kathy is in the middle on the couch. I am on the left, Cara on the right, Charles below us.
Candy was just a baby so not in the picture.
The barn on the farm where Kathy was born - they later moved into town.
We may get tired of struggling with the snow but we don't get tired of looking at it!!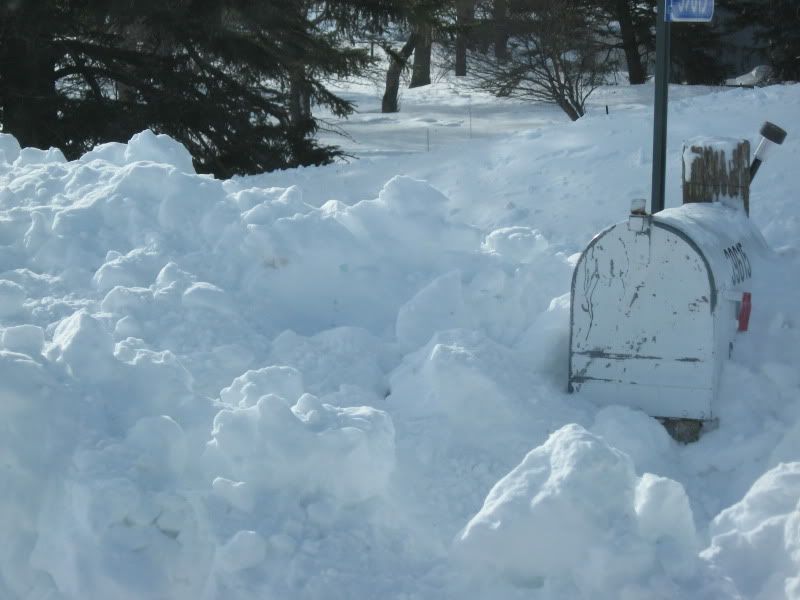 Sunrise the other morning
It is a beautiful day today, with the temperature near twenty, the wind blowing slightly and only a dusting of new snow. You have a beautiful day.