We had a great time here for New Year's… Joy and family came down on Thursday and just left today (Sunday). It was too cold and blow-y for Candy and Wayne to come over for the evening, so they came over on Friday the 1st.
The only things missing were the rest of the family, but I am trying to train myself not to whine about missing some family and be grateful for the few times I do see them and make the most of that.
Ken brought his snowmobile down and unloaded it that afternoon. He then did some driving around before dark (which is still pretty early).
We had a nice "traditional" (not) dinner of pizza and salad. Joy had brought down a bunch of Papa Murphy's pizzas, which we have not had for a while, so that was a real treat. I mixed up some grape juice and ginger ale and called it "Cold Duck." Bubba does not like her drinks fizzy, so she drank plain grape juice and called it "Chilly Duck." Ken had brought down some homemade apple wine, nice and sweet, to toast the New Year in.
After dinner, the girls washed dishes and started the hot cribbage tournament that went on all weekend. In fact I was afraid the cribbage board would burst into spontaneous combustion, it was used so much!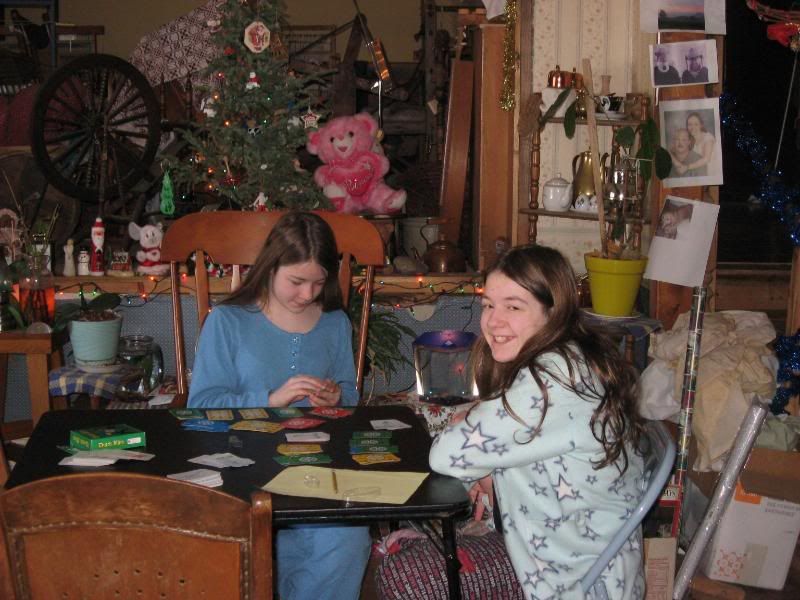 Around 10:00, we went outside to see the blue moon and Norm started a bonfire.
Last New Year's blue moon for 28 years!
Bonfire was warm if you sat in it
Bubba got snow in her boots and I got cold, so we went in after about a half hour, but Ken gave snowmobile rides to brave souls and the others stayed out for about an hour. Pretty tough cookies … it was -5º by the time they came in.
We stayed up and watched the New Year's celebration in New York, toasted the New Year, hugged and kissed each other then sent the kids to bed. We stayed up for a little longer then went to bed ourselves. It's the longest I've stayed up for New Year's for a very long time.
Doesn't look that cold, does it?
Next day, we fixed treats, sliced ham and had a buffet meal with ham sandwiches and fixin's. Everyone but Candy and Joy and I played cards. We went into the studio and worked. Joy showed Candy some more tricks with needles and I wove and listened to them talk.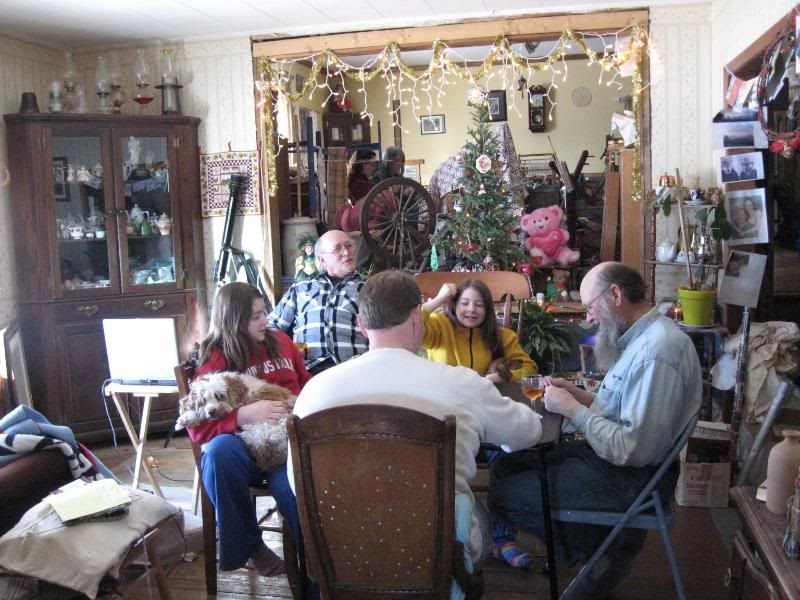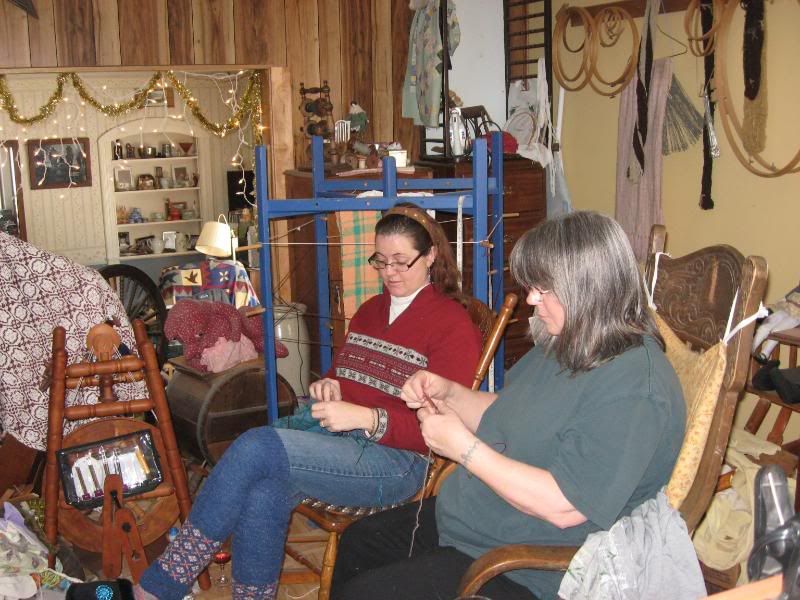 The kids went outside to play in the sun for a while and went to the barn to do chores (I didn't have to do any at all while they were here).
Norm went to the Farm to do chores and took the kids with him. Joy and Ken bundled up and followed on the snowmobile; Joy rode home in the pickup and Ken went off exploring. But it was even pretty cold for him!
They brought their Wii with them and the fitness program that they got for Christmas; they showed Wayne and Candy how it worked and tried to get me to use it. I did so after everyone went back upstairs to play cards (after C&W headed home).
More food, more fun that evening, then off to bed, knowing it would be cold that night. Saturday the 2nd was very cold. We were -21º when we woke up and it didn't get much warmer all day!
Ken got some more snowmobiling in but not as much as he wanted … even HE got cold, and he loves the cold and the snow.
Saturday night was my early birthday party. I was allowed to open my present, which is an MP3 player!!!! I have one, but it's pretty "little" and this one has 2 gigs of memory. That's a lot of songs and music and stories!
Bubba wanted to do some cooking – I showed the girls the Laura Ingalls Wilder cookbook that I dug out and she was remembering something that really sounded good …. Sourdough Biscuits! We found the recipe, made a quick batch of starter on Friday then mixed up the batch on Saturday. I gave her a few hints, but she did all the work, even to the rolling of the dough and the frying of the biscuits on the griddle. They were a HIT!!! They were popular enough so that the rest of the biscuits went home today along with the rest of the starter so she can make some more when she gets home. My little homemaker she is!!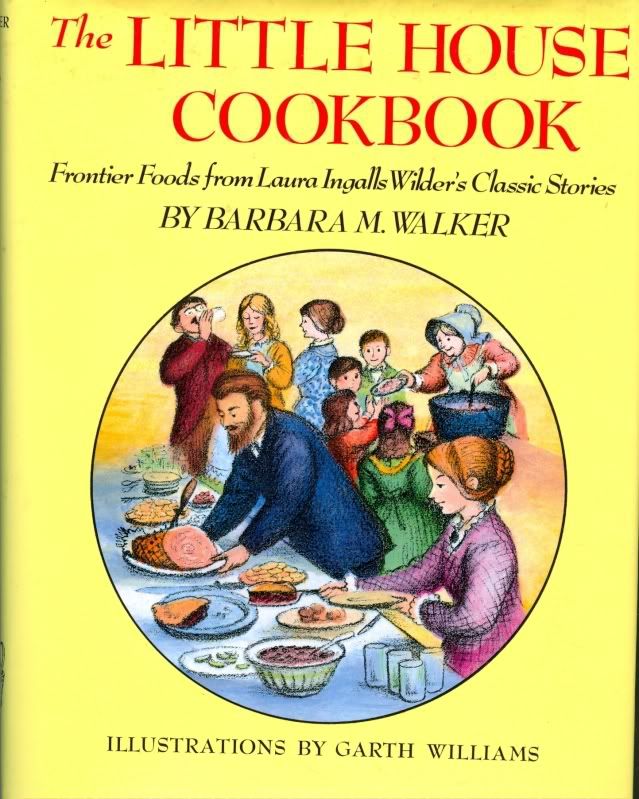 Everyone went home this morning so that they could make it to a meeting in the Cities tonight. It warmed up to about -4º today with lots of sunshine and very little wind. I think our severe cold spell is done (for a while, anyway).
It was a beautiful weekend; it's been a beautiful day (quiet though). You have a beautiful day.