It's not often that I brag about my grand girls, do I? (Hmmmm!)
Well, it's time to do so (again? Nah! First time!). Joy brought Bitty and Bubba down last Wednesday and then headed home on Thursday. So Norm and I had these two girls for nine days, all to ourselves.
The girls had met Rachel, a daughter of an employee at the Farm, sometime last year and re-acquainted themselves with her during Margaret's graduation party. So when they came down for the nine days, we made arrangements for Rachel to join them for a day; they spent the whole day together, all three of them, and had a fantastic time. There are hopes that this can be repeated again this summer.
On Saturday we had a demonstration at the local Historical Society; the girls were very helpful in getting ready and were a great asset in demonstrating. Bitty took over the antique spinning wheel that belongs to the Museum and did a fantastic job of spinning and talking about how the wheel worked. Bubba did some embroidery, but mostly ran errands for Norm and I, as well as visiting other people who were demonstrating that day.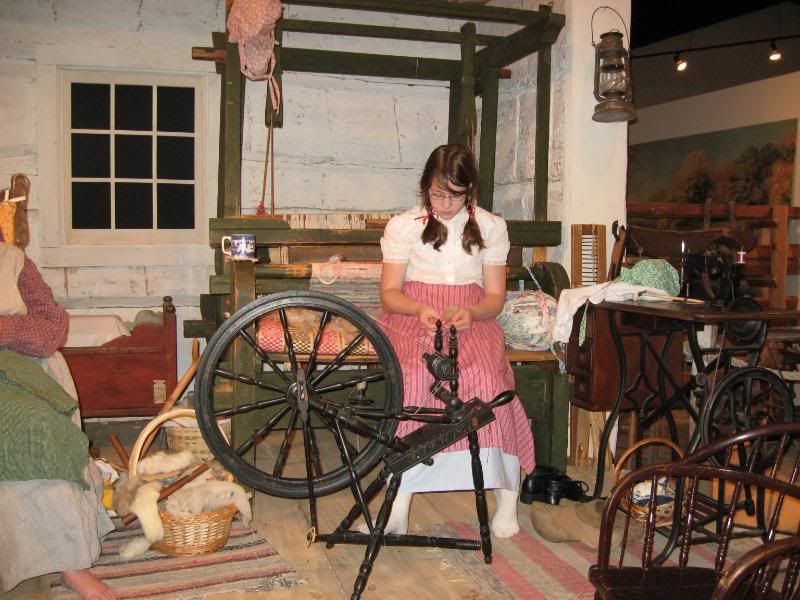 This wheel was brought over from Norway and made in 1872
Saturday evening, niece Cookie brought grandniece Binni over to spend a few days. On Sunday, Bitty went to church with Norm while Bubba and Binni helped me get ready for brother-in-law Wayne and his grandson to come over for lunch. Monday night we took Binni halfway back to her home and Cookie met us to collect her.
Any time there is a table and more than one person, there is a card game - usually cribbage
The rest of the week was mostly just the girls and I, but they spent a lot of time with Norm, too. I hardly had to do anything but cook meals (for which I received many "thank you" statements from both girls). They washed dishes, set the table, hung laundry out and brought it back in. They did the chores, collected eggs, checked on the sheep's water and watered it. They helped me with my small fountain outside, cleaning it and adding water when needed. If I needed something brought to me while resting my knee, all I had to do was ask! Whew! And now that I'm alone, I'm overwhelmed with all that they did (and allowed me to NOT do!).
During this whole time, I was in total awe of these two young ladies (and they ARE young ladies, now). Bitty turned thirteen (!!!) Monday and Bubba is nearly eleven. They are beautiful, pleasant to be around and very intelligent and wise for their ages.
When they were little, I was hesitant to agree with Joy about home schooling (as if I had anything to say about it!), but now I can see that for these two girls, it was the right decision.

For awhile, I worried about social life for the girls but have found that they have plenty of friends, both in church and in their twice-monthly "Co-Op" where skilled parents teach science, art and physical education. Plus, both girls make friends very quickly with strangers, so find someone to talk to and play with where ever they go, if there are children their ages.
I also worried, especially about Bubba, since she was very slow in starting school work and extremely slow in showing interest in reading. Imagine! A child of my family that was NOT reader! How horrible would that be? But patience, in the form of a loving mother / teacher, soon won out over her statements that she "could NOT read!" Now Bubba almost always has a book in her hands!
Intelligent? Yes! Clever? Yes! Funny! Yes, yes!! My girls are caring, sympathetic, helpful, loving and kind. They are always reading – whether it's a fiction book or a history book, they always have a book at hand. I am so proud of these girls – they are respectful of everyone they meet. They love my friends and accept them as friends of their own. Both girls make friends very easily because they are so friendly, themselves.
After having them for so long, it was time to take the girls home (sigh) so last Friday was the day, as Bitty's birthday party was on Saturday. Bitty had several young women join her and Bubba was allowed to ask a few of her friends, as well. I watched the whole group, ranging from eight to sixteen and not one time did I see an attitude of "she's too young to join us" – the older ones enjoyed the younger ones. At dark, the youngest ones went home and the older ones spent the night in a tent outside.
Norm and I went shopping for Joy, as she needed last minute items for the party. Bubba joined us because she wanted to get Bitty a present by herself, with her own money. After much discussion, she decided to buy Bitty some flowers. These were given to Bitty as we were starting to eat the burgers and dogs that Ken had cooked on the grill. I copied the note that Bubba wrote to go with the flowers.
"Bitty – I can not believe you are 13. We were so young a long time ago. I love you. I hope you like the gift. Love, Bubba"
My precious granddaughters! I love them both so much! If I were blessed with more, I would love them equally. If I am not blessed with more, then I will continue to pour all my Grandma love into the ones I have, which deserve all I can give them.
Two Grandpas, two granddaughters.
It is a beautiful day today (even without my girls, who are home helping Mom instead of here helping me!). You have a beautiful day.