Especially when I am the one that does the surprising and especially when it comes together.

Norm and I went up to the Cities on Friday to see Joy and her family. Joy and Ken knew we were coming but Bitty and Bubba did not. Normally I will just open the door and holler but this time I rang the doorbell. I should have had my camera out for the looks on their faces as the girls opened the door.

After the excitement of our surprise wore off a little bit, I had Joy and the girls show me the rearrangements that they have been doing in their bedrooms. I kept the three of them busy while Norm brought in the second surprise, mostly for Joy. We decided to give Joy one of my spinning wheels.

Joy and the girls have been using a small antique wheel of mine that is difficult to spin on for any length of time. Joy has been "nagging" me to give her one of my wheels. After she had a dream that my knee became infected and it had to be amputated, I thought maybe her thoughts were going into strange places. She told me that the dream turned out well because I gave her a wheel.

So when the girls came into the family room and saw the wheel, they thought it was because I had brought it for me to spin on (fat chance for a while). I don't know who was more excited when we said "Happy Easter!"

So, now I have some pictures of the girls and the wheels. Bitty has been spinning on wheels for some years, but Bubba has been spinning on a spindle because she wasn't ready for a wheel. But she did try the new wheel (an Ashford Traveler) and was doing rather well. Guess it might turn out that the family ends up with three spinning wheels in the future (but no more of MINE!).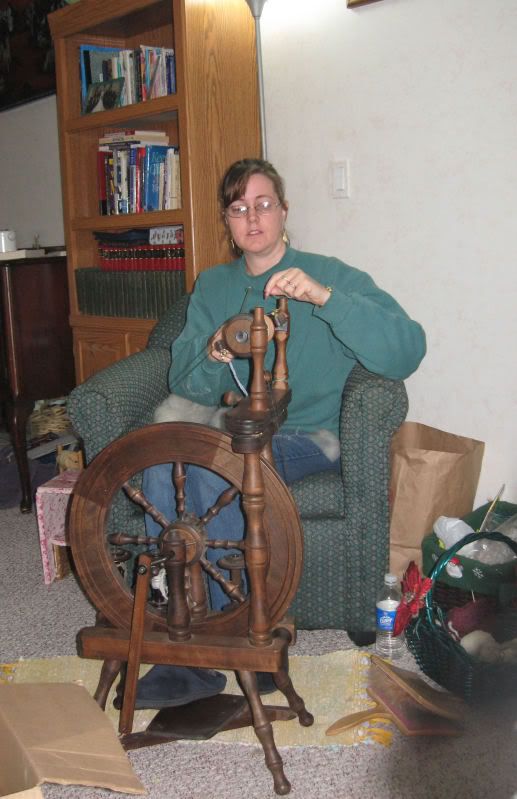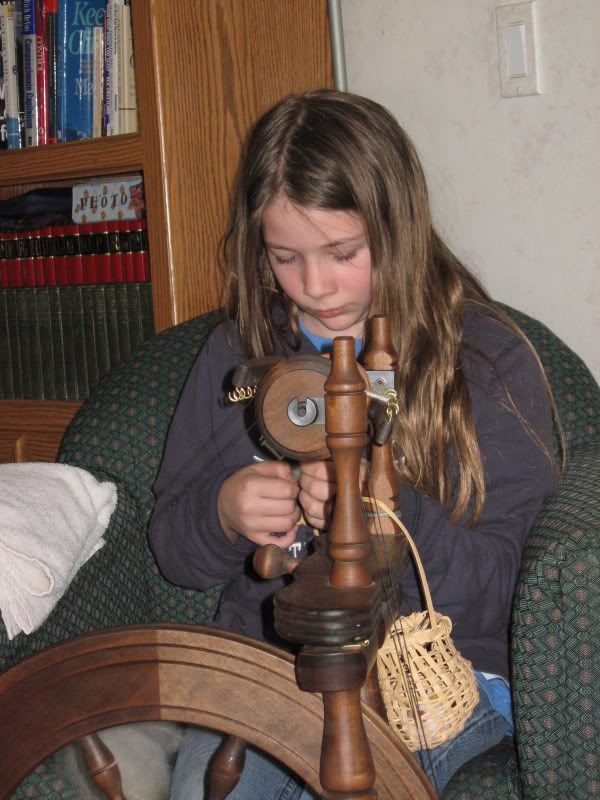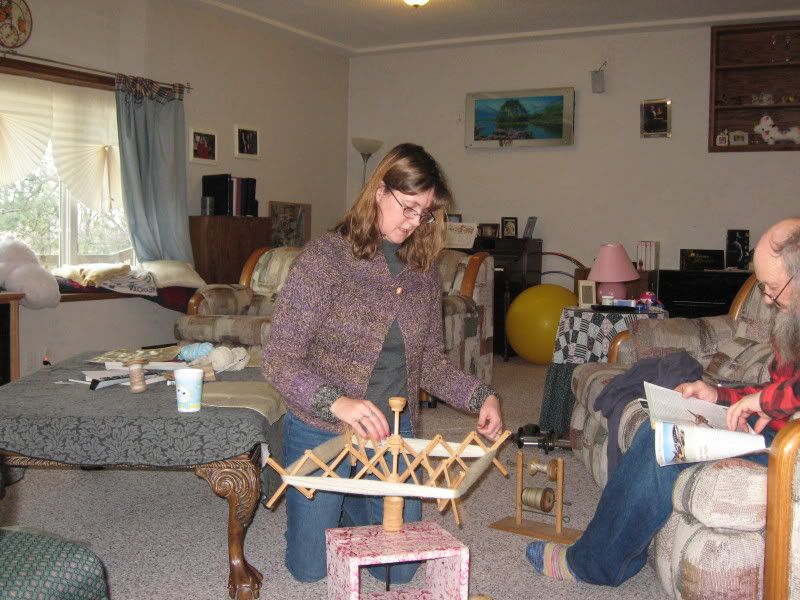 On Saturday, it was a nice enough day so that Norm and the girls did some wood chipping and I went out for a few small walks on level ground.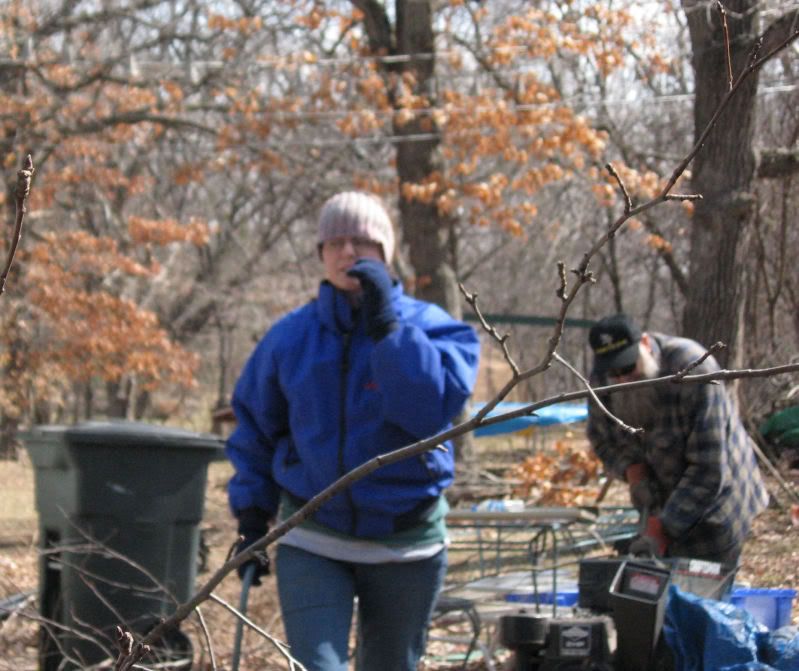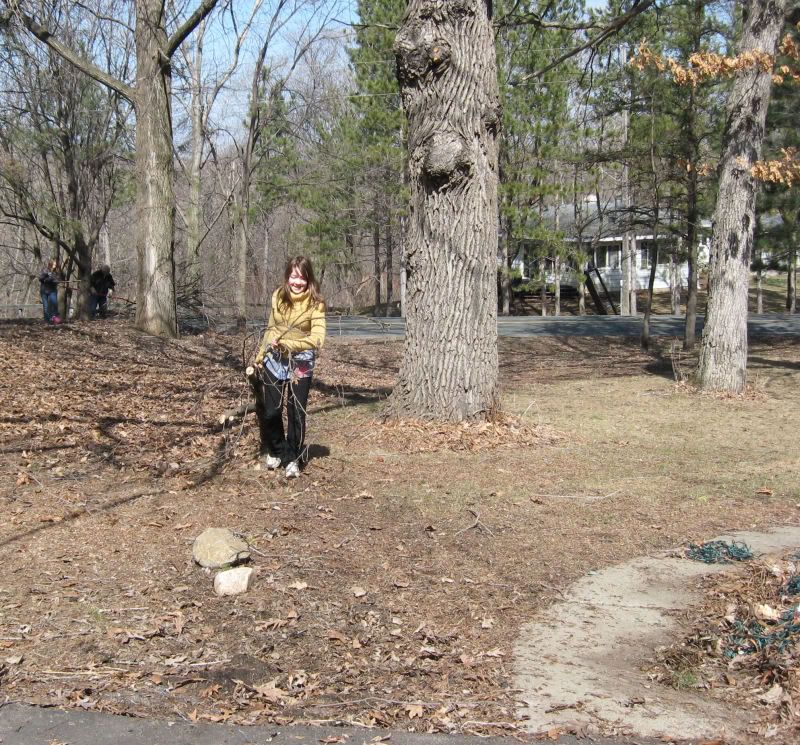 Sunday, Ken took us all out to Norm's favorite place, Old Country Buffet before we headed home.

It was a great weekend, full of fun and love and beautiful children.


Can you see the glass thermometer in the picture?
Each little glass ball goes up or down according to the temperature.
I love it! (Wish it were mine!)

Monday was Pain and Torture day. After a long weekend and long hours in the car, it WAS pain and torture. Plus a storm was coming in.

Tuesday was cataract day. So after the surgery, I spent most of the day sleeping.

Wednesday was check-up for the eye and a little bit of shopping in town, plus delivering eggs to customers.

Today is Pain and Torture, again, and now packing. Candy and I are going to South Dakota for a craft weekend. Candy is taking her spinning wheel; I plan on borrowing a triangle loom to weave a shawl with some wool that I spun several years ago. We will leave about noon tomorrow and come home Saturday night. This is at the
South Dakota Natural Colored Wool Studio

.
I have been promising to pop over and visit for years and this year, finally, the timing is right! Candy will be driving but we will take my van, as it is newer and in better shape than her van.
It is a beautiful day today – the April Fool's snow is gone and it's almost forty degrees out. You have a beautiful day, a beautiful weekend.