It's been a while since I've written. Guess I've been too busy just doing nothing this past week. So let's see what I've done.

Sunday was resting day after being in South Dakota. We had snow on the ground from the storm that went through on Saturday, but the weather was warm so it disappeared pretty quickly.

Monday was torture day again. Crystal, my regular therapist is very gentle, in the main scheme of things but still pushes me past the point of comfortable pain.

Tuesday and Wednesday, Norm took me into Windom. The third graders of the county have a "day out" that day. They go to the courthouse, the law enforcement building (jail) and the historical museum. At the museum, there are several people who show the children different "jobs" and personages from the past. I demonstrate / talk about being a Pioneer Woman. This year I couldn't spin, so I just talked. (Norm wondered what I could do if I couldn't spin – I showed HIM!) I talked about the day in my life from sunup until sundown. The kids seemed to love it. I would tell about the seven meals that I would serve my husband, the work I had to do in cooking and washing dishes for those meals and what I did between the meals. I had a chant – "After the dishes were done, I could do ANYTHING I wanted to – clean the house, wash the clothes, mend the clothes, wash the floor, bake, sew, spin, weave, knit, garden." This happened after each meal. (The extra meals, besides breakfast, dinner and supper were "little bit of lunch" to keep Mr. Peterson from having a growlly tummy.)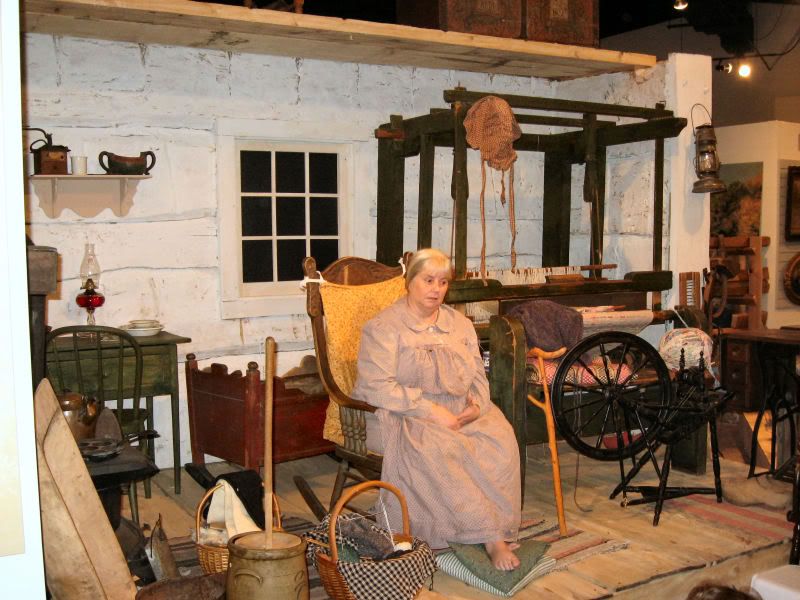 It wasn't too bad. Norm took my big Norwegian rocking chair and I had pillows so my leg was supported somewhat. Friend / neighbor Wally brought me home on Tuesday, then Norm stayed in town running errands and playing in the park with Peanut on Wednesday and took me home. Norm could have been there with me but chose not to.

The one of the others that was there was the Victorian Lady, across the isle from me. She talked about the differences between her life and mine, but emphasized that though her family was rich and they had a lot of land, it was the pioneers that lasted through time.




Others were the schoolteacher, the fireman and Wally, the trapper. Also there was a representative from the Jeffers Petroglyphs who talked about the ancient peoples who lived here and the "modern" Native Americans who lived here before the white settlers moved in.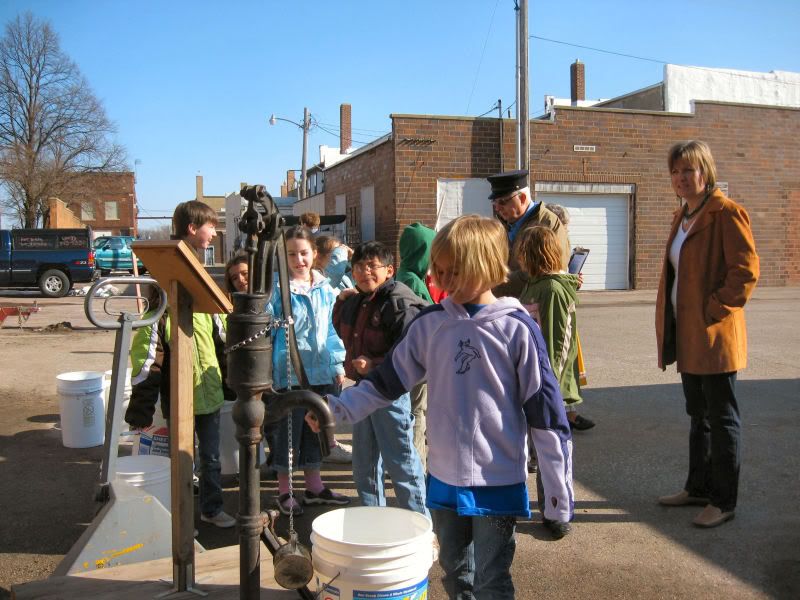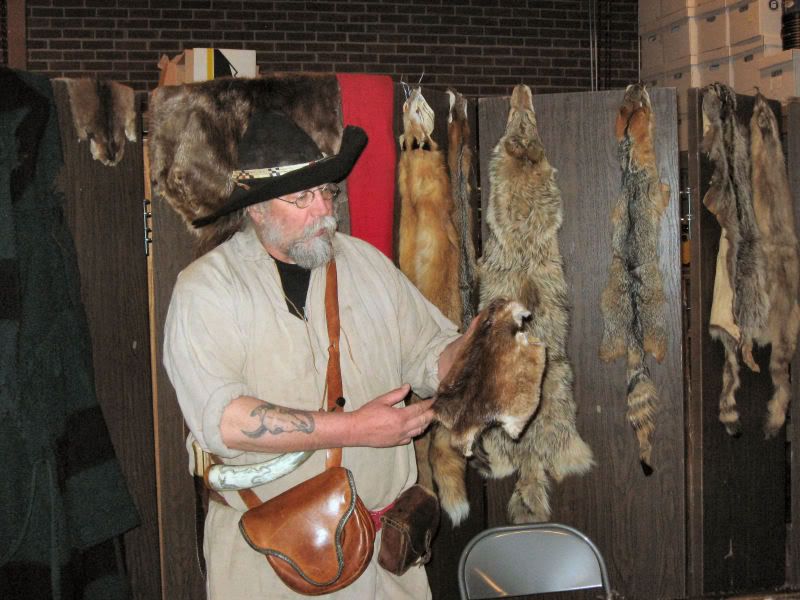 Thursday should have been a day of rest but it was torture day again. Friend / neighbor Jody stopped by to have some tea and learn how to knit a cable pattern in her wrist warmers she's making.
She also tried my double treadle spinning wheel and found that despite her back problem that she COULD spin. (She went home and ordered an Ashford Kiwi double treadle!)
Friday – time to REST and get better? Nope …The Farm called, saying the shearer was going to be there at noon, so I had to help Norm load the two sheep so he could take them over for shearing. Norm helped catch the sheep and then stuffed the fleeces into a bag for taking for sale. Candy came to get me and took me over. She chose a yearling ewe for her fleece and watched it come off with great excitement. Norm brought over a bit of the fleece for her to feel and accept, and then he put her fleece onto a sheet she brought and wrapped it up for her. Norm also picked out a fleece for Joy and one for Jody and wrapped them up to take home.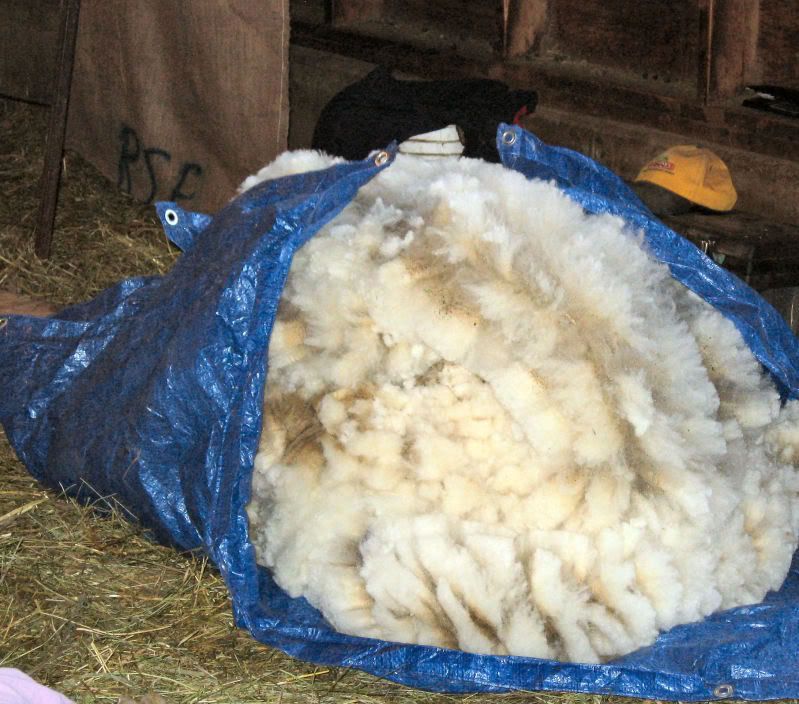 Arthur Godfrey, being a bottle-raised lamb, was more of a problem to shear than all the rest. He was used to being handled, so objected to being turned upside down and wiggled a lot. Soot, being a little tamer than the sheep at the Farm, was wiggly but not as bad. Soot is black with the reddish-brown sunburned tips like most black sheep. However, when she was sheared, we discovered that she is a "gun-flint gray" … not solid black! I'm excited because it's such a beautiful color!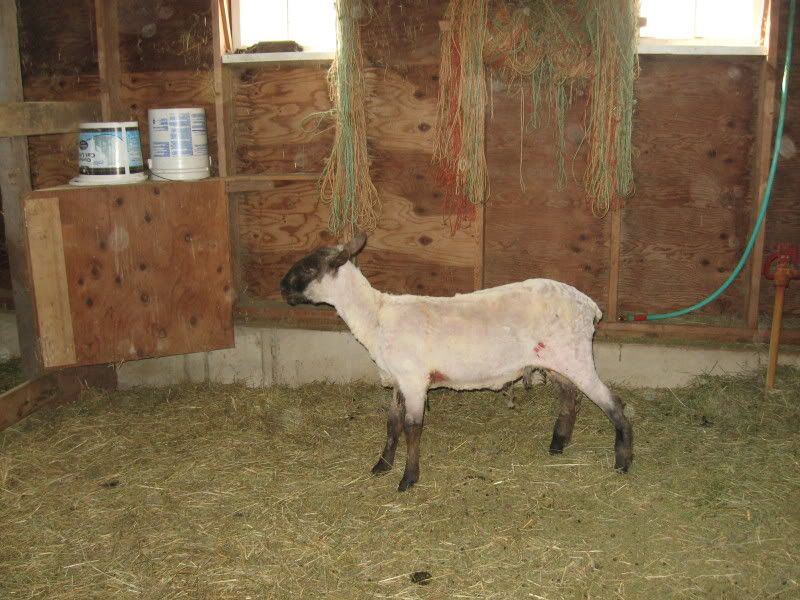 Saturday – rest? Nope – it was the "Stitches in Time" day in town. Norm took my rocking chair, my spinning wheel and me, with lunch. I made it almost all day!! We had several people stop by and a couple stay part of the day. Ellen is teaching Candy how to do "net-darning lace." Lois is teaching me how to do Swedish Huck embroidery.
So yesterday – Sunday – rest? Well, sort of. Candy and Wayne came over for dinner so I put a ham in the oven. Otherwise, it was pretty easy – just a small meal and good conversation. Then Wayne and Norm played a game of cribbage while Candy and I planned this NEXT week! But after they left, I took a looooong nap!
I will admit, though, that it was a tough week because my pain was pretty bad. When I called the doctor for a refill of Vicodin, his assistant said that I should be done with pain medication by now. I told her I couldn't live without it – I was in too much pain, even WITH the medication. So she switched me to another medication and this one seems to be working!!! I got the pills on Thursday and that night I slept for three hours straight without waking up! And the pain is tolerable, most of the time. So I have hope that someday it will be gone, totally!
We had no family other than Candy and Wayne for Easter. Joy and family will come next week and Cookie and Binni will join us, as well as Candy and Wayne. Jill and Eric did not come home for Easter (sigh) but I did have a nice long talk with her yesterday. Cookie stayed home and didn't come down because of the weather and taxes. She did our taxes and was busy doing them on Saturday. Then she stayed home and worked in her yard … it was in the low sixties on Saturday!!!! And almost as nice yesterday!
So, that's my week. It's been a busy but beautiful week. It will be a beautiful day today. You have a beautiful day!