That's what I'm doing most of the day, but I thought I'd tell you a little bit more about recovering from knee surgery (from MY point of view).

Today is day ten of my new knee.

I have the recliner next to the west window so I can see the birds come to the feeders and the suet on the tree. I can see my lovely Betta that Jody gave me – his name is "Guy Noir,

Private Eye

." He goes by Guy Noir. I am watching the lovely plant that Candy and Wayne gave me – it's an Aglaonema Lilliput that has a little bird nesting on the side of the pot. I am also watching Norm's orchid blooming (finally, after over two years since the last bloom). If Peanut is not on my lap, she is either in bed with Norm (she is lonesome) or in her little bed under the orchid stand.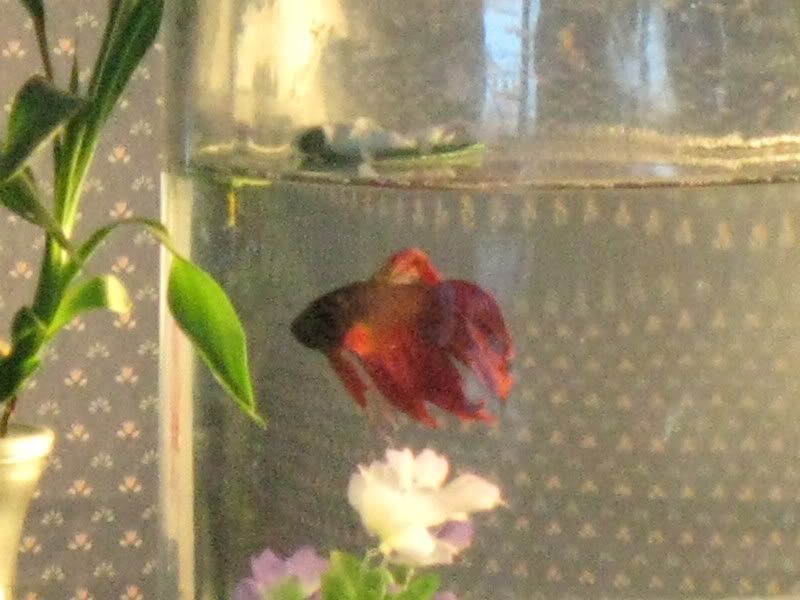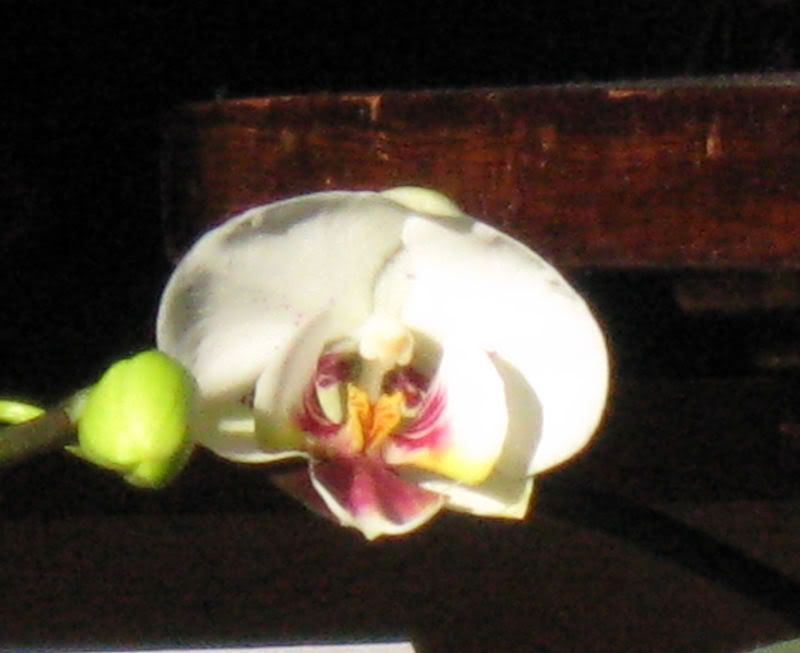 I even have Toby come watch me through the window!
Next to me is my laptop with my external keyboard ready to sit on my lap and my wireless mouse on the stand on my right side. The stand also holds my water, my pills, my phone and some books to read. I have the computer tuned to on-line radio stations so I can listen to the radio or to music that I have put on the computer.
My walker is close to the recliner so that I can reach it when I get up. I have a cute picker-thinger-upper that my mom used when she had hip surgery. It's great when I drop things!
So, now you know my setup, let me tell you what I can and cannot do!
First, I cannot:
Ø Lift my leg up without assistance
Ø Go more than three hours without a nap
Ø Go more than four hours without drugs
Ø Walk without my walker
Ø Get a sock or pant leg onto my right foot / leg
But, I CAN:
Ø Get OUT of the recliner by myself
Ø Go down to the basement, one step at a time with Norm holding my arm and using the railing AND get up, too
Ø Go up the five steps to the studio / bedroom level by myself with the railing AND get down, too
Ø Get down the three steps into the entryway and open the front door to let Peanut outside. I can use the walker but it's actually easier using the cane
Ø Walk a little ways with a cane, not the walker
Ø Walk quite a ways WITH the walker
I have been to therapy three times and met with (♪♪ dumb-ta-da-dumb♪♪)
The Torture-ers!
Both he (Dana) and she (Crystal) have no pity. They must live in that "Town with no Pity!" But I am bending my knee a little bit better and walking a little further each day.
Tonight, Norm cooked a Valentine's dinner. He got some Filet Mignon steaks in town the other day – grilled them, caramelized onions, baked potatoes and it was out of this world! And much easier on me than going out to eat tonight. Thank you, Norm!
Tomorrow is our monthly fiber group meeting in Storden. Candy threatened me with life and limb if I didn't show up. Norm is going to drive me there and probably stay for a while and work on spoons. We have a woman coming who wants to learn to spin, so I am taking my training wheel, she's bringing wool from her own sheep and we'll take if from there!
So, now it's bedtime – I am guessing I will be sleeping in the recliner until the staples come out (in six days!), when I can bend my knee a little less painfully. Norm has offered to take my staples out to surprise the doctor. *
I*
offered to take his teeth out if he tried!
It was a beautiful day today – it should be one tomorrow. You have a beautiful day!