It's about time I got BACK to here, instead of nattering on about weather and stuff.

Today I'm going to show you some of my weaving projects. But first, yesterday was the day I said goodbye to my "Buffalo" loom. (So named because I got her in Buffalo, MN.) She is a forty-five inch floor loom that is a wonderful loom, but I under-grew her – decided I like doing smaller things rather than big things.

So I put her on Craig's List and she sold before Christmas but the couple could not come until yesterday.

And yesterday? Woke up to winds from the North West and blowing, BLOWING snow! (Oh, sorry, I wasn't going to talk about weather!) Our couple, Michael and Vickie, was coming from La Crosse, Wisconsin, on the interstate. They called from Albert Lea to say they were running late. I told them to call me from Windom, as our road was impassible at that time (we thought).

Norm went out to drive the gravel county road to the paved road (a mile and a half) but came back in to tell me he had gotten stuck ON the road – the drifts WERE impassible.

I had thoughts of meeting the couple in Windom, but knew we couldn't get OUT. So how would they get IN? Worry, worry, pace the floor, worry, worry, pace the floor.

Michael called, saying they had left Windom, so I told them to STOP where they were (side of the road). I called Jody, who fortunately lives right OFF the highway and asked if they could stop there for a while until we figured out what to do.

Don was going to get his tractor out and break a path to us (just that mile and a half that is so tricky), but then Norm came in WITH the Buick and said that the snow plow had just gone past (whew!!).

So Don led Michael and Vickie over. We had a short visit, in which I showed them my studio and the remaining looms I have and discussed the new one (a fifteen inch) that Norm was going to build. Michael fell in love with the fifteen inch (Cherry) that I already have and asked for a plan when Norm built the new one.

We tore Buffalo down with many instructions and taped identifiers on her and loaded her into their Subaru hatchback, then they headed home, with information on yarn suppliers and my "bible" – "The Marguerite Porter Davison Handweaver's Pattern Book." Before they left, Michael pointed to my bird feeder and said "I saw that in your blizzard video!" And sure enough, it was whipping in the wind, still! (But I wasn't going to talk about weather, was I?) Michael and Vickie made it home last night and called me to tell me that they had - thanks, kids! Enjoy the loom! She's a beauty!

Norm then went with Don back to help him (and Jody) get a newer washing machine set up. When Don brought him back, the road was blocked again and Don had a difficult time breaking through the drifts with his four-wheel drive (but then, I wasn't going to talk about the weather, right?).

So, on to MY projects. It was off with the old and on with the new. This is on my "Cherry" loom – the fifteen inch that Norm built me – which is a copy of my Australian "Matilda" that I got when Jill was born, way back then!

The project that I finished just after Christmas is a "swag" – a loppity-loop that hangs on the curtain rod in the bedroom. I do not like curtains where I can get by without them, but I figured a swag would soften the window, as it still does not have trim on it. (None of the windows in the new part of the house have trim, as Norm hasn't gotten around to it; the last two former owners never even started to trim!)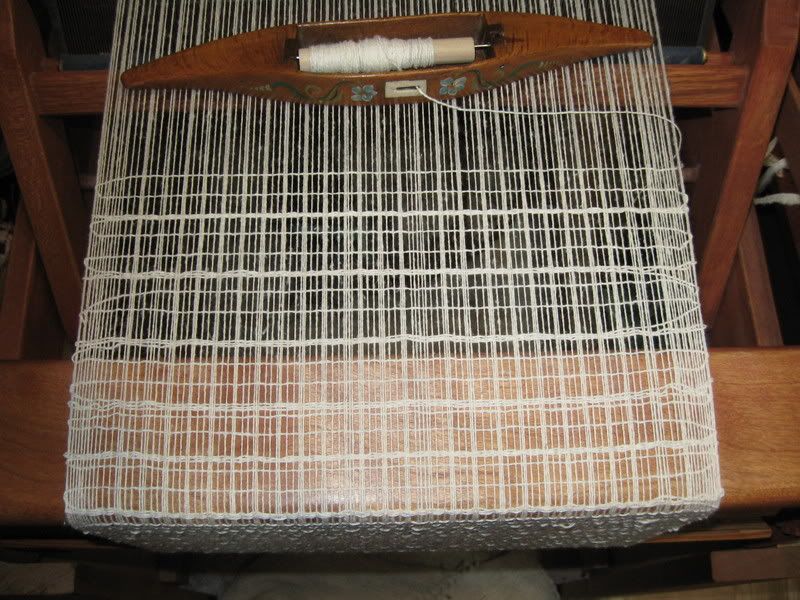 After I took it off and had Norm help me hang it, I then started my next project, a black and white table runner. This will take a while, but it's fun.


Black and white checkerboard - hmmm - wonder who it's going to be for?
and going to the right on the top (black)
Now this morning it's sunny, almost up into the twenties and NO WIND!!! Candy and I were going to go to Marshall to do some shopping and see Cookie and Binni, but her road had not been plowed yet (ours was, just before Norm left for church). So we decided to go tomorrow. But then, I wasn't going to talk about weather, was I?

Since I'm not going shopping, I'm going to rearrange my studio to make it look less crowded (but still keep – in my head – room for a new loom) and I'm going to continue weaving on my black and white, as well as my "Wall of Troy" table runner that is about twenty-four inches wide that is on Matilda.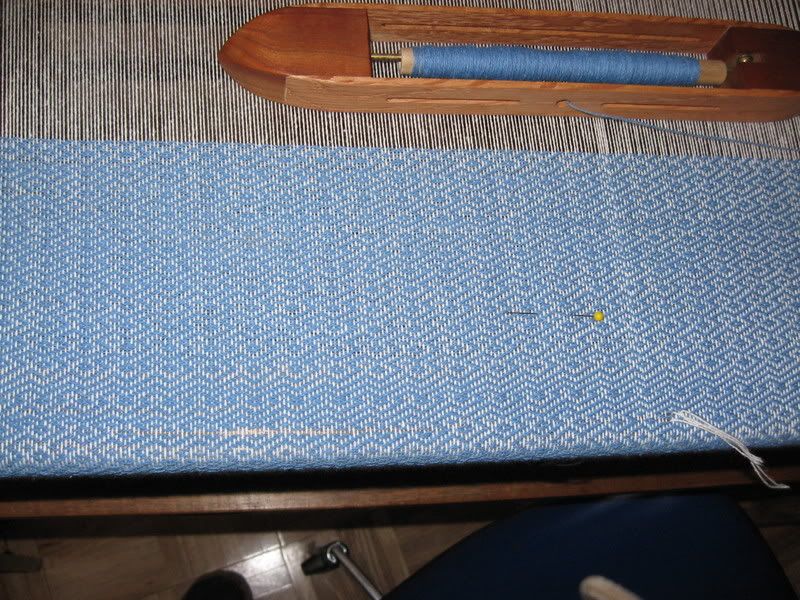 I plan on having a beautiful day. You have a beautiful day.