Well, Norm's been working hard (and I've been helping – some) to get the sheep pen ready for winter and to enlarge the winter pasture. He got the inside hay feeder done so that we can feed hay when it's raining or snowing and can lock the sheep in if we chose. I, personally, would like to lock them up at night this winter, since we DO have coyotes close by.
I offered to rent a llama from our llama friend, Bill, to protect our sheep, but Norm felt that we didn't need to do that, so he'd better help me train them to come in at night!
Jody came over yesterday to start preparing her warp for the loom. She has chosen Peaches and Crème burgundy and cream for her warp. We had one hundred fifty ends and made it eight yards long. She is going to make table runners as her first project. She has ordered cones of Peaches and Crème from the
online store

;

I got a few more cones, myself, in colors that I was out of.



This website is wonderful. You CAN get your Peaches and Crème in balls from Wal-Mart (in the colors THEY select) or Sugar and Cream from Michael's or Pamida. But if you want to chose the colors YOU want or have larger amounts (weaving demands large amounts), it's better to get it from the website. You must remember, though – shipping is spendy, but it's close to the same amount if you order one cone or fifteen. So I always order a large amount. Jody and I (and her sister-in-law) ordered a total of thirteen, so it makes the cones eight dollars apiece.

Any-hoo, Jody started warping with the warping mill, got the project done, chocked and chained yesterday afternoon. She took it home and we will start dressing the loom as soon as she has time. My goal is to have her weaving before we leave on Wednesday for Seattle. Hope we make it!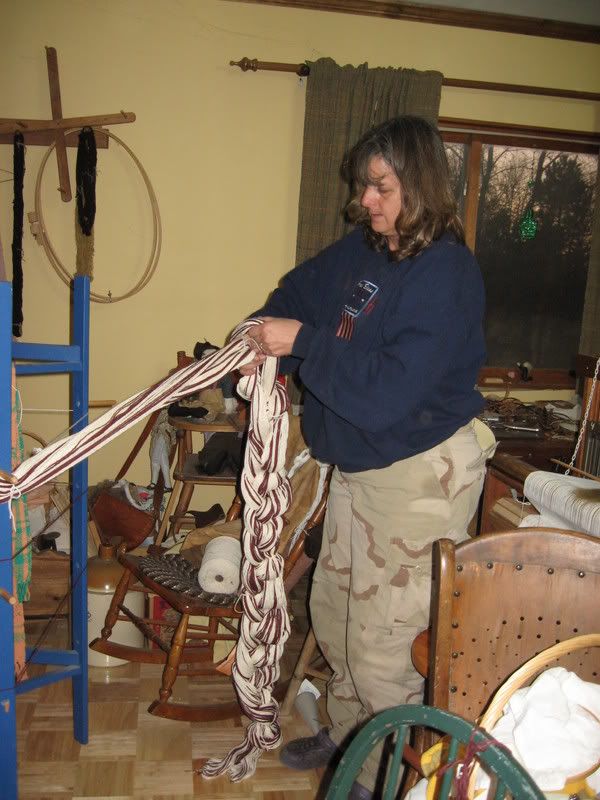 I love the Westbrook clinic and hospital! It's so small but very good and offers so many services that you would think you would only get in a larger hospital. The receptionist, Wendy, knows me by sight and name and has my chart pulled before I get to the desk. This morning she knew I was there for a mammogram so she said "Hi, Connie. Mammogram?" And told me to go directly to the lab area for the test.

When there, a nurse came by and said "Connie? You are a lucky winner!" Seems the nurses got together and bought some prizes, then had a drawing of all those coming in for tests today. So besides the normal pink carnation that we get when we survive the squishing, I got to bring home my choice of gifts .. a lovely bag that will make a nice knitting bag for the trip to Seattle! Thank you, girls!!! That was so nice and so generous. Makes going a little bit easier, knowing how much you care!




The gal that did the test talked about my necklace (with a rose quartz butterfly) an asked "Why butterfly?" I told her it reminded me of Cara. She lost her only sister last year and butterflies remind her of the sister, like they do remind me of Cara. This gal also lost her nephew before her sister died, and saw a cardinal the day of his funeral, which was a special bird to him.

So we agreed – when we see the butterflies and she sees a cardinal, it means our loved ones are sending messages of love and hope to us.

Today it is already in the low sixties – breezy but sunny. It will be a beautiful day – you have a beautiful day!