Thursday, Jody and I went over to Candy's for a craft day. And it WAS a beautiful day – outside as well as inside.

Candy's house is so "cool" – she is so artistic with her decorating and is so tidy in her cleaning. Now, my house is a helter-skelter house – I have waaaay too much stuff, haven't found (even after three years) places to store that stuff and don't clean like I should anyway.

But if (IF, I say!) my house was tidy and clean, it would never look as coolly decorated as Candy's. She just has that FLAIR!!

But the greatest, coolest, most beautiful part of the day was that the three of us sat upstairs in Candy's workroom, doing THINGS and talking. I took my new spinning wheel, "Bonnie." Candy came out, all bundled up, to help carry her to the house and then carried her upstairs. She has "Fiona," Bonnie's big sister, so we sat spinning and comparing wheels. Jody brought crocheting, as she has a Christmas project that needs to be done.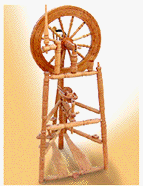 Fiona is about six feet tall at the highest
Bonnie is only about three feet tall
I was able to help Candy with some minor things on the wheel, but not much. Candy is doing VERY well with her spinning, considering the fact that she hadn't learned that well before she got Fiona last winter. With these too wheels, it's nearly impossible to spin a heavy yarn, as they are such beautifully working wheels. I had to work hard on teaching my body and myself a new way of spinning, as double treadles machines work a little bit differently than single treadles.

Candy had a very yummy, warm lunch and offered several cups of tea. We listened to lovely music – seems we all prefer the same type of music! The dogs were in and out, up and down the stairs, but spent most of their time with us. It led to sleight of hand to spin with little Cricket on my lap, but she is not a 'cuddler' so she didn't stay, just popped on and off. Ren tried to get tangled in my wool and Noah wanted to sit with his head in my lap. Thankfully, I was not the only one to get attention, as the dogs wandered from person to person until finally settling down and sleeping in corners.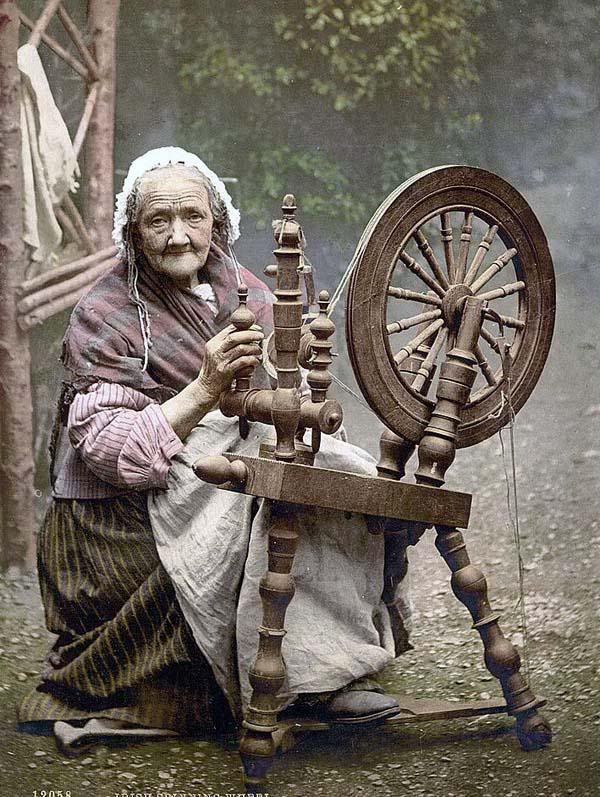 Candy has this picture on her wall. I LOVE it!
Wayne helped me take Bonnie downstairs, and then Jody carried her to the van, so I didn't have to struggle with her very much. She is not too heavy, but so squarish that she is clumsy. She is harder to carry than my other wheels, which I can carry under one arm because of their shapes.

We plan on doing this craft day thing again – next time at my house. I will enjoy being here, as I won't have to move, but it certainly won't be as "cool" as at Candy's!!!


This morning (Saturday) is a cool morning with a brisk wind that makes the chill factor below zero, Fahrenheit. Norm went to work yesterday, promising to be careful, as he was. This morning he bundled up to go hunting but only saw tracks. The sun is shining and it will be a great day to stay inside and work on Christmas projects and do some baking. You have a beautiful day.