On Friday, my friend, Kari, and her mother, Grace, came to visit for a short weekend. I met Kari at Mankato, at the Sons of Norway convention. She joined us at Decorah, Iowa, for the Nordic Fest there.

When they came, they brought Kari's great-grandmother's spinning wheel. This was built in 1906, I believe, in Norway. Her great-grandmother then brought it over when she moved here.
They got here in time for supper and a chat before bedtime.
On Saturday (was it only yesterday?) we had a great time!

Kari remembers great-grandmother spinning on the before she died in 1950 (or so). It has not been used, since. Grace told me that her mother got the wheel when great-grandmother died and then gave it to Grace to "store." It's been sitting in Grace's living room since the middle 1970s. There was even yarn left on two bobbins. Kari and I took off the yarn, which she is going to display in a safe archival way.
Correction!
Grace
remembers her grandmother spinning. Great-Grandma died before Kari was born! Kari has seen her great-grandmother in 8 mm. film spinning on the wheel.
I oiled the wheel, and then showed Grace that the oil would make the wheel shine, so she spent a part of the day shining the whole wheel, underneath as well as above. Then I spun on it, had Kari spin (she has learned how to spin on a spindle, so had little problem), and had Grace spin, as well. Grace had done some spinning under great-grandma's tutelage so sort-of knew how. Once she gets a chance to spin at home, alone, with no pressures, I'm sure she will do well.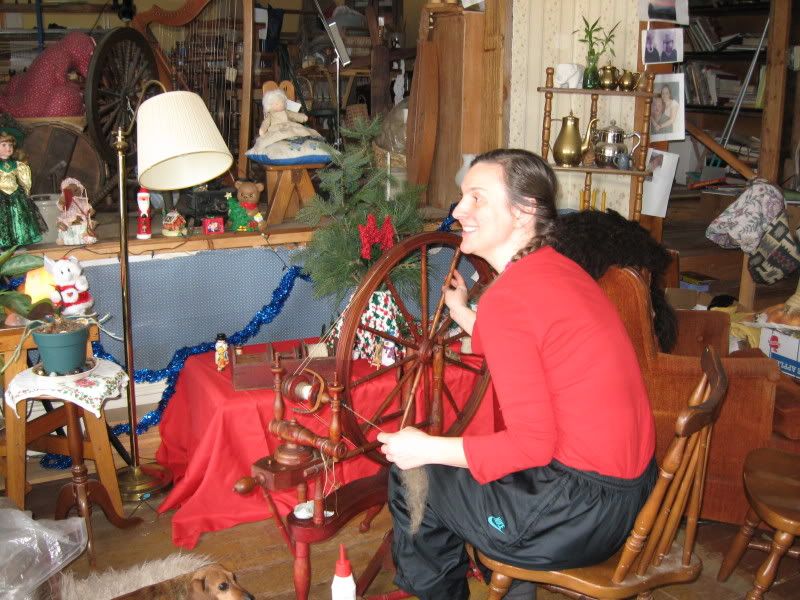 The wheel itself was made by a master craftsman and is still in excellent condition. I have never seen such a beautiful wheel that spins so smoothly.

Jody came over to join us for lunch (turkey sandwiches) and meet Kari and Grace. Candy came over later, as she was running late, but got in at the tail end of lunch, so was able to join us eating.

Candy sat in front of the wheel, but was not sure that she could spin on a single treadle, as she has taught herself to spin most excellently on her double treadle Fiona. However, this wheel is so fantastic and she was able to spin most excellently on it, matching the yarn that great-grandma had spun (that we had all drooled over).

After the fiber fix, Kari sang for us. She gave Jody and Candy a history / mythology lesson about the Nordic gods and goddess (and gave me a refresher), then read the runes for all of us.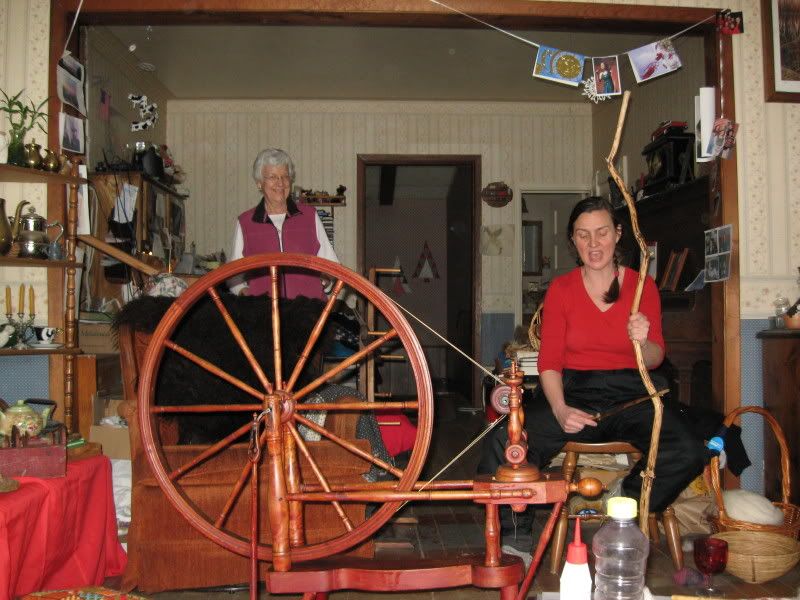 All too soon, everyone had to head home. Kari and Grace insisted on taking the wheel, even though I promised I'd give her a good home. However, it was wonderful to watch Grace's face when she realized that her wheel was something special and it was in still great working order after 102 years!

Kari is a very special friend – I am honored to have her come here and enjoy herself. We hope to have her come again.

It was a beautiful day, yesterday! The weather was in the 30s, the sun was shining and snow was melting. Today is a different story. It's about 5 degrees out right now with nasty winds and fog, sleet and snow. Things have been cancelled everywhere! But it still is a beautiful day, despite the weather. You have a beautiful day.