Don't ever brag or laugh at something.

When I had Kari and her mother here the other weekend, I was bragging about my treadle sewing machine. "You can't break them!" I said; "The only thing needed for these machines is oil and a new belt!"

Well, the other day I was trying to put a patch on one of Norm's most very favorite shirts and broke a needle on a snap. I switched to a new needle and it won't WORK!!! It won't pick up the threads from the bobbin. Nada! I have tried another needle (I only have 2 intact needles in the house) and switched back and forth. But nothing works. So I have given up and will have Norm look at it sometime, when he has time.

And then …....... the other day I was laughing with (not at)

Yarn Harlot

and her husband's problem with getting his pickup stuck.

Now, Norm is a fantastic driver in snow, careful and sure and he knows how to keep out of trouble.

Well, yesterday morning the snow was coming pretty steady and it was getting pretty deep. Norm put water in the trunk of the Buick, which helped give it weight. He was going over to Jody's to water the animals while Jody and Don were gone to the Cities for their family Christmas. However, the wind picked up about the time he set out, which made visibility pretty nasty. The window fogged up, so he stopped to clean the window off and when he started again, he drove right into the ditch!

The snow is so deep in the ditches that unless there are tracks, you can't tell where the road is and where the ditch is. The snowplow had not gone through, yet, so he was stucker than stuck.

He called me to see if I would drive over in the Van to pull him out. Nu-uh!!! No way, hosay! But as he thought about it, he realized it was a foolish idea. If HE got stuck, think of what I would do?

He dumped the water out and put the buckets in the toboggan (he has a box built to attach to the toboggan in which he can put water or wood – a throw-back from when we lived at Historic Murphy's Landing) to pull home. But on his way home, he stopped at our closest neighbor, Arnie, to catch his breath. Arnie insisted on starting up his 4xdrive truck and driving Norm home.

By then the snowplow had gone part way down our road (but not all the way to the highway), so Arnie could see the road / ditch division.


So, now, on a snowy Sunday, Norm was outside in -35° chill factor weather, driving the tractor around. He cleared the lane up to the county road (which still has not gotten plowed since the wind closed the road again). The wind was very nasty and cold, but was letting up a little bit so that the visibility had gotten a little better. We could see about half a mile this afternoon!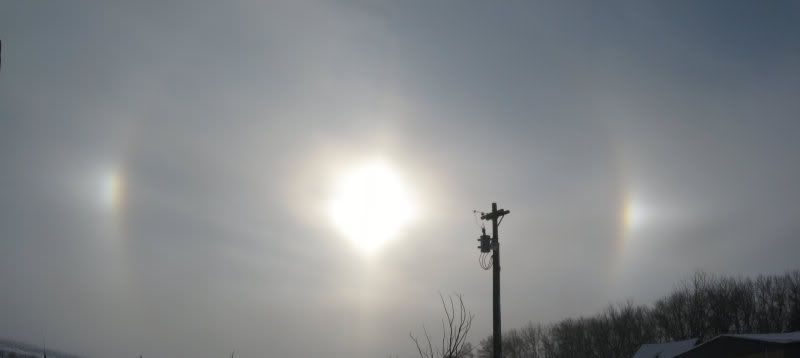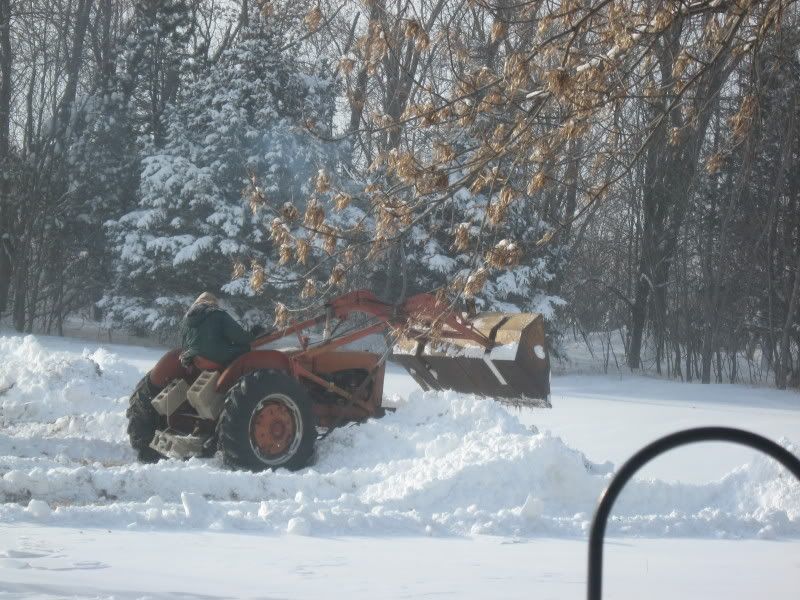 I'm glad it's not me out there!
We were hoping that the snow plow would come through this afternoon so that Norm could drive the van over to Jody's to water the animals. They have plenty of feed but they are probably pretty thirsty – there are no tank heaters to keep water from freezing for the animals. However, it never happened.

Jody and Don will be home tonight or tomorrow, but if not, we hopefully will have the plow do the road so that Norm can get over there in the morning.

Despite the cold and wind, it was a beautiful day. First day of winter, Solstice – you all have a beautiful day!