Last night as I was fixing supper, I thought (often) of my "baby" Jill. We had a Cornish game hen – half each, stove-top stuffing and garlic mashed potatoes.

Back in the "old" days when we lived in South Dakota, I made my dressing (stuffing) the old-fashioned, real way – dried bread cubes and baking with the chicken, turkey, rabbit, whatever. When I moved to Minnesota, a friend tried to convince me that the "only" way to fix stuffing was to use the stove-top boxed dressing. Well, foolishly, I listened to her and got addicted to stove-top.

However, Jill developed an allergic reaction to celery (and that's another story) and I discovered that not only did the stove-top seasonings have celery seed or dried celery in it but the packages of dried bread that you could purchase had celery in the seasonings so I had to go back to the "old-fashioned" way of collecting my own dried bread cubes and making dressing (stuffing) the real way.

But lately, Joy has taken to making stove-top (when Jill's not around) with the crockpot. I love how it comes out! Tender, moist and you can make it for anything, not just roasted fowl (no longer rabbit!). So I tried it myself, but using my own bread and seasonings. Works great. But last night I forgot about the dressing (stuffing) until too late to put it in the crock pot, so I made it myself on the top of the stove. I threw some dehydrated onions into the pot with water and powdered chicken broth from the natural food store, a little bit of pepper and some butter. Then popped in the thawed out bread cubes and stirred. I cooked them on a low heat for about 10 minutes, then let them sit while the rest of the meal finished. They were GOOD, if I don't say so myself. But Norm said it for me. This is GOOD! I always think of Jill when I make dressing (stuffing) because of the celery thing.

I was going to make plain mashed potatoes, but decided to dig out my garlic roaster and roasted some garlic in the toaster oven just before I put the game hens in.

I thought of Jill for the potatoes, too, because she taught me how to make them one holiday when everyone was here. The roasted garlic, butter, seasonings and milk are warmed up (cream is better, but I didn't have any) and the cooked, hot potatoes are put back in and smashed to smithereens. Yummy in my tummy! Thank you, Jill!

The game hens were cut in half and put in two small glass bread / baking pans. My new toaster oven is not as deep inside so I can't get tall things in and the game hen did not fit as a whole bird. I then rubbed olive oil on the two halves and sprinkled salt and pepper on the skins. Roasted for about 25 minutes at 450º, then put on a liquid – chicken broth, wine and oil – to baste and baked for another 25 minutes. Again, yummy!

Now, my question is this, today: why is the dressing (stuffing) called different things in different parts of the country? I was raised calling it dressing but if I mention dressing to people they look confused. So I have started to call it stuffing but then my family looks confused. Of course, I COULD call it was it was called back in the really, REALLY old days – 1700s and 1800s (and probably before that). They called it "forced meat" – probably because you forced it into the cavity of the bird to cook it.

Friday was Halloween and we went to Cookie's house for a party. It was just family with Binni having school friends over to go trick-or-treating and spend the night. One of the girls had her older brother go along for "protection."

We had sloppy joes (again, a word confusion – I was raised calling them "steamburgers") an the fixings for that. Good conversation and good company. Then home again.

Cookie only had one group come to trick or treat, which was a disappointment but she lives in an adult area with a lot of park space between her townhouses and the younger crowd's homes, so really didn't expect many. Plus, there were parties and trick-or-treating at the mall. Gone are the days when parents would drive children to other areas to knock on doors.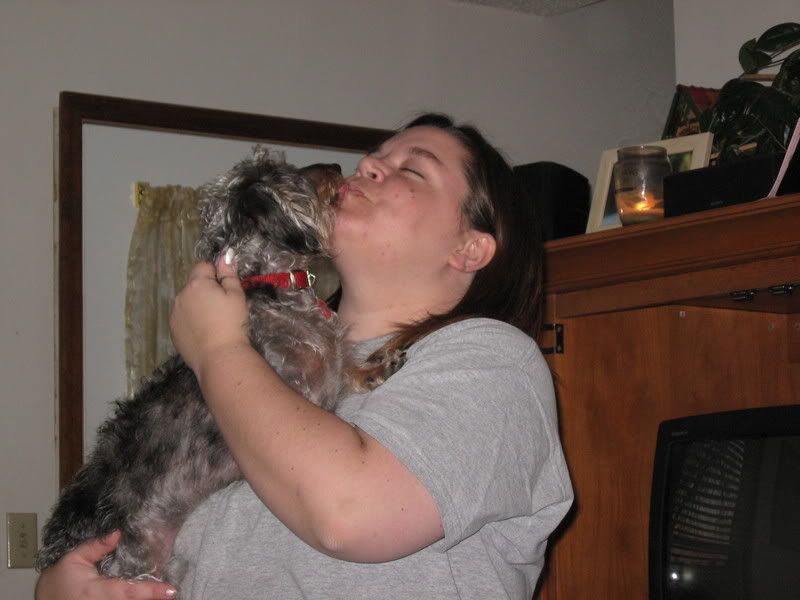 Cookie and her dog Buttons
Candy and I were reminiscing about our dad and the shows he put on. We would have parents bring children from across town to see his displays. I was telling them of the time when I frightened a group of teenage boys. They were so smart and not scared, then I frightened them, they ran around the back of the house, where my brother was waiting to scare them from that area. How people love to be frightened on Halloween!
It is a beautiful November morning. Did you remember to change your clocks? It is sunny, already 49º and not very windy. You have a beautiful day!