(More about that later.)

Let's start with yesterday (Saturday). We had a nice quiet morning with breakfast and computer work and visiting. Then we (Jill, Norm, Remy and I) went to see Puget Sound. Eric stayed home and did more computer work.

Puget Sound is the body of water that comes inland from the Pacific Ocean and wraps around nearly the whole western part of Washington. I remember visiting my uncle when I was in high school and my cousins taught me how to ski – my dad still brags that I ski-ied on Puget Sound! (It was my first and last time, I tell you!)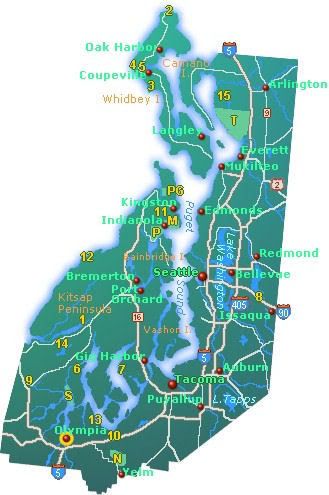 So, we went to one area and wandered around the beach, walked on the pier and let Remy run a bit.

Last night we got hamburgers from a great hamburger shop, as we were too tired to cook or go out.

Then Eric and Jill taught me how to play "Spore," a game about staring a creature from a one-cell animal and growing it up to be intelligent, making tribes, conquering planets and traveling in space.

This morning, Jill and I packed sandwiches, chips and pop and all of us but Remy headed out to who-knew-where. Well, Jill and Eric knew.

We ended up stopping at Northwest Trek, which is a wildlife park. Norm rented a wheelchair for me, as the trails are pretty steep and pretty long. We first of all rode on the trolley around the park to see all the grazing animals that were willing to show their faces (and other body parts) to us. The park is FOR the animals and we had to give way to several who were on the trail.

We rented a wheelchair for me, as the trail was pretty long and steep, up and down. There was a trolley so that guests could get very close to the animals. The grazing animals wandered anywhere they wanted to and the trolley drivers pointed out who was available to be seen. All of the pictures of the grazing animals were through big windows, but they were pretty clean so there are not too many smudges to look through.

They have: Moose, Elk, Blacktail Deer, Mountain Goats, Big-Horn Sheep and Buffalo, as well as Canadian and Cackling Geese.

The predators were in separate pens that had chain link fence around them but were large enough for the animals to feel free. They were: Black Bears, Grizzly Bears, Coyotes, Wolves, Lynx, Bobcats and Cougars. Some were sleeping in hidden areas but we got to see many of them.

The birds were in mesh pens. We saw: Eagles (Bald and Golden), Barn Owls, Snowy Owl and Great Horned Owls.

It was a wonderfully wonderful day (yes, I am repeating myself!). Now for the moose comment - the park has five moose (meeses? mooses?) Our trolley guide, after we saw them all said "A five moose day! WhoooHooo!" I guess that doesn't happen often.

The day was overcast and drizzly and chilly (I almost put my gloves on), which helped in viewing the animals, as they are more active in this kind of weather.

Thank you, Jill and Eric, for planning this wonderful day! Thank you, Eric, for doing the majority of the pushing of the chair. A lot of it was steep uphill, which made it pretty tough, I'm sure!

It was a beautiful day! You have a beautiful day.