On Saturday, I promised the girls an adventure, so we headed out without them knowing where we were going. We stopped at the city park at Walnut Grove and I let them get out and play on the playground (for an almost teen, Bitty certainly is child-like, sometimes). When Cookie and Binni showed up, parking behind me, I called my girls over to tell them that it was time to go. I told them we were going home, that I had brought them all this way (a thirty minute drive) just to play on the merry-go-round. They did not know they were meeting Binni.
As the girls were complaining, Binni said hi to them (they had not noticed the car behind us or the people standing outside the car!).
While waiting, I saw a black squirrel -- really and truly black!

The screams of joy were certainly fun to hear! And hugs all around. Bubba is the kind of girl who will grab someone around the waist and squeeze and not let go for every-so-long!

Cookie went over to Candy and Wayne's to help do some work around the place while I took three very excited girls on their adventure. The plan was to go see the dugout remains on Plum Creek and then the museum. However, the girls enjoyed the site so much that we spent over an hour there and I decided the museum would be anti-climatic.

The pictures are for you, Happy Owl! Now you know what you have coming when you come to visit me and see Walnut Grove!!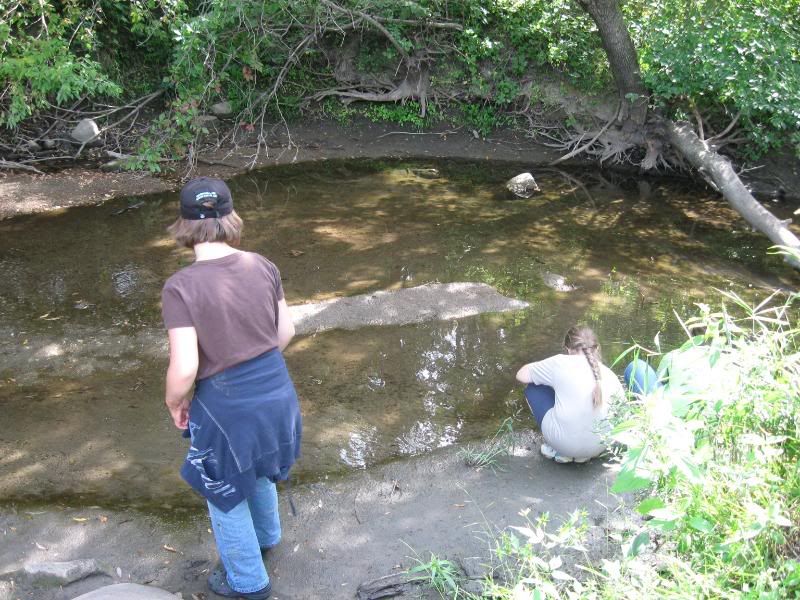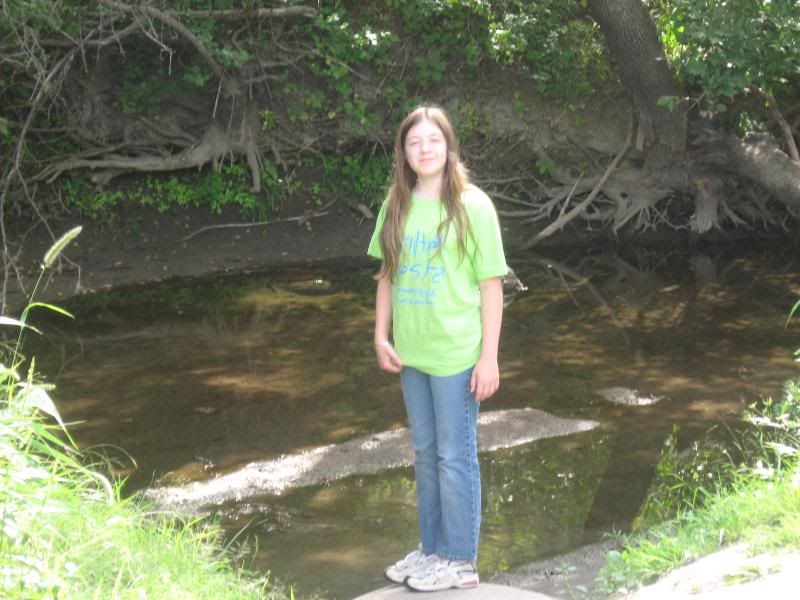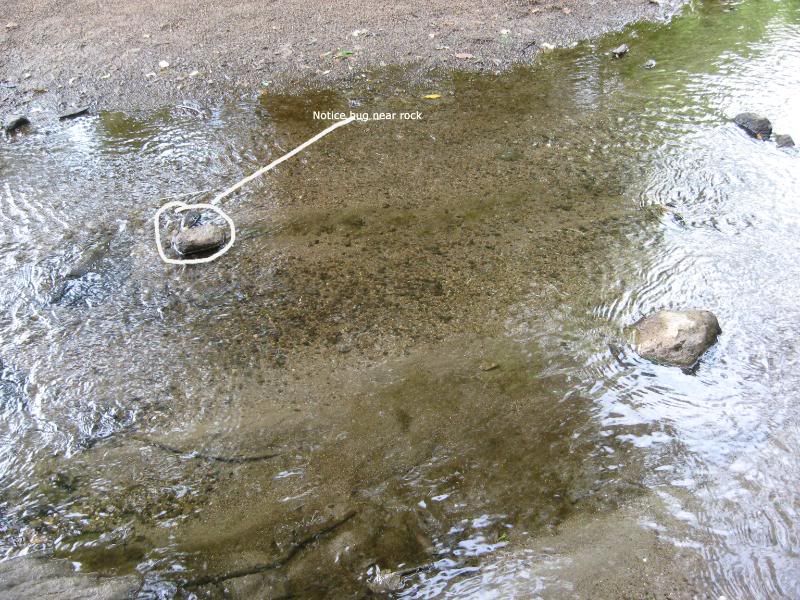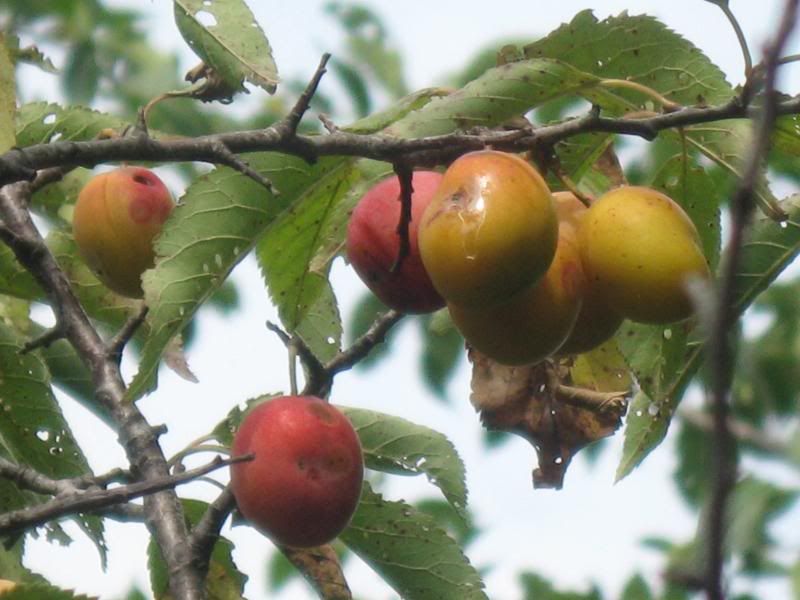 For those of you in the world who don't know the importance of Walnut Grove, this is where Laura Ingalls (before she was Laura Ingalls Wilder) spent some of her childhood. And Laura is the one who wrote the "Little House" books that describes pioneer life so very well. I use the books as references for some of the chores that I do or describe when demonstrating as a living historian.

Laura describes her life in Walnut Grove on the book "On the Banks of Plum Creek." You can read the details

here
.

Bubba is in the process of reading that book in the series of "Little House" books so she talked about some of the things that happened to Laura in that book.

After the site visitation, the wet, soggy shoes and socks went into the trunk and we headed home. I promised them a visit to the museum another day, but I don't think they even heard or registered the promise. They were tired and hungry, so we headed home to chicken noodle soup (canned, not mine) and grilled cheese sandwiches.

After a nap (me) and dress-up games (girls), we went to the Farm that Norm works at for the Fall Festival. I saw Valentino (goat kid I rescued in February) and gave him a cuddle. We had supper then I came home – the girls stayed with Norm and played with a new friend – daughter of one of the other workers there.

That night was the "slumber" party where I allowed the girls to stay up until the wee hours of the morning and then sleep in as long as they wanted on Sunday morning.

Candy, Wayne and Cookie came over for a "lupper" – lunch / supper meal and visiting. Cookie is a South Dakota licensed massage therapist and is considering renewing her license her in Minnesota. She sat on a pillow on the floor and massaged my feet and legs and found the spot for my knees on the reflex chart she brought. So my knee feels worse today but should feel better tomorrow (she promises!).

Binni went home with many hugs as well as all the others going home. After they left, I made popcorn and we watched "Water Horse" until bedtime. I have NetFlix so had ordered the movie in time for the girls being here. If you haven't seen it, you will enjoy it! The computer graphics for the water horse was excellent. I felt as if he were a real animal, not a computer generated thingie.

This morning I went to the doctor (yes, Candy from New York) and got medication for my cold / cough. It is NOT in my chest (thank goodness) but is drainage (yuck) that is causing the cough so I have a nasal spray (new to me) and antibiotics to cure what ails me (well, at least THIS part of what ails me!).

On another note,

Candy from New York

has a loom! A really, truly one that is worth about a thousand dollars when new!! So she is going to have lessons at

this place
. Now if she will only put pictures of the loom on her blog!

It is another beautiful fall day – very little wind, almost sixty degrees and very sunny. You have a beautiful day!