This week has been the hottest week so far this season … but we kept busy, anyway. Joy and girls came down Monday night and surprised Norm; they met us at the café in town where we, Jody and Wayne were going to have tacos on Taco Monday.

Tuesday morning, Wayne came over to help get the old garage cleaned out. This is the spot where we will put our new (to us) steel building – I believe I mentioned that in another post. The girls, Joy, Norm and Wayne did most of the work. I was "waterboy," errand girl, chief cook and bottle washer.
In two mornings, we went from a messy, full, full, FULL building to nada – zilch – nothing. And the old garage is down and gone! All that is left is a small pile of wood that needs to be moved.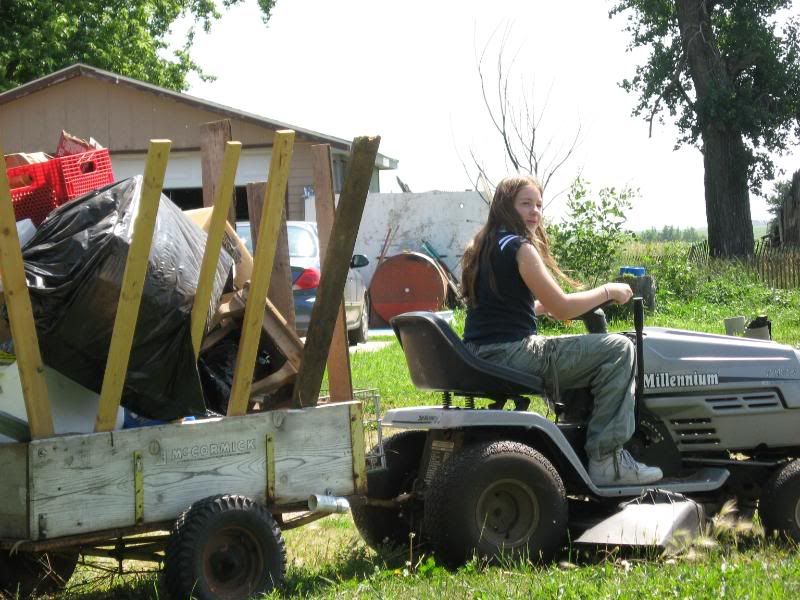 Bitty was in charge of the small tractor
Bubba was in charge of nail removal
A maul helps tear down walls
Even karate kicks will knock down a wall!
Chaining up the tractor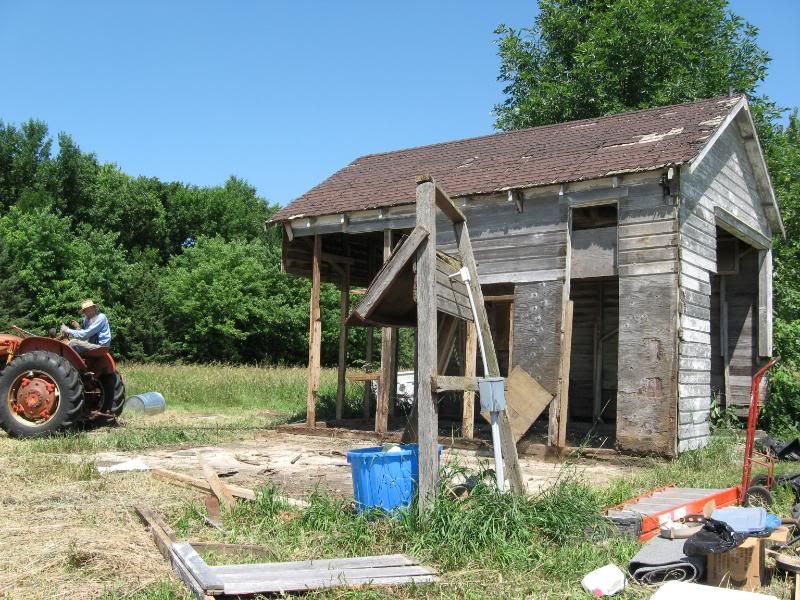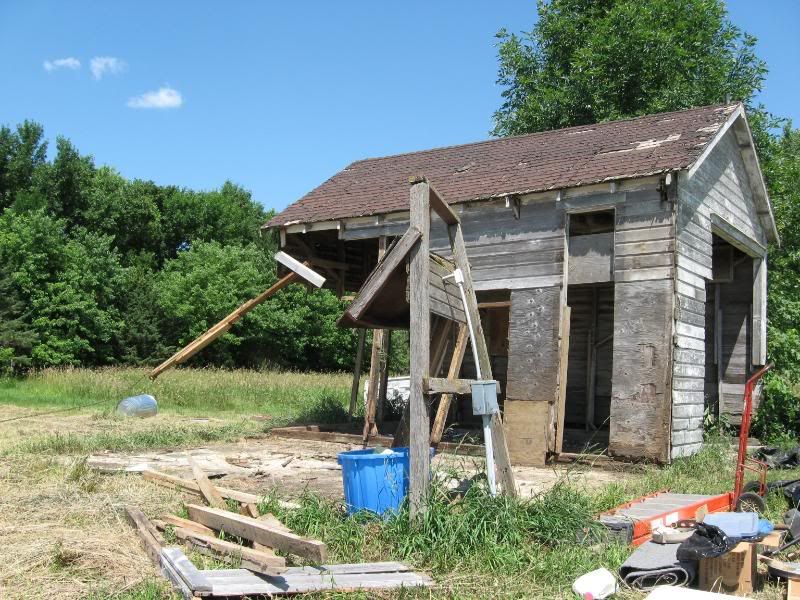 Tough buildings need a push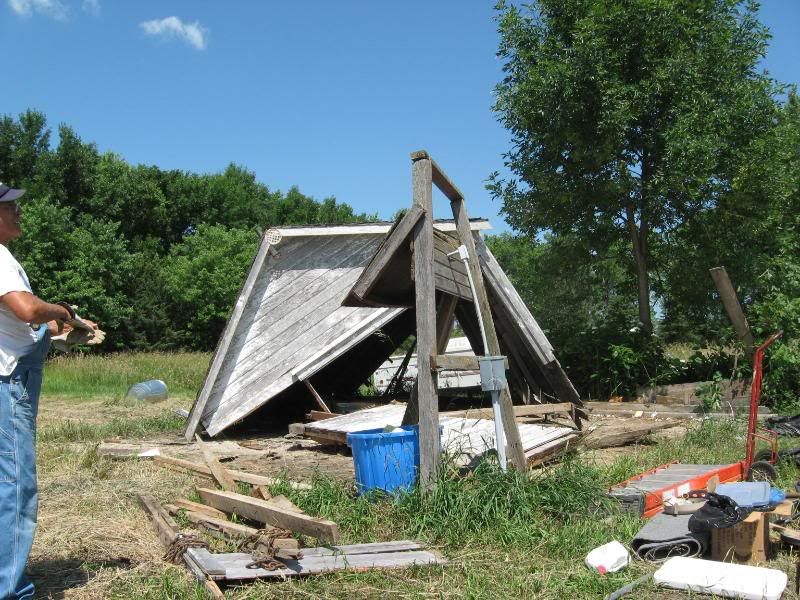 And it's down!

On top of cleaning out and destroying the old garage, Norm had hay to be raked, so I showed the girls how to make windrows and they went to town. Even Joy got into the act! Now we have more hay for the critters this winter!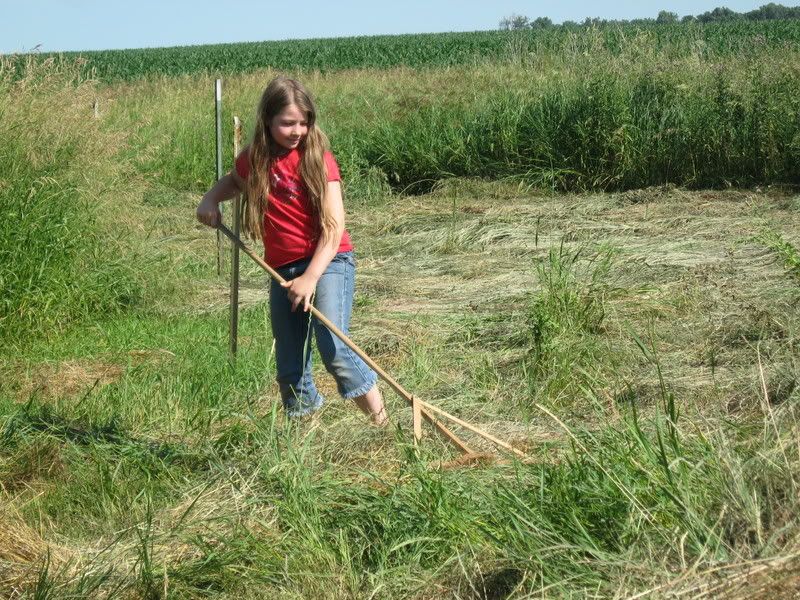 Looking for shade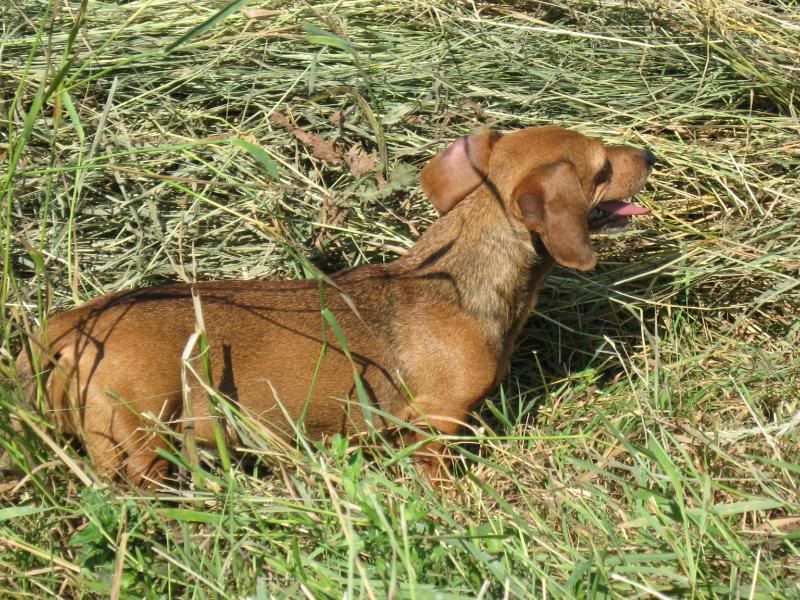 A HOT dog!
Supervisor

Wednesday, we went to see Cookie and Binni – the girls were so excited to be together that they were hysterically silly all night! We took 115 pounds of pop cans (the girls smashed most of them) and 21 pounds of copper. A good haul to the recycle place and we got prime dollar for them.

We got home about 11:00 that night with 2 very tired girls who were supposed to go straight to bed but didn't. Bubba wanted to finish plying the yarn that Joy had spun for her on the drop spindle and Bitty wanted to do some more weaving on the sample loom that is set up for the summer demos.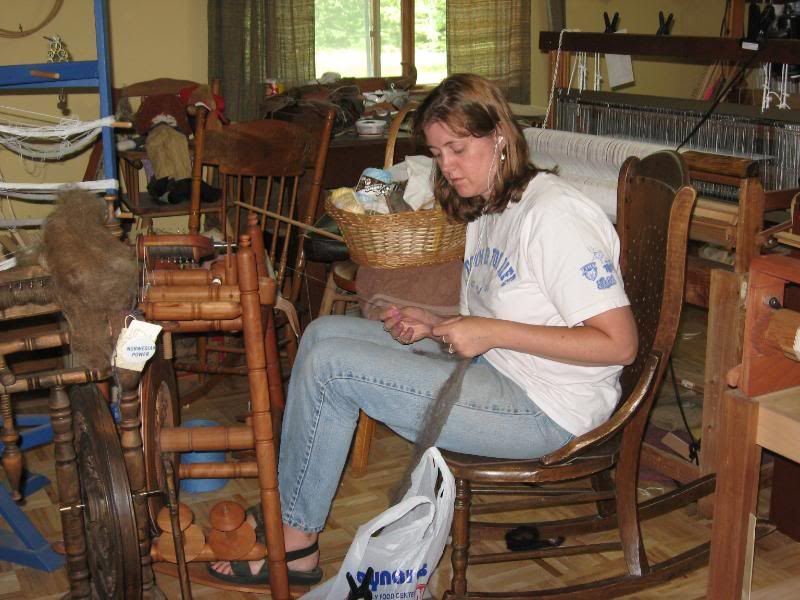 Using my new wheel, "Bonnie"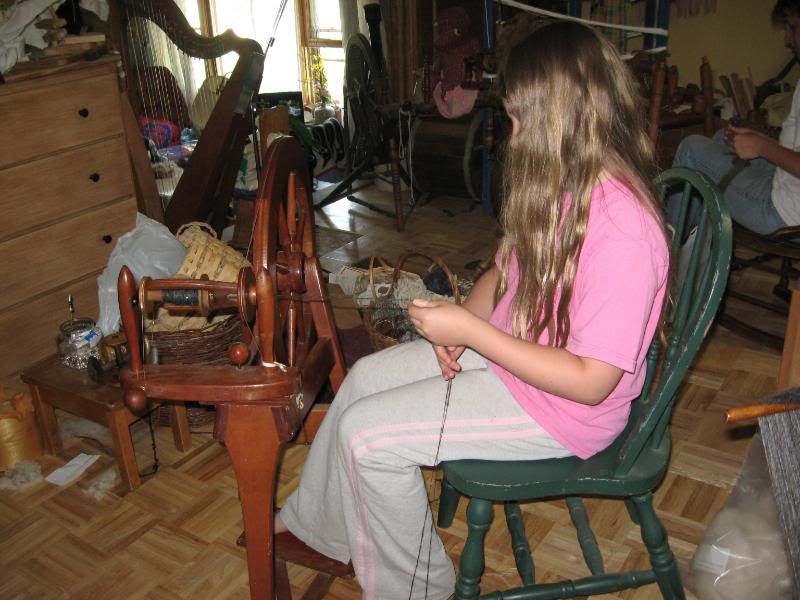 Bubba loves to ply
Up early in the morning and the 3 girls and Tasha headed home. It was pretty quiet when they left!

Now, today, it is "cooled off" to a heat index of 100º with a very strong wind. We have the air conditioner running for the first time this summer (would be nice if it's the last time, too, but I doubt it). We are packed for tomorrow – going to Walnut Grove for the Laura Ingalls Wilder festivities there. A flea market / antique / craft show is in the park during the day and we have been invited there for the second year. I hope it will be as cool as promised tomorrow (about 80º) so it won't be so miserable as today.

In fact, Wayne called and said it was too hot to cook so we met him at the café in town for supper. Now to get my olive spread made for tomorrow to go on the flat bread that I froze from the Sons of Norway event and then to bed early.
It was a beautiful (if hot) day today – you have a beautiful day!