The kids left this morning after a very hectic few days. After the party on Saturday night and a very late arrival home, everyone slept in on Sunday morning.

Norm took the girls and Joy to church while I stayed home and baked a loaf of bread and started some applesauce. After lunch (taco salads) Candy and I went over to the farm Norm works for and collected two kittens. Candy wanted another one to help Lil with mice and I wanted another one to replace Lil (who, if you remember, moved from my house to Candy's house earlier this fall).

Candy chose a tortoiseshell female and I chose a beautiful black Halloween male. His name is "Spook" and he's starting to learn to be around here – it will take a while for he and Scooter to get used to each other and it will take a long time for him to get used to Peanut. The dog at the farm is a wild thing and his favorite pastime is to chase cats up trees.


Norm and the girls picked the rest of the apples. We had an apple connoisseur claim that they are "Fireside" apples and they could very well be. They are sweet and crunchy but not tart at all. They make an applesauce that is almost as sweet as our sweet yellow ones – with no sugar added.

Ashley and Jessica traded hobbies for a little while – Ashley did some weaving and Jessica did some spinning, but soon switched back. We were informed that
1. Ashley WILL get a spinning wheel and wool for Christmas and that she is going to start volunteering at Historic Murphy's Landing AND work there when she is old enough.
2. Jessica IS going to get a loom, possibly for Christmas and she loves my "Matilda" loom that she was working on.

However, this will not happen for a while. Money is part of the problem, but also space. We know they can spin and weave all they want when they come down here – Ashley already has a loom and has to finish her project on that before she can get something else done. Norm plans on making another one for Jessica (shhh, don't tell her) and probably re-vamping Ashley's so that it's a four harness rather than the two harness that she has now. Both are ready for four harnesses in weaving and will have me to help with the "dressing" of them.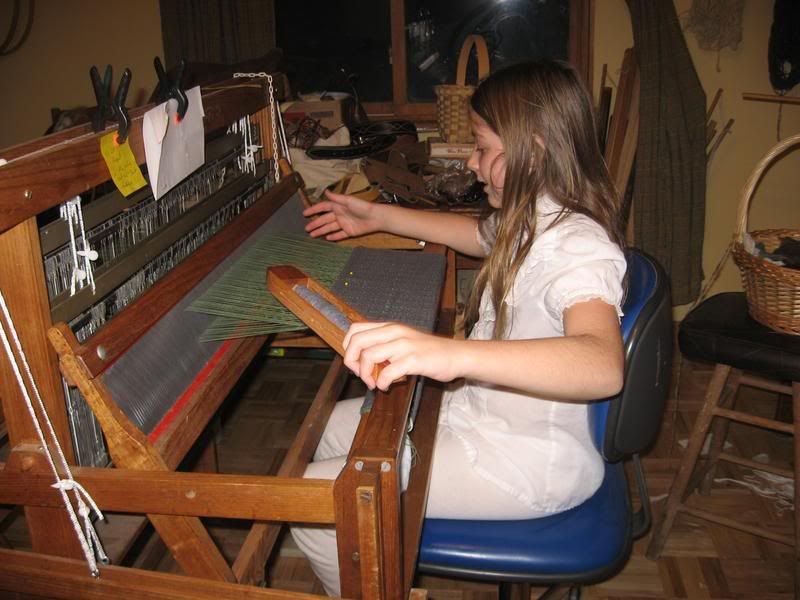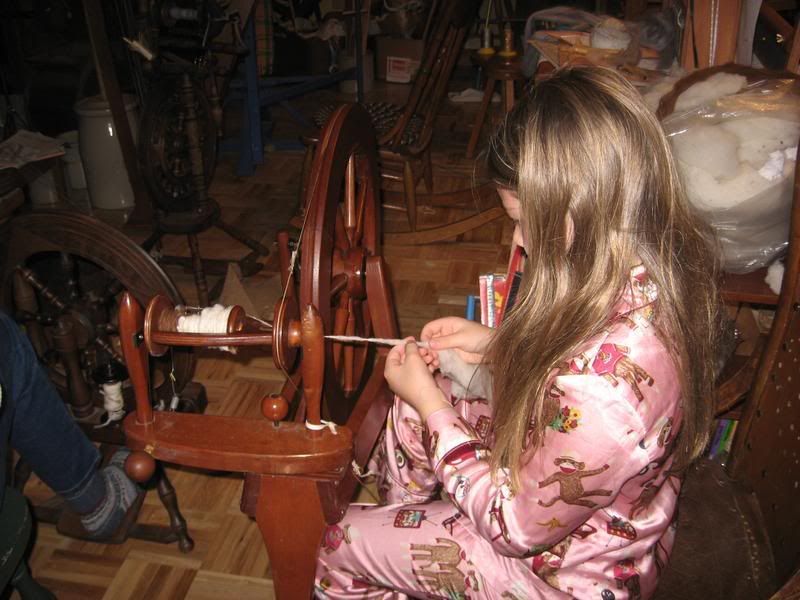 We then watched a movie with popcorn (Mask of Zorro), had supper and did some weaving / spinning again. Joy was fussing that she ran out of the brown she was spinning. I had to force the girls to quit to get ready for bed. A scary story for bedtime (Icabod Crane – which is more funny than scary) and I fell into bed before Joy had stopped her spinning.

This morning the girls had to go see Spook and say goodbye to both him and Scooter as they were leaving. Saying goodbye to us was easier than usual, as we knew we'd see each other again pretty soon.So, now Joy is home; I had a nap (made Peanut happy for "lap time"), and Norm is playing (cleaning) in the garage. It has been a beautiful day – little wind, nice and sunny and warm. It's time to collect eggs and start thinking about supper. You have a beautiful day.