WARNING – author on steroids and cannot quit writing!!
"Big Island" Rendezvous
is traditionally the coldest one around – I have visited (before starting there last year as a demonstrator) and it has been windy, rainy, snowy and downright miserable for man and beast! We were warned! Bring warm clothes, lots of bedding, warm clothes, good heat source, warm clothes, lots of tarps for putting up walls around your fly to keep the wind out, warm clothes and warm clothes.

Last year!!! Hot! Windy but HOT! This year, Hot, humid and HOT! It got up to 85º on Saturday and high humidity. If we hadn't gotten breaths of wind, we would have been more miserable than we were. But we didn't dare complain – it might switch overnight and have snow!

Even the nights were warm! I had flannel sheets on the beds with two wool blankets and warm quilts for each bed. Plus I had another blanket in case of need. We had the four-dog stove ready and waiting for heating the tent in the mornings and evenings and even during the day if necessary. (A four-dog stove is one that you use if it's cold enough to have four dogs on your bed to keep you warm!) Well, we never even lit the stove and usually slept with just a sheet until early morning when we put one blanket up around our shoulders. Usually I have to check on Norm because he sleeps so deeply (like a child) that he doesn't know he's cold and I have to cover him. But this time he wasn't cold at all! So I never had to get out of my bed and check on him unless I was getting up to use the commode (I LOVE that commode … no having to go out to the port-a-potties [which are called "hooters" at Rendezvous'] … but just getting up and walking on a nice carpet over to a corner of the tent – excuse me – "lodge"!!) It was so warm that something (ants or spiders) bit me at night. I had welts and blisters all up and down my left arm and one finger – why only there? I had to take Claritin every morning to help the swelling and was loaned some benedryl spray to take the itch away.

We had Peanut and Tasha, our daughter Joy's dog, along. They were both very good and made the week more fun. We put them in the tent while the school kids were here so the kids could concentrate on us, not the dogs.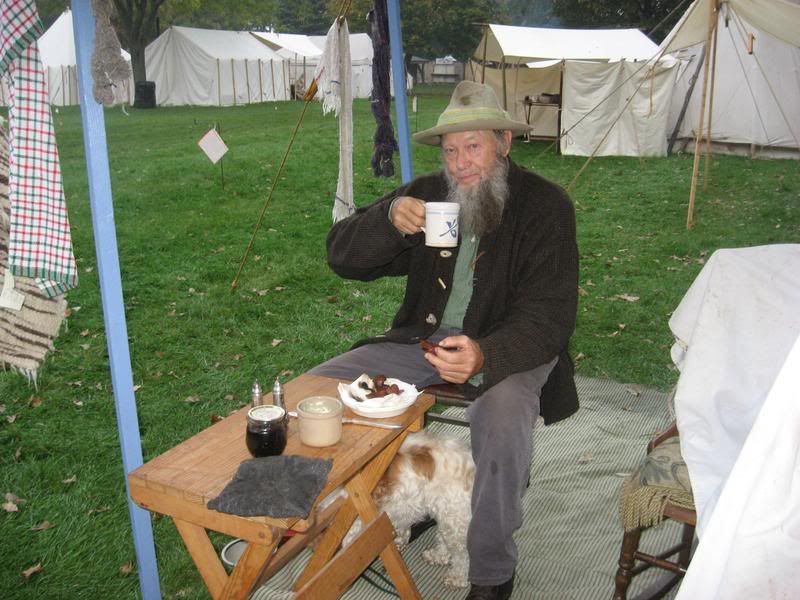 School groups were normal school groups – some were interested, some were not. Some asked questions, some did not. Some watched and listened, some did not. But getting good questions and comments and having children come up as they are leaving to thank me or make some comment or ask another question makes the "not" children all worth while! The weather was warm and the children were anxious to be off to the next station that MIGHT be a trader where they could buy something cool!

Besides us, there were many, many demonstrators for the school days – Thursday had about 2,000 children, Friday had about 3,000! Busy days!

After that, Saturday and Sunday were fun! We still demonstrated for the general public but could wander, visit, buy stuff we can't live without and play.

My favorite people, Patience and Harley, came out for supper on Thursday night – we had beef stew. I had cooked the beef in a crock pot until tender, then froze the meat in a FoodSaver bag and put the juice in a quart jar to keep in the fridge. I took along some frozen corn (thawed out by Thursday), canned carrots and dehydrated onions to add to the juice. I cooked it on my two-pot braiser. Braisers are very "old" in history, but mine has legs to put it up so that I don't have to bend over the fire. We are not sure if that is "period correct" but sometimes an old body has to do what an old body has to do to be comfortable!

Patience brought some wonderful bread to go with the stew and a neighbor brought over some tiramisu that he had made at home that day (he was visiting his wife who is the demonstrator). We were going to have our traditional popcorn that we always have the first night we are together, but we were too full after the desert, so saved it until Saturday night.

Norm and I met Patience and Harley at Murphy's Landing.
They are in the Old West Society
and also, now, in the 5th Minnesota.
At Folkways
, they interpret in the Norwegian House as Britta and Axle Gunderson. Since Norm and I portrayed Swedish Immigrants at Murphy's, it was a lot of fun to have friends from semi-rival country! We have become very close friends and we include them in our extended family. For several summers, they set up a tent at Murphy's for the whole summer and came out on weekends to interpret; sometimes as Custer and wife, sometimes as Hickock and partner, sometimes as a female dude ranch owner and hired hand. Every Friday they would come "home" and we would walk down from our house to sit under their fly, have popcorn and visit. This time it was OUR fly! (A "fly" is an awning off the side or front of the tent – I like to call it my front porch.)

On Friday night, Norm and I ate alone and had a fantastic steak with fried potatoes and onions. I love my braiser!
Saturday was chicken and dumplings with friend Wally. Again, it was pre-prepared. I just popped the chicken and the broth from jars, added the vegetables (precooked) and heated them up. Then mixed biscuit dough for the dumplings. Unfortunately they took longer than planned to cook through– next time I will start them earlier so they are done when we want to eat!

Patience and Harley joined us but had eaten so they wandered to see other friends, then came back to pop the popcorn and all five of us inhaled it! While we visited and ate, we listened to the band called Tanglefoot (see link on the Big Island webpage) from Canada. They are so popular that they are asked to come back every year. Most of the people in the camp were at the concert but we were just down the "street" so could hear it very well while we ate and visited.

Sunday, Patience came out as "Icky Ethel" – she and Harley each have about 18 characters! Harley was a member of the New Ulm Battery for the day and probably will join them. New Ulm has a cannon that is an original one from the Civil War. Harley was there to help fire it off, but Patience got to light it several times, too!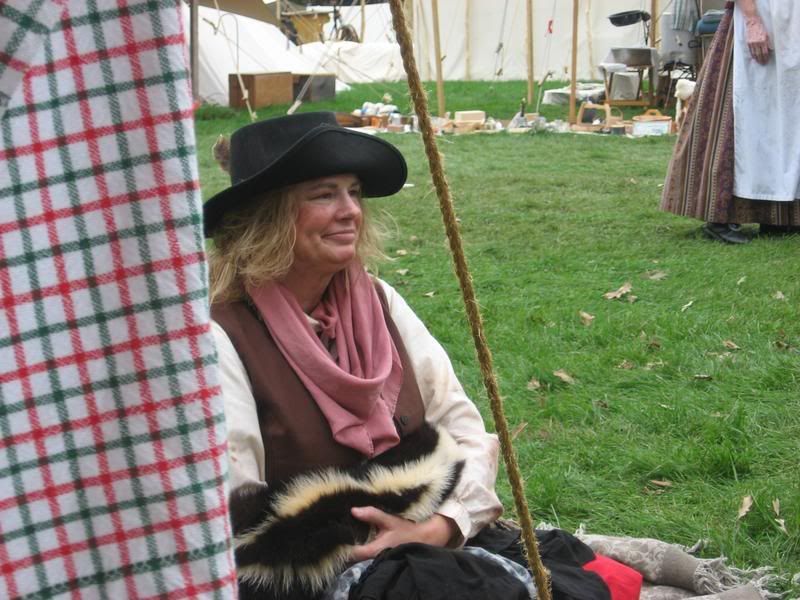 Icky Ethel has a pet skunk but also has hissing cockroaches that she carries in her bag to show everyone. I was going to take a picture of them, but my batteries were dying. I think I have to get some new re-chargeable ones. These only last for about 10 pictures, anymore!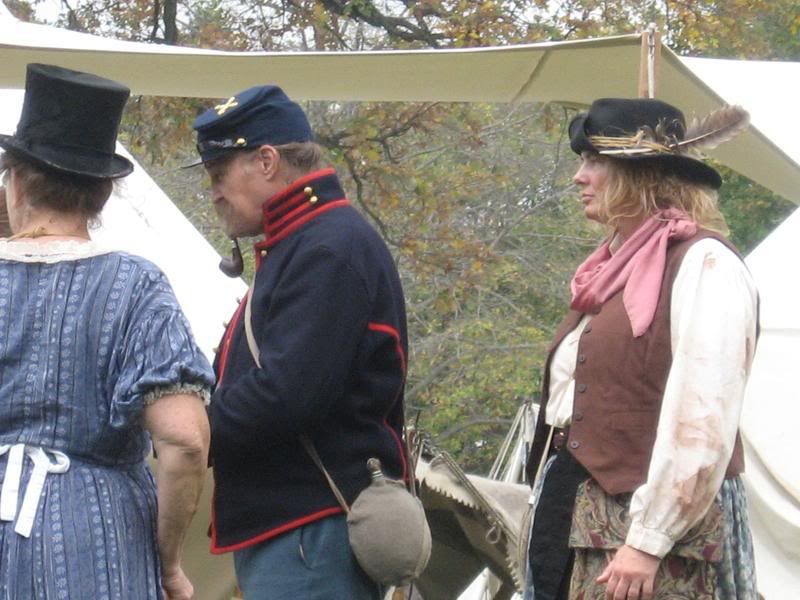 Harley and Icky Ethel visiting across the way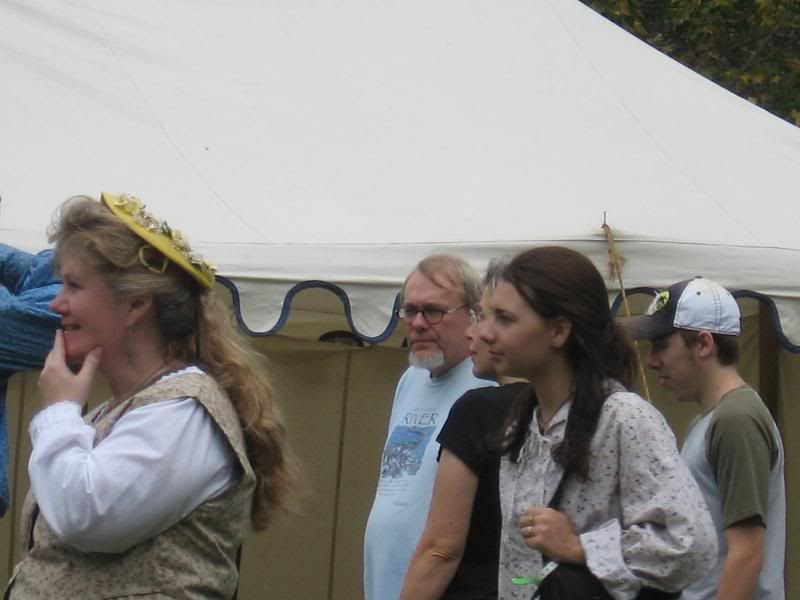 Katie's daughter, Takara
(dark hair, no hat - on right)
The weather was hot (did I mention it was hot?) but we tried not to complain very much as others remembered (and we dreaded) the cold, wet, snowy days of yore that could have happened over night! We did get some rain one morning and a little bit on Sunday, so the canvas was damp and we knew we'd have to hang it up to dry when we got home.

Sunday afternoon was teardown after 4:00. Norm went out to get the van and trailer while I started to fold bedding and clothes and organize. But Patience and Harley came over to say goodbye so I didn't get much done until Norm arrived, so it was slower than planned. However, we had no hurry to get done as it looked like there would be no rain to get US wet while tearing down. We were almost done when I got bit or stung by some flying thing but never saw what it was. I put some cream on it and tried not to itch it.

I watched and listened to my body and prayed, "Let it be a mosquito!" I also took it easy and didn't do as much pacing as I should have so that if it WAS a bee, it would take longer to take effect. However by the time we were nearly done, I told Norm to just dump the rest of the stuff in the trailer and not be neat, we had to get moving more quickly. I then asked our neighbors who had relatives in the city if they knew where the hospital was. So they helped Norm tie the poles onto the van rack, gave us the directions and sent us on our way. Norm had to ask people to move their vehicles several times, as we were going against the traffic, but they moved quickly when he mentioned hospital.

This time was different than the first time, last year, as my reactions were slower than before. I was able to walk in to the emergency room by myself while Norm parked van and trailer, They checked me in quite quickly as my tongue was starting to swell, I was having a difficult time breathing and I was getting rather shaky. A nurse said that there was a possibility that taking the Claritin for several days was what made the difference; I had some medicine in me before I got stung.

I got shots instead of IVs this time – in my (owie) hip!! The doctor thought maybe I was having a heart attack that was triggered by the sting, so I had an electrocardiogram and blood test to make sure that I wasn't. After about 2 ½ hours they let me go.

So we stopped at Arby's for a late supper, ate in a parking lot (the drive through was open, not the dining room area) and headed home. I slept most of the way with sweet Peanut on my lap to warm my heart and body (I was chilly), but I did manage to wake up once in awhile when I heard rain – we had waves of rain almost all the way home. I also woke up in time to point out our yard light to Norm, 2 miles from home – although there were two of them in my foggy vision. The benedryl that they put into my body to help the venom knocked me out!

Got home to hot showers and bed about 12:30. Not hard to get to sleep THAT night!

Yesterday we went to town to get my pills. I had been prescribed Prednizone for the venom as well as benedryl. Also zantact for the upset tummy. The doctor at the hospital also recommended that I start taking baby aspirin for my heart – he says that EVERY woman over the age of 50 should be doing that, so gals, check with your doctor and see what you should be doing!

I called my clinic (town and name of clinic removed to protect me from you finding my doctor) to give Dr O's nurse a message (emergency doctor told me to call her) about my episode. About an hour later, who should call but Dr. O, herself? Have I mentioned how much I love my doctor? We had a lovely chat, she approved of what the emergency doctor did and suggested then she asked me to get a stress test done here and the results sent to her.

While I was getting my pills at the pharmacy, Norm went next door to get some fresh fruit and brought me a present. I watered them with tears!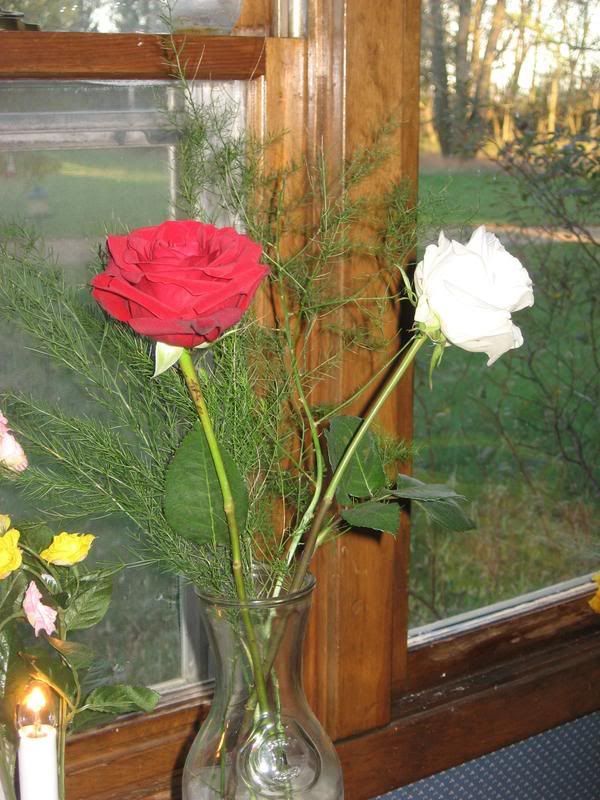 So now ……… I am pumped up with prednizone and am having trouble napping like I want to. The P is over-casting the B and I'm not sleepy, much. I guess I need to get going and do some laundry and unpack the kitchen box and the bathroom box and re-pack them for the winter storage.

Norm hung the canvas yesterday to dry and it's put away. Everything needs to be winter-ready, as we will not use much until next year.

I am sorry that this is so long, but I wanted it to get all in. Next time will be shorter, I promise. And you didn't have to read it all, you – it's not required reading from a book club or school!

It is a beautiful day – it's already nearly 50º and it's supposed to be calm and sunny and cool-ish day. You have a beautiful day!