I thought, this year, that I'd take you through some of our daily experiences at the fair. There is no connection here in the campground, of course, and if I took the computer to the cabin, it wouldn't work, because I don't have electricity in the cabin!
We work in a small cabin that was built in 1900 in the far northwest corner of Minnesota. We set up the cabin to be mid-1870s and interpret it that way. The cabin is located in the Heritage Square area of the State Fairgrounds. This area is dedicated to "old time" crafts – no plastic balloons shaped like Bart Simpson, no fake feathered hats, no plastic bead necklaces. All the articles sold in the Heritage Square must have been made by the seller or members of the family. We have old windows with lovely painted scenes, painted gourds, painted ice skates and desks and chairs, hand made jewelry, canes, old-time photographs, kettle corn, a stage with "old-time" music. We have a blacksmith and a wood turner as well as the cabin. The cabin is surrounded by fenced yards and has a covered wagon, a buggy and a few carts as well as several different types of old farm machinery. The Square also houses the State Fair Museum that has many things pertaining to the history of the State Fair. There is a lot there from Dan Patch, the most famous Trotter in American history. I have seen and touched some articles that he wore – a harness, a bridle, etc.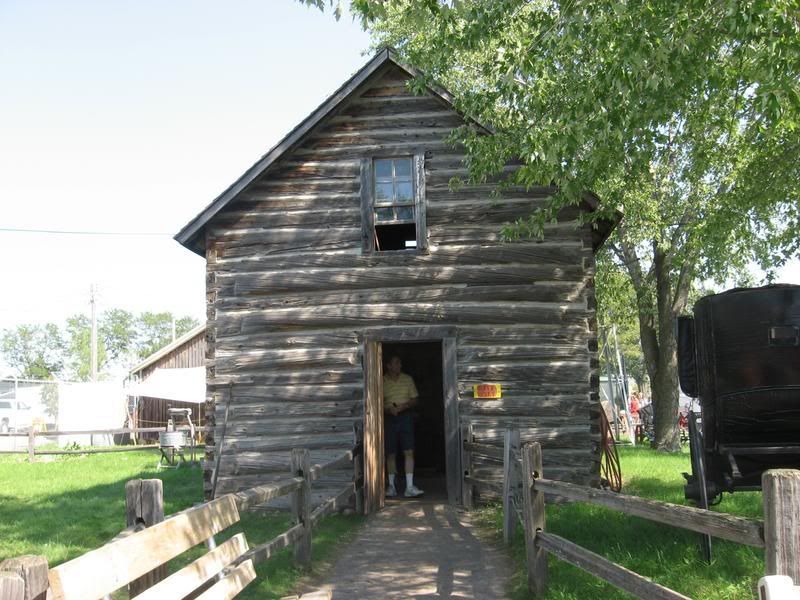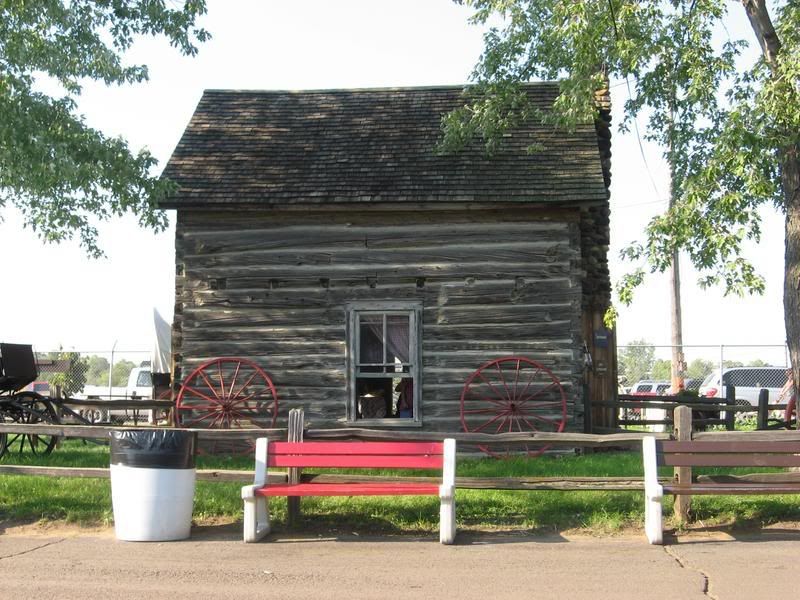 Day 0: Set up day. Katie and Takara left on Tuesday to get to the fairgrounds and get the camper set up and start working early. But didn't get the camper set up so spent the night at a motel. They unloaded their pickup and had everything of theirs set up by the time Norm and I got there on Wednesday.

Norm and Katie set up the camper while T and I got my stuff out of the van and set up in the cabin. We discovered that there was a lot that we had either forgotten or hadn't been able to fit into our vehicles, but we can live without most of it. Amazing what little you can get along with if necessary!

Since our eating schedules were different that day, Katie and Takara went to supper while we continued to set up. We also met with Joe, our Heritage square supervisor to discuss parking. Norm and I came in separate vehicles because he is heading home on Sunday. I am able to park in the over-flow parking at the campground but Norm is parked in the Heritage Square parking lot with other entertainers. After talking to Joe, we went to Kentucky Fried Chicken for supper, then headed back to the parking lot next to the campground and started to settle in for the night. It was only about 8:00 but we were very tired, so were asleep by 9:30. And at 10:00, fireworks!!! Where did THEY come from? I know we suffer with the noise of fireworks during the fair. They shoot the blasted things off every night after the evening concert of loud, obnoxious bands (which we can hear from our cabin while trying to "be" in the 1800s). But why fireworks on Wednesday night???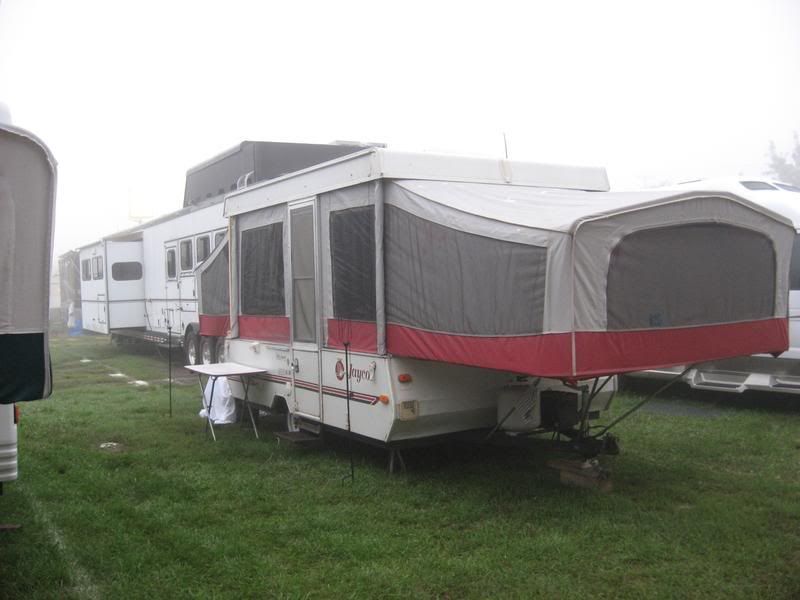 Home away from home
Day 1: Awakened at 4:30 by some noise and got up to walk to the facilities. The camper is parked just about 4 spots from the main drive-in gate, which is right on the main drive into the fairgrounds. Also, just on the other corner is the main drive through this part of St. Paul. There are huge trucks, traffic all night and sirens. We also have jets taking off from the airport and flying over our heads; dump trucks coming in to empty the dumpsters and the porta-potty guys coming to not only empty the big vat in the campground, but they will empty your tanks in your gigantic motor homes so you don't have to drive to the vat to empty, yourself! (There's one right outside our camper as I write – at 6:30 am!) We also have helicopters flying over head – probably the traffic ones so that people know what kind if traffic to expect going to the fair!

At 4:30 this morning, there was fog thick enough to cut with a knife. Also, when I came back from the facilities, my eyes were open enough to notice that on the main drag were parked lines and lines of cars waiting to get into the fairgrounds – at 4:30 in the morning! People were out of their cars, talking in bunches. It was the "Great Minnesota Get-Together" before they reached the fairgrounds! The gates open at 5:00 and people couldn't wait to get in. Now, admittedly, a lot of them were workers waiting to get in to open booths, but I have been told by several people who have lived the State Fair experience for all their lives that it's a great thing to wander the fairgrounds even before any of the food booths open in the morning! Too early for me! I hit Andy's Diner at 8:00, join others from the Heritage Square for breakfast and get to the cabin at 8:30 to open up, clean up and be ready for guests at 9:00.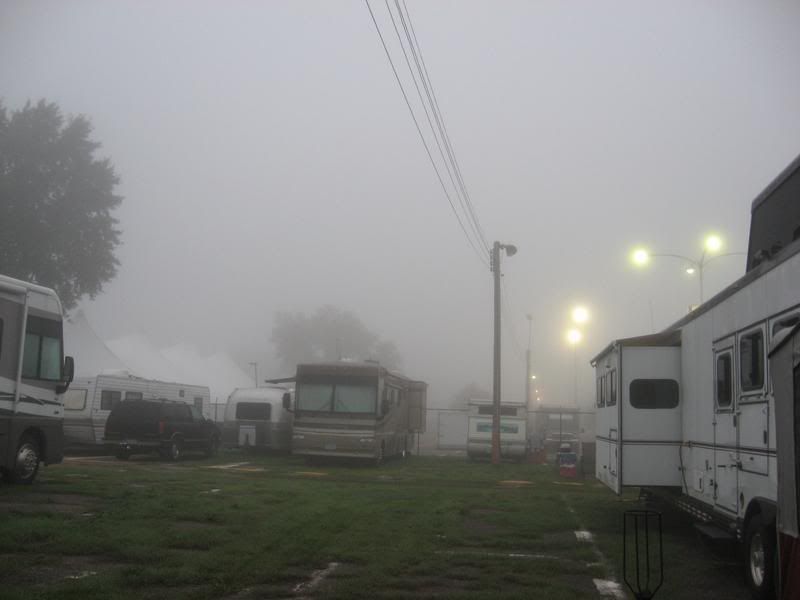 Thick fog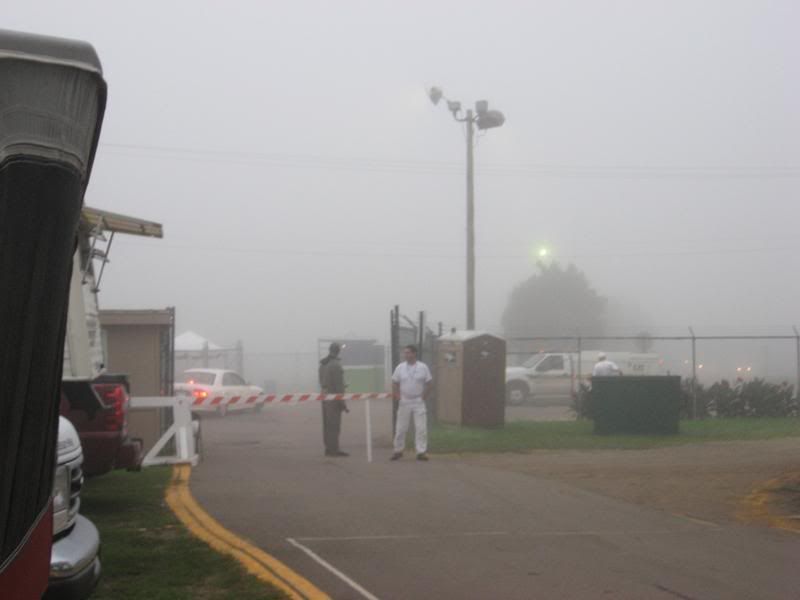 Waiting to go into the fairgrouunds
Day 2 through Day 4: Norm worked the fair with us these 5 days. He is not much for fair going or sleeping in the camper. But he sits his table and shave horse outside the cabin and talks to people all day long, showing how he makes spoons. This year he sold several spoons, which is an additional treat for him AND the buyer.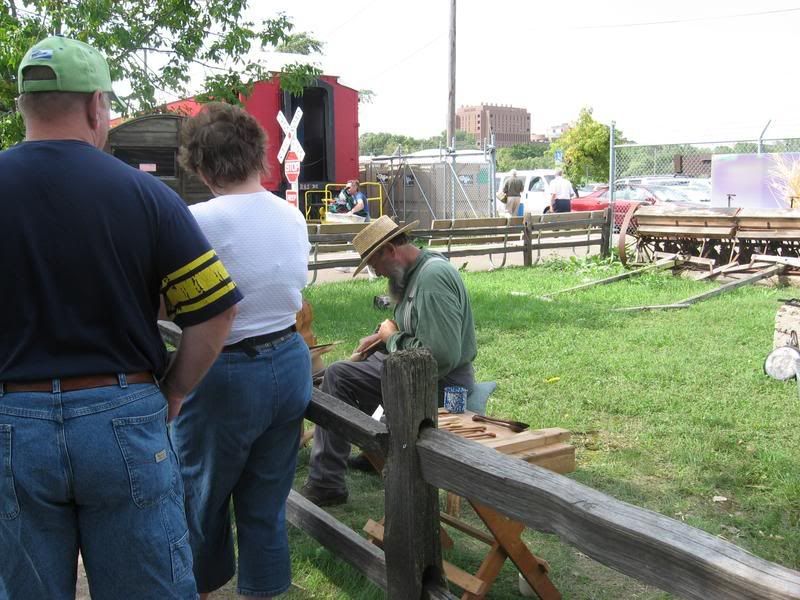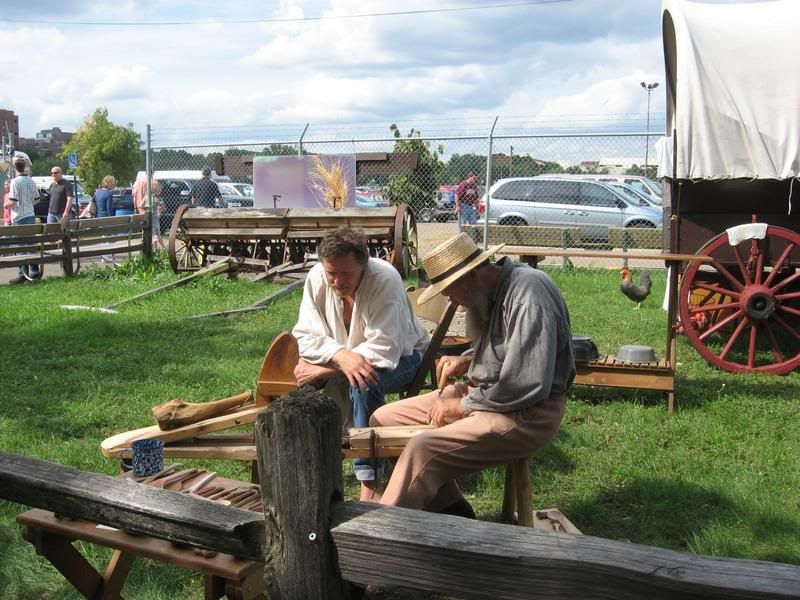 David V (Bathen) watching a spoon being made

Norm left on Sunday night; he went over to Joy's to spend the night with the girls before heading home on Monday.

Roger H – "Ole Oleson" - came to help open up on Sunday and spent several days doing so. Since he is Norwegian and portrays a Norwegian Immigrant and I portray a Swedish immigrant, there is tension in the air every time he is in the house. "Ole" has a homestead just west of our farm; he is a do-nothing that spends time visiting neighbors instead of helping his wife, "Lena," and his 8 children grow and tend the crops and animals and improve his home. At least THIS year the family is living in a dugout rather than the wagon that they have lived in for several years. However, his son "Thor" managed to chase the brooding sow until she broke her leg; but we enjoyed some of their sorrow, as the Oleson's shared pork with all the neighbors.

The story of a disaster to an animal in the summer is a great way of explaining why we are eating fresh pork (or beef), as butchering cannot be done until freezing weather!

David V showed up nearly every day about 11:00 to help in the cabin. He is a horner, but very rarely worked on the horn projects he had. He spent most of his time playing his Rebec (a predecessor of the violin) or Takara's harp. He plays "Bathen" (pronounced "Bayen"), my hired hand. "Bathen" helps niece Amanda (Katie) in the summer kitchen, hauling heavy things for her, hauling water for laundry, but mostly playing sweet music to sooth Mrs. Peterson's soul and pass the days away.

Day 5: My knee has been giving me grief for several years; this year it has been a trial to walk from the cabin to the campground every night, as normal. But it has also been giving me troubles walking to breakfast every morning as well. I found a guy in the campground who was willing to rent an electric scooter so that I didn't have to walk the 1-½ mile distance to and from the cabin to the campground. I called the scooter my pony "Flicka" and had great times with her. I even saw more of the fair in the last 5 days of the fair than I have in the last 6 years!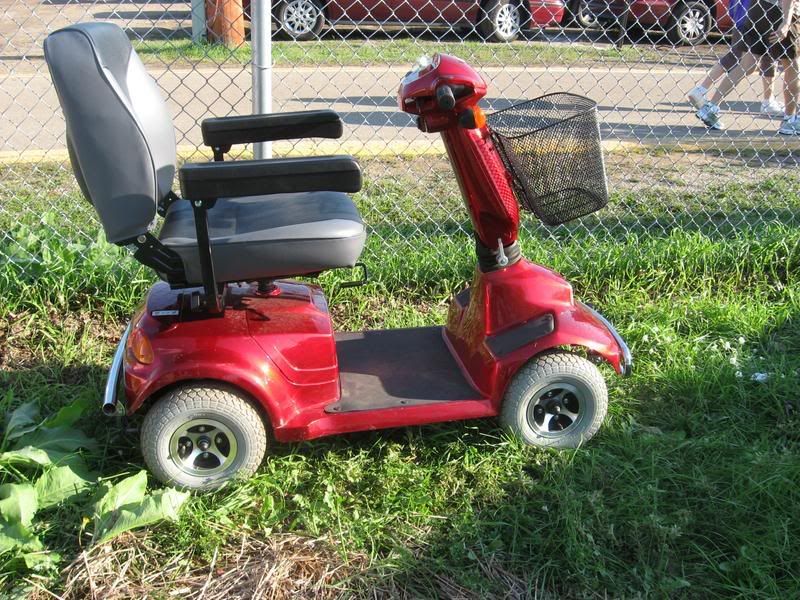 Day 6: Things are going along smoothly; with Flicka, I can carry the meat down from the camper to the campground with ease in her basket. Katie and Takara sleep in a bit in the morning so I take the meat out of the brand new thermoelectric cooler that I purchased (mostly for the state fair). It plugs into a cigarette lighter to keep cool but also can be plugged into electricity. It holds about 30 quarts of stuff and is a great second refrigerator for the fair. Katie and I took all the meat for the meals from our own personal freezers (we both get beef and pork from local farmers and have chickens from those I raise) so that we didn't have to buy any in the Cities.

Katie (as I said) sleeps in most mornings and either comes to the cabin just after 9:00 if Ole isn't there or around 10:30 if Ole IS around to help open up. I can take a nap upstairs on the straw tick in the afternoon if I need or go home early if I chose. Our schedules work really well for both of us and neither of us has to work the entire 12 hours each day.
Passed out on a hot day

I enjoyed Flicka so much that I investigated purchasing an electric scooter of my own for long distance touring and for the State Fair next year.

Day 7 – 12: Our normal day consists of opening the cabin for guests at 9:00. There are generally 2 people staffed in the cabin at all times. Sometimes we have 3 or 4 or 5 there, visiting and talking to guests. I do spinning, weaving, sewing, embroidery and nagging Ole or encouraging Bathen to play another song. Katie cooks outside in the afternoon but sews or embroiders inside. Norm did his spoon work, mostly outside unless it rained. Ole talks (and talks and talks and talks and talks). Takara flits here and there, sometimes napping upstairs or reading, sometimes playing her harp (she is a beginner but is learning slowly). We had Dave W join us for a few days. He fiddles and carves cute characters. Roger the Bodger comes over nearly every night after his supper to play his banjo and give us good foot stomping music. Friend Sherry comes to the fair with her husband, Pete; he is a blacksmith and demonstrates for part of the fair. Sherry agreed to put on a costume and spend part of a day with us – perhaps next year, Sherry, you will spend MORE time? The Marshal (Tony) comes over for supper nearly every night. Since Amanda has discovered that her 3-year-missing husband is deceased (and even before that), Amanda has had her eye on the Marshal.

Sherry
David V and Takara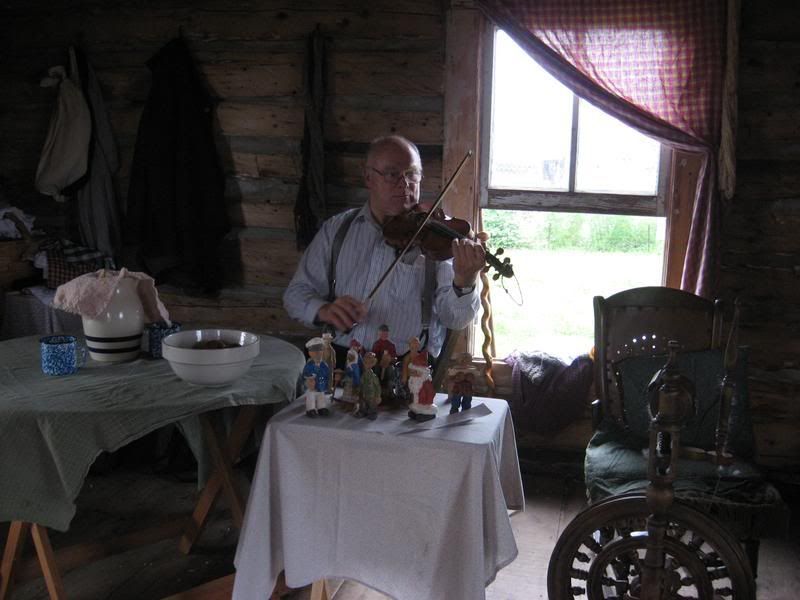 David W and fiddle
David's characters
The bodger at work
Tony and Katie
We have sandwich meat and bread upstairs in the loft for lunches; Katie cooks a good old-fashioned meal nearly every night. The cooking out in the summer kitchen is a great demonstration and eating the food is also a good demonstration, as well as great tasting. Her "coupe de gras" this year was the cabbage pie. Most people (not I) had never had it and were leery of trying it. One taste and they were hooked. Steve and Lorna sometimes come over for supper; no one told Steve what he was eating until after he started raving about it. It is a simple meal – pie crust (top and bottom) with cabbage, onion, spices and slices of hard boiled egg, baked in the oven like a "normal" pie. Try it, you'll like it!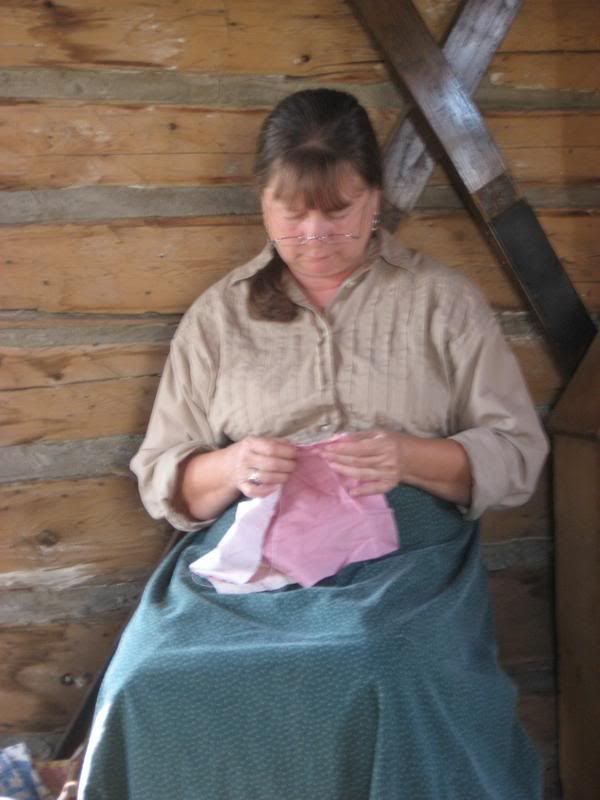 Lorna runs the "Brothel" – she has "ladies of the night" and she sells the scents that these ladies use. She has wondrous soaps, body lotions, body butters, and bath salts – anything a woman (and man – there are manly scents, too) could possibly desire. Steve is the "Inspector" while Lorna is the "Madam."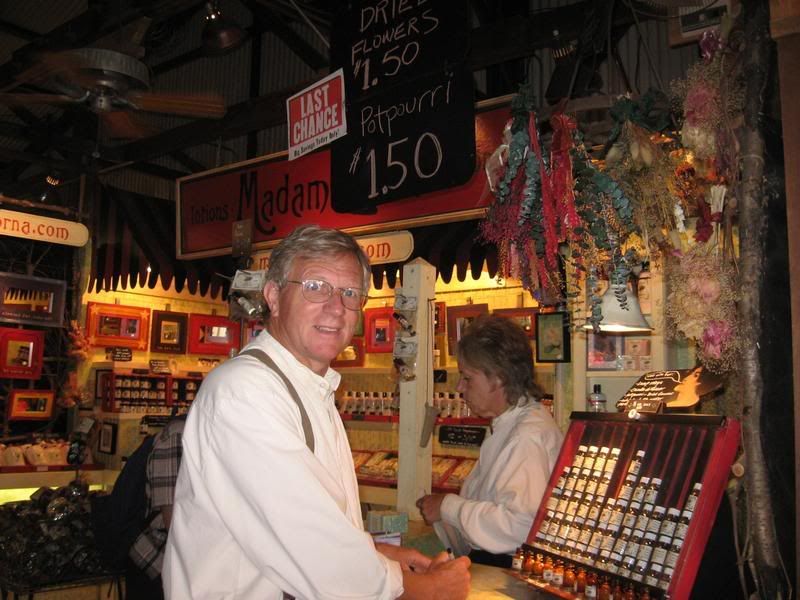 We also have John, who draws and paints train stations in Minnesota. He has recorded many that are now gone from life, but are there on paper and photographs.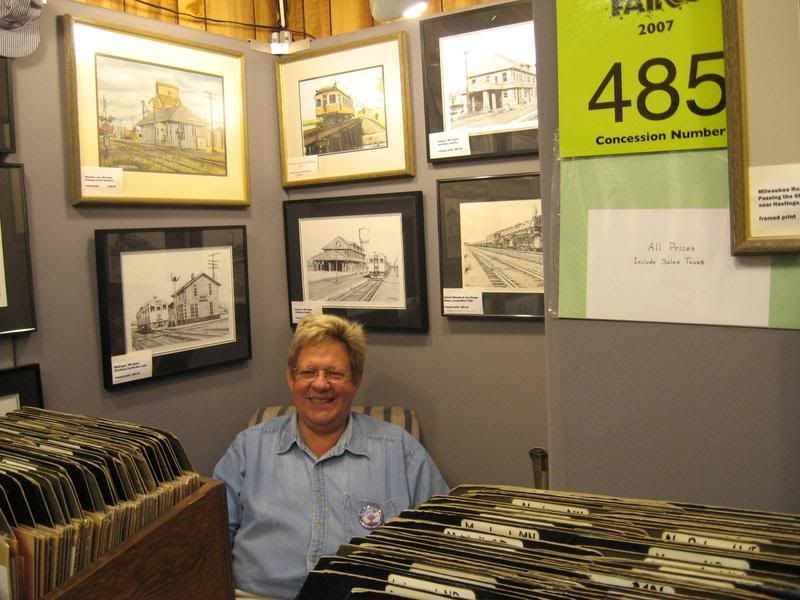 Alec is our "hot water well man" – he works in the Steak and Turkey Leg booth and supplies us with hot water so we don't have to take the time and effort to heat it for washing dishes or clothes.
Alec is in the center

Kathleen decoupages boxes that her husband makes – she has a lot of beautiful labels and pictures that she puts on boxes for many different kinds of storage. She sold Katie and I a lot of older labels (Katie has them SOMEWHERE and I need to find them so I can start using them).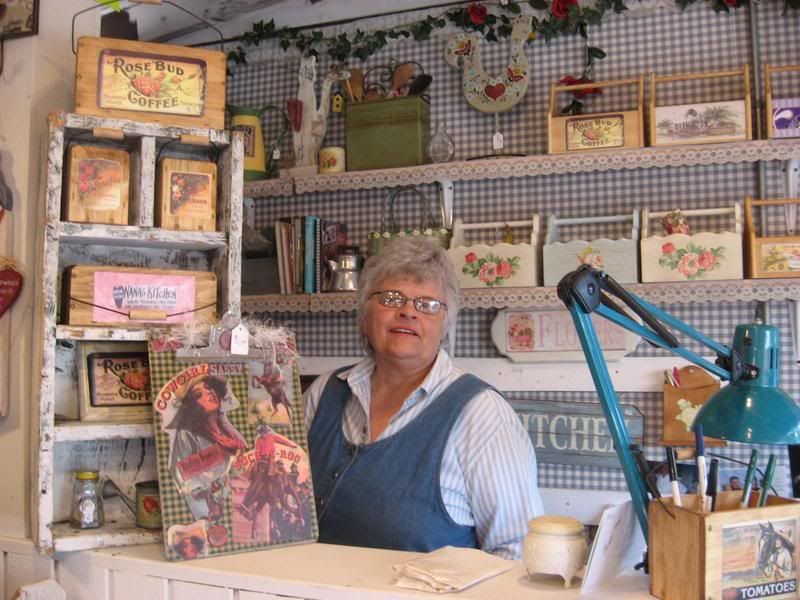 During the last few days of the fair, I was in negotiation with Norm and with Ross, who makes and sells unique birdhouses for a new scooter.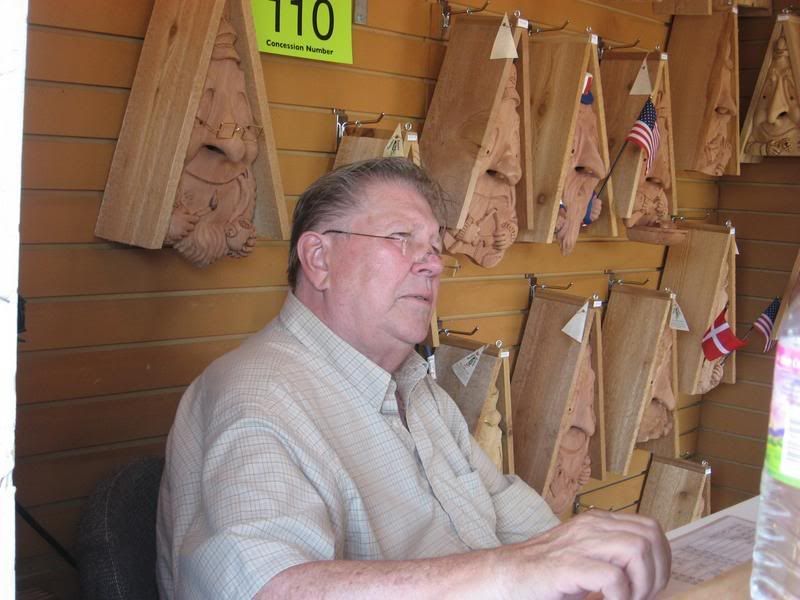 Several people who did not get into my camera lens are: Jan – she is museum director and "owns" our cabin. She planted flowers and beans in a small plot to help hide the parking lot behind the cabin. Joe – he's the main man for the cleaners, security guards and many other miscellaneous people who help keep the Heritage Square running smoothly. I also did NOT get a picture of Ole this year, but am looking for a copy of one from last year.

On Wednesday, day 7, I skipped out early and drove to Joy's. The family had been in Minnesota for several weeks; Ken planned a surprise birthday party for her 36th birthday; he called to ask me if I could come surprise her. That was really a surprise, because I do NOT leave the fairgrounds the entire length of the fair, so it was new to me as well as to her.

By the end of the fair, I had decided to purchase an electric "pony" from Ross, a neighboring vendor in the Square. He offered me a 2000 model, brand new, for over half the price that they were being sold at retail. This "pony" will be called "Flash" as it is a little bit different from "Flicka" that I drove during the fair.

I returned Flicka to her owner the last night of the fair, and then drove my van up to the campground after we closed.

Next morning was teardown day. I packed all my things into my van from the camper then went to a grocery store to get breakfast and lunch (no venders were open to feed tear-down-ees), then went to the cabin to start packing up the van. However, Ross promised my pony that day, so I just put all my stuff on benches outside, then started washing the last of the dishes, packed up dishes and things that stay at the cabin all year, and started to sort through Katie's things. Katie brought Takara over to start packing and then went to collect David V to help her tear the camper down. We have some broken parts that need to be repaired, so needed a big strong man to help with the tear down. Once the camper was down, they came over to the cabin.

By that time, Ross had brought the scooter, I was able to test it out and we loaded it into the van. I then got most of my stuff loaded by the time Katie and David got there to sit and have lunch. Loading and cleaning takes a LOT of time, but it finally gets done. I took David home; Katie dropped the key off to our boss and picked up the checks for our 12 days of work. I then headed to Joy's for an overnight.

Joy and family had, by then, headed back to Florida (sigh) but Ken's dad was there. Bill and I had pizza for supper, watched a movie and then I fell into bed. The State Fair was over – I had survived another year and was ready to head home!
We had a beautiful time – you have a beautiful day!