Okay, what is it?

Is it a work of art by sister Candy and brother-in-law Wayne?


Is it a hat rack?
Is it a mother and child?



Is it a wind harp?




What it is – is an idea based on the Earth Loom that we found mentioned on the Internet.


Candy, Norm and I are going to be demonstrating at a local Llama Play Day on Saturday and Candy wanted something different from the small loom she borrowed from me last year to make a wall hanging.

So between Candy and I, we came up with the idea; between Candy and Wayne, with a little bit of help from me today, they came up with two looms – a larger one for Candy and a smaller one for guests at the Play Day to try weaving on.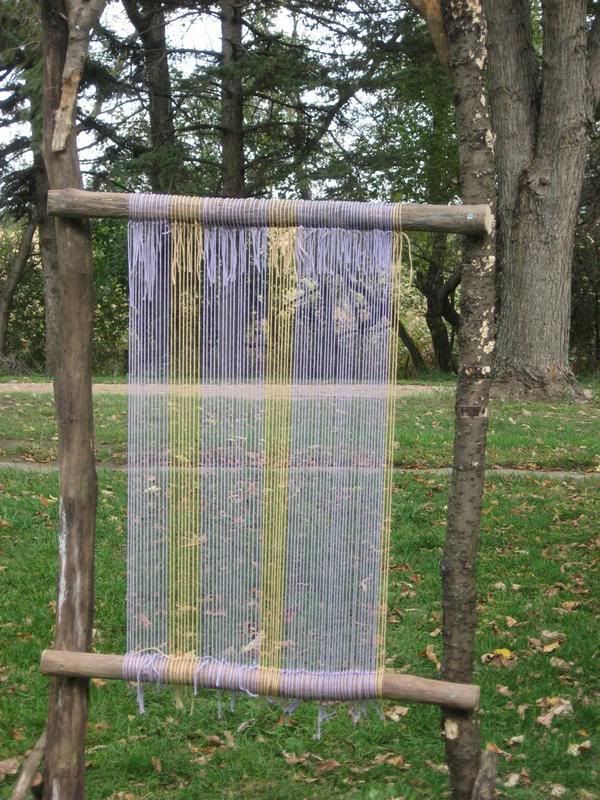 Kati, it is NOT a sled, as you can now see, but a good guess! It could have been made into one.

Dreamer, your second guess was correct! But it could have been a hanging rack, as well.

Laurie, I'm sure YOU were guessing a loom!

I will be taking pictures on Saturday so you can see Candy's artistic work of art and what the other one looks like with several people working on it. The smaller one will be mine, the larger one for Candy – she has wanted to make larger wall hangings and tapestries – now she can go gun-ho on them!

I will be spinning (what else?) with llama fiber and will take a second wheel along for guests to try if they like.

Norm will be spooning – no, not THAT kind of spooning! He will be demonstrating his spoon carving!!!

We are hoping the weather will cooperate. Candy and I both will be taking Claritin before we go as the "no see-ums" are out in full force and we both are allergic to their bites.

More news to come after the event!
It is a full moon tonight and was a beautiful day. You have a beautiful day!