I have not mentioned what is going on around here for a while. Between our trips here and there, we are enjoying "farm" life… well as much farm life as we DO have!

We have had a drought here – I always hate to mention that, as OUR drought is only for a few months, but my brother-in-law is still suffering from the eight-YEAR drought in Western South Dakota. (Although we DID get half an inch last night in a NOISY, stormy night!) But the corn is suffering and so are the soybeans. Our trees that we planted this spring need watering, so Norm borrowed a tank from the farm he works at and we pull it with the lawn tractor. We can use the hose and drench the trees and plants instead of old way of putting five gallon buckets in the trailer and hauling the buckets to trees. Most of the trees are making it – a few look seriously bad and a few have never even leafed out from the beginning of the spring.
While watering the trees, I came across this insect. I don't know if it's alive or dead, a discarded shell or a real bug. I was afraid to touch it, but got a farily good picture. Does anyone know what it might be?
Our barn is an old hog barn that was added on to in it's past life. The first two-thirds of the barn are workable. The last one-third is falling down; Norm decided last year that he will tear it down. This week, when we had a few hours of cool-ish weather, he started tearing the roof off. I have made sure that he is very careful so that he doesn't fall. He, too, is very careful, as he remembers the pain of his neck and does NOT want to have that happen again.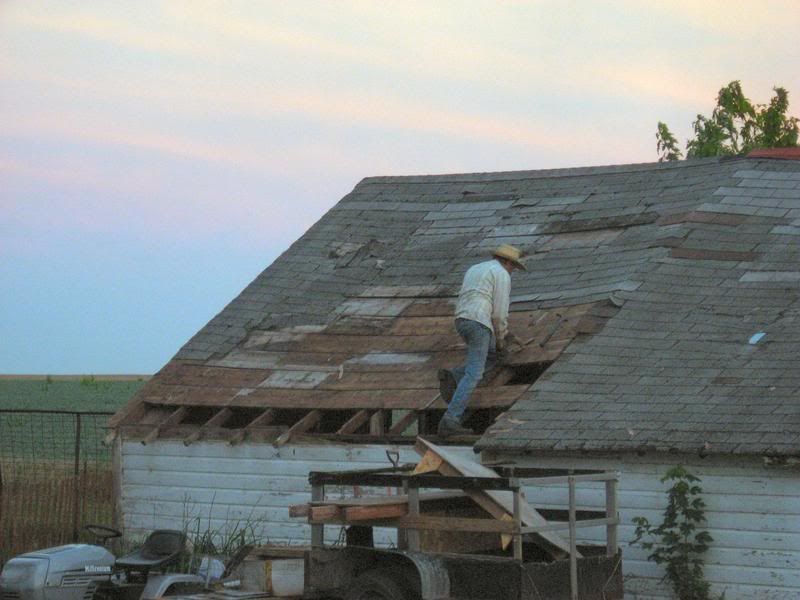 I have only a few flowers; perhaps this fall I will plant a bunch of bulbs and seeds to make a mass of flowers in at least one spot. I took some pictures of my flowers to show you.
This is probably from the bird feeder - I thought it was a sunflower, but am not sure.
One of the roses that Jill and Eric gave me ... second blooming
Moss roses ready to go to the fair

Our chickens are two weeks old and growing wildly, as always. The heat is hard on them but with a fan and lots of water, they seem to be making it well. I put vinegar in their water (as well as for the hens) to help with stress. I am not sure exactly WHAT vinegar – apple cider – does, but it seems to help stressed out animals and that's enough for me.

In answer to Happy Owl on my last post, yes, the one on the right is me – and the other one is sister Candy. This was taken when I was twenty-two and she was fifteen. My dad enjoyed getting us outfits to make us look like twins. Many people thought we were!! (I see that the grammar checker says I should say "is I" but it sounds too clunky – I will keep with "is me" …)

Also, Fran – no, I can't take Peanut!! (Sigh!) Dogs are not allowed at the State Fair or in the campground unless they are Service Dogs, and I have yet to figure out a way to convince someone she is one. She serves ME well with love and joy, but I can't get her to even pick up a tennis ball, much less bring it to me, so there goes that idea (of training her for a Service Dog) out the window!!
Speaking of Peanut, she needed to get out of air conditioning and soak up some sun on a hot day!

I have gotten more things on my list as I talk to Katie and as I talk to Norm and as I wake up in the middle of the night with ideas. I will eventually get all that is needed and probably more by the time next Wednesday comes along. One thing I remembered was sourdough powder. I have discovered that you can dehydrate sourdough and store it in a jar. This is great, because I only make sourdough once a year – at the Fair. Or sometimes for my brother, who loves it. So I take the liquid 'junk' from a sourdough batch and dry it on a paper towel or on a plate. Then when it is dry, I pulverize it and store it. When I need sourdough, I start it by adding water, sugar and a little flour to the powder and let it sit for about 24 hours. Then use it as the starter for normal sourdough. Works great!

I DID order a "thermoelectric" cooler for us. This is a cooler that plugs into a cigarette lighter and can also plug into electricity. We will be taking all our meat (Katie cooks as part of her demonstration and also for our meals) and want out own home-grown meat, so we want something more than just the camper refrigerator to keep frozen meat. This is my present to myself for working at the Fair. The rest of my money (once we get paid) will go to paying off Norm's Ford Ranger and paying myself back for expenses at the Fair (deep-fried mushrooms, the world's best French fries, cheese curds, steak sandwiches and milk shakes).

It will be a beautiful day today; you have a beautiful day!