Decorah was great this year. We spent a lot of time (too much, sometimes) comparing this year to the last. Last year it hit record highs – up to 110° at times. This year it was mild-ish and the humidity was not too bad.

We had a storm on Thursday night with about 2" of rain and lots of thunder and lightning. But we were tucked into the camper trailer, nice and dry and cool … as we had had the air on most of the afternoon.

We decided not to take a chance at the hot nights and brought the trailer – and Steve, the museum man who had originally invited us to join the Decorah gang, invited us to park in his driveway and use his electricity for the air conditioner, lights and refrigerator.

Set up was Thursday afternoon in muggy but sort-of tolerable weather. We hugged our 'almost-family' (as Jasper calls us), caught up with 9 months of news, and then gathered in a bar for beer and hamburgers.

We had left Peanut in the truck in the shade where she was safe and cool. We headed back to Steve's house and got there just as the rain dumped on us, so we got very wet running to the trailer. We crawled into bed and listened to thunder and downpours of rain for several hours before it quieted down.

Friday was a little muggy but tolerable (again). It was overcast most of the day so that the heat didn't climb too high.


There was a Viking "encampment"
Our spot as seen from Tom's space (you can barely see Norm)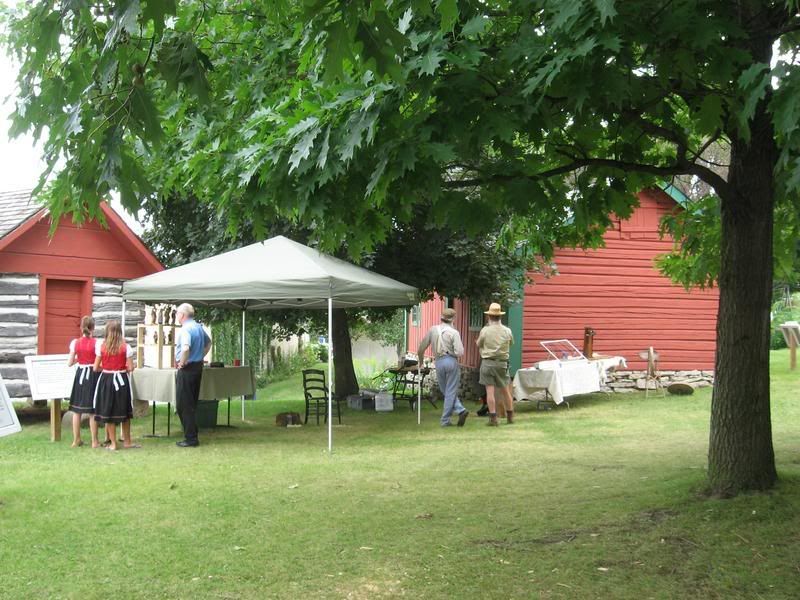 A woodcarver with a modern tent - we can NOT convince him to go "period"
Norm with one of his spoons
Tom and Dick, both woodworkers
Dick made this bobin winder from an antique - Tom did the metal work (he's a blacksmith, too)
In the museum, this teacher from Norway was working on a traditional coverlet
It is very time-consuming - maybe someday I can do one (sigh)
Playing a traditional Norwegian Psalmodikon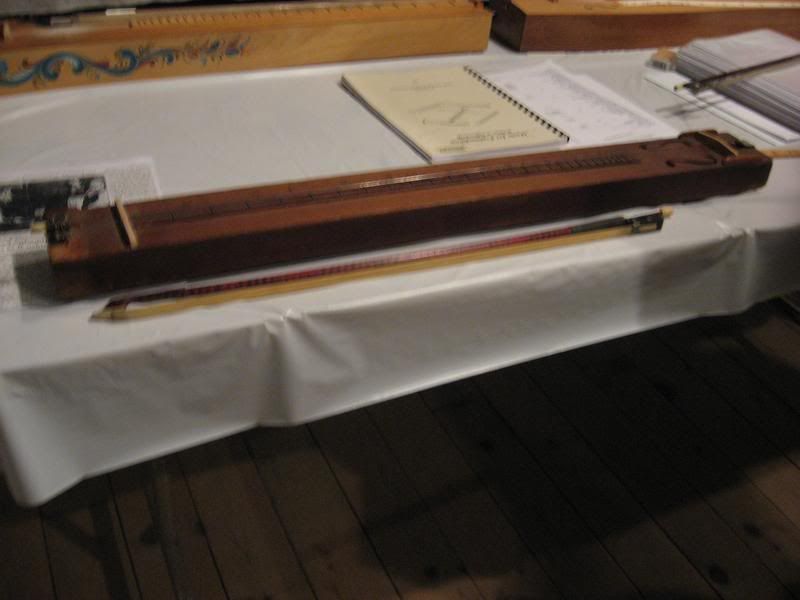 This one belongs to one of the artists - it is his great-grandmother's


Saturday was much cooler with a nice breeze; even though there was more sunshine, it didn't have the oomph that it could have had.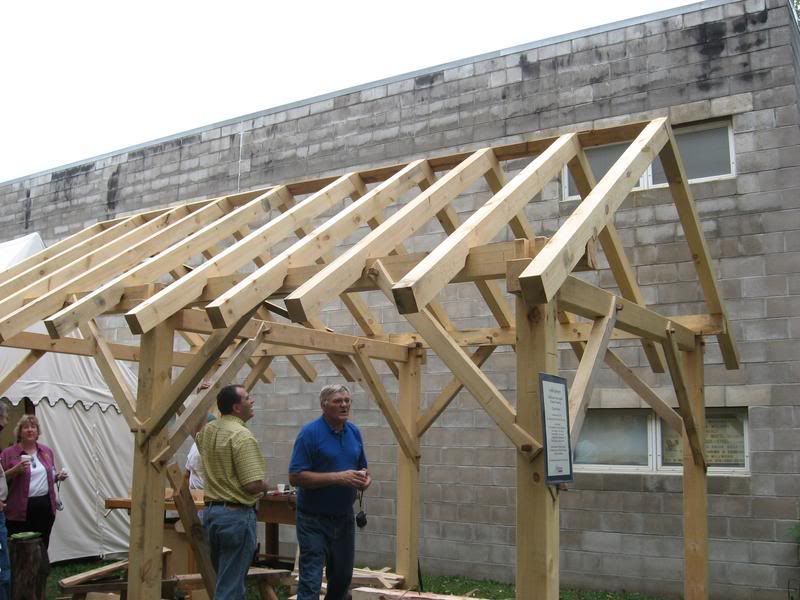 There was a class on timber framing in Decorah the week before the Fest.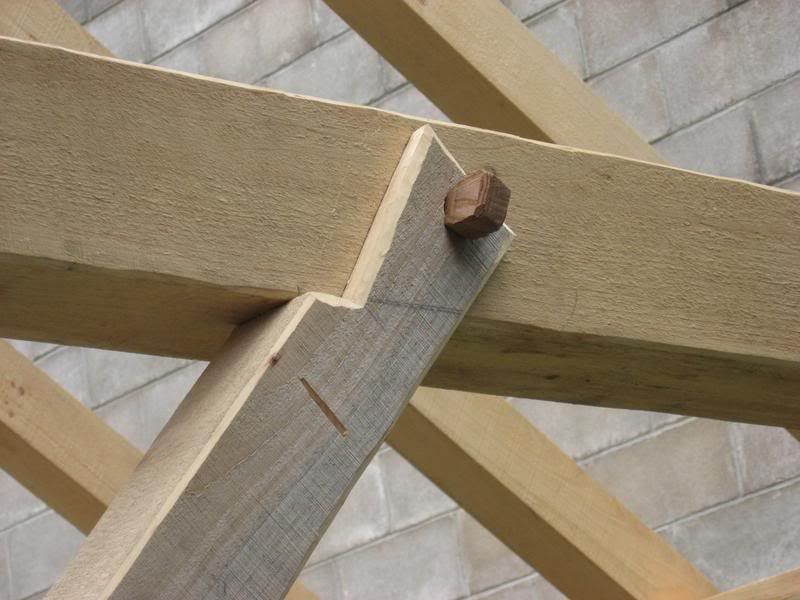 Tom was one of the students
Because the weather was so much nicer than the last year, the crowds were crowd-ier and the spoons went like hot cakes. Norm is doing lovely box elder spoons with unbelievable red coloring; the spoons can NOT stay on the table – he finishes one and it leaps off the table into someone's hand! He had started the weekend with 3 spoons, worked on 3 more and ended up with one little sugar spoon left unsold! Other spoons, spatulas, breadboards and leather bags were sold as well; however, no black walnut spoons were sold this time, which is unusual. I think it was probably because of the box elder ones.

I did my normal spinning; I spin flax while in Decorah, as it is a traditional Scandinavian skill. Peanut assisted, as always. She would sleep in her basket or on the "floor" (we have upholstery cloth laid down as a carpet) under my skirt or on my lap. But I am not using my spinning rocker with my new spinning wheel (another story) and there isn't as much room for a long little doggie to fit on my lap when I'm using a straight chair.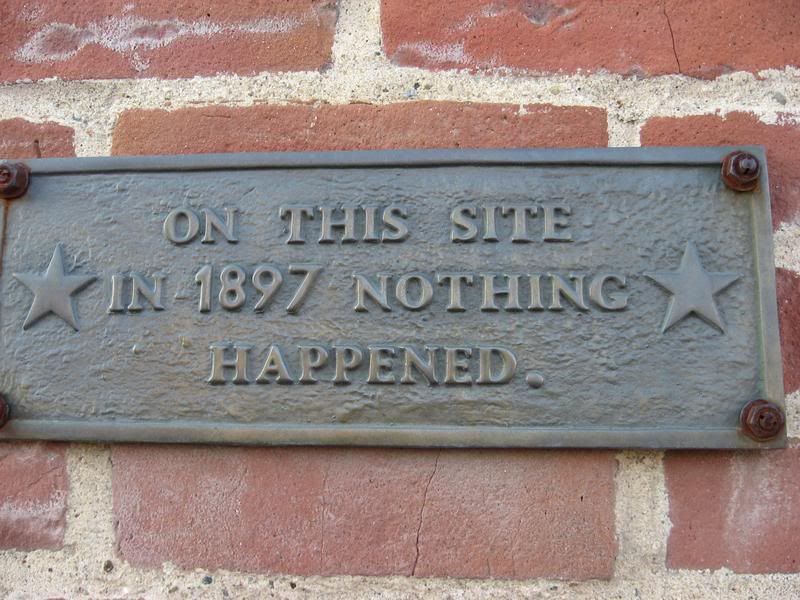 I love this sign - posted on a wall on the "main" street of the museum area
The trip was successful, as I have said, and very enjoyable. I added to my collection of Jasper-ware. I am addicted to Jasper's pottery and feel very fortunate that he gives me the "almost family" discount so I can afford it. This time I got some Red Wing commemorative articles – a mug for Norm and a miniature crock for me. I also ordered a honey pot for my niece as he didn't have anything that he and agreed on (I was willing to adjust but he wasn't); this will be done for collection at Pepin in September.

My neighbors from 3 miles down the road showed up for the weekend.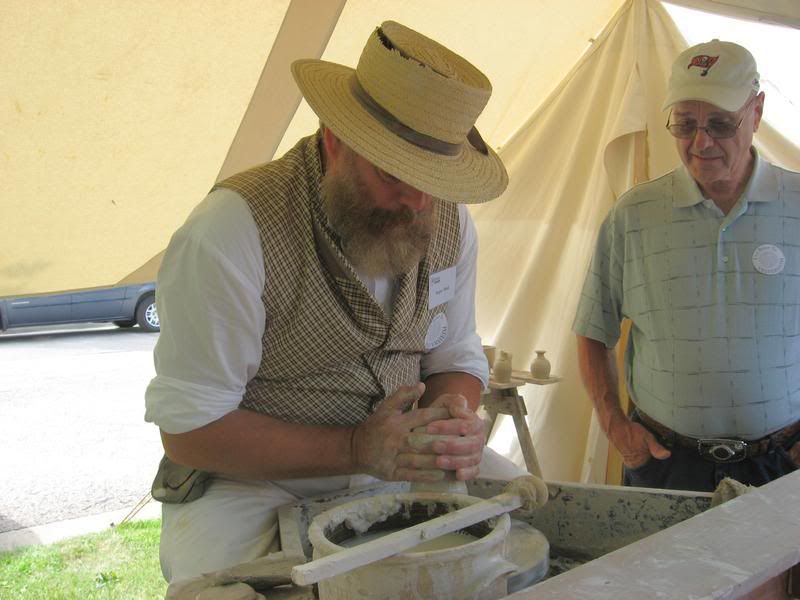 Jasper tried to sell his wheel and equipment to Art
Dave does dove-tail boxes
Roger does bowls on a spring-pole lathe
Tom was working on more timber framing boards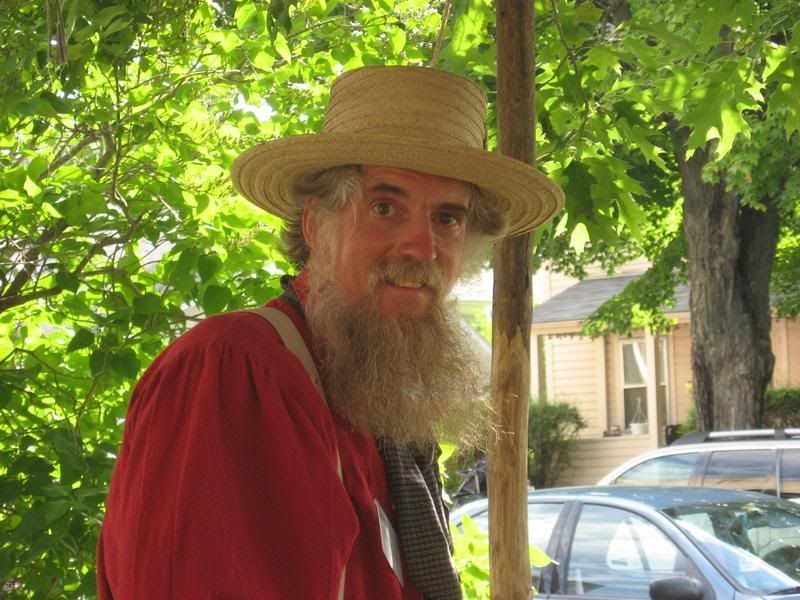 He found some driftwood and carved it into an awesome dragon
He wanted it to look like it was taken from a ship
One unhappy note for this meeting of the "almost family" – we had many thoughts of Jamie, who passed away in November. For some of us, this was the first meeting since that had happened. We missed the rest of Jamie's family and wished they were with us. We discussed having some kind of memorial for him in Pepin, which is where the whole "almost family" meets and is where we all became "almost family."

We got back home on Sunday night – we decided to spend the night Saturday and head home slowly on Sunday because the transmission was giving problems (will get fixed soon, I think).

Then I had to start getting ready for another Victoria's Garden camp for 4 girls, which started today (Tuesday) and will run until tomorrow evening.

Tomorrow we will be getting our baby broilers, but will also be heading up to the Cities on Thursday … the kids are there for a while and we also have Murphy's Landing to demonstrate at during the weekend.

However, I wanted to get this posted so you know where I am at for the present. It was a beautiful day today – you have a beautiful day.