Well, the 4th has come and gone, and it was a beautiful one. It was also my parent's 65th anniversary.

Charles drove from Okalahoma to Rapid City to pick the folks up and drove them out here. They are staying at my house and taking turns visiting here and at Candy's.

The morning was very exciting for me; Norm, Wayne and Charles put in a new window! I have had a "foggy" window since we purchased the place 3 years ago. It's a double pane and the seal has been broken for years. It got dirty inside and also gets very moist and hard to see out of when the weather is humid or wet. Our Christmas present this year from my folks was money to help purchase a new window; we ordered it several weeks ago and it arrived at the shop this past Monday.

Yesterday was the reality of it all. Wayne came over with his granddaughter and the fun began. Mom and I sat and watched the whole process with increasing delight!
Norm is taking the putty out of the cracks - notice how foggy and yucky the window is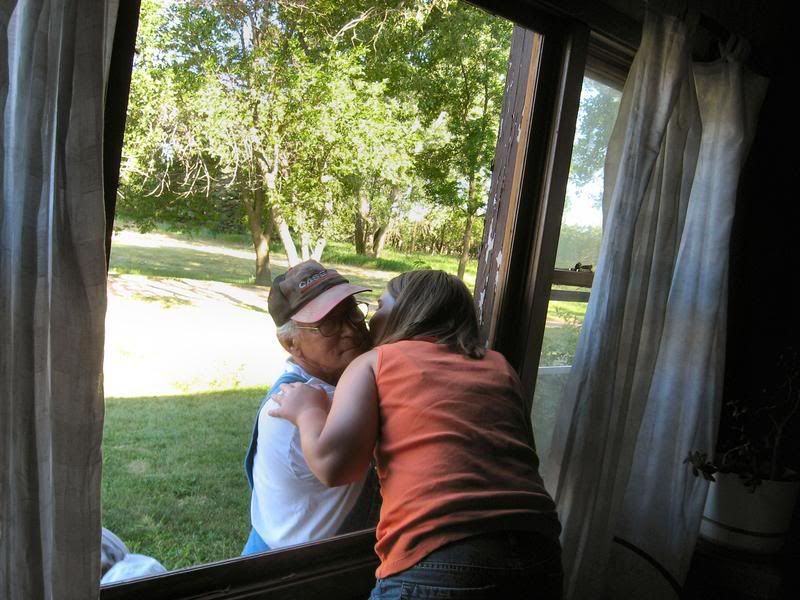 The new window is so clear you would think you could go right through it! Yeah, right - no window at all!
Let's get the window in to keep bugs and big monsters from coming in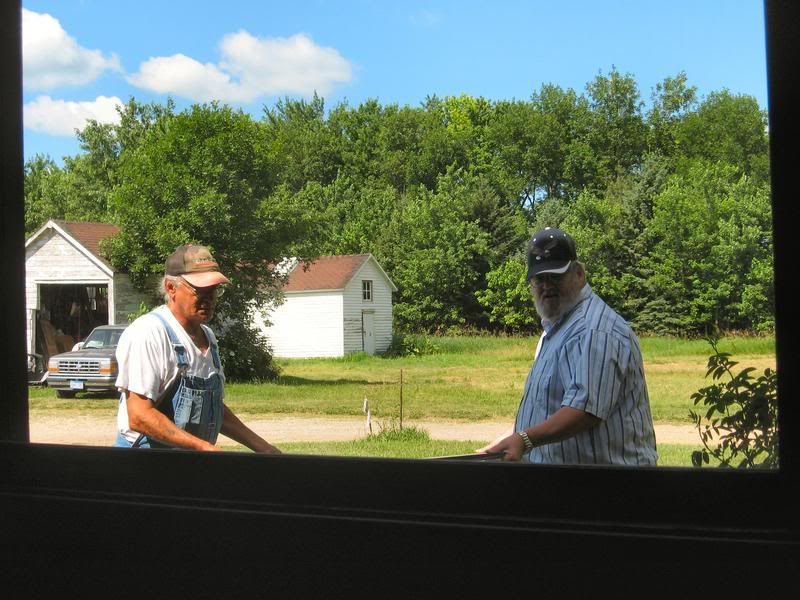 Simple as pie! Smooth as silk! In it goes!
An outside view of the supervisor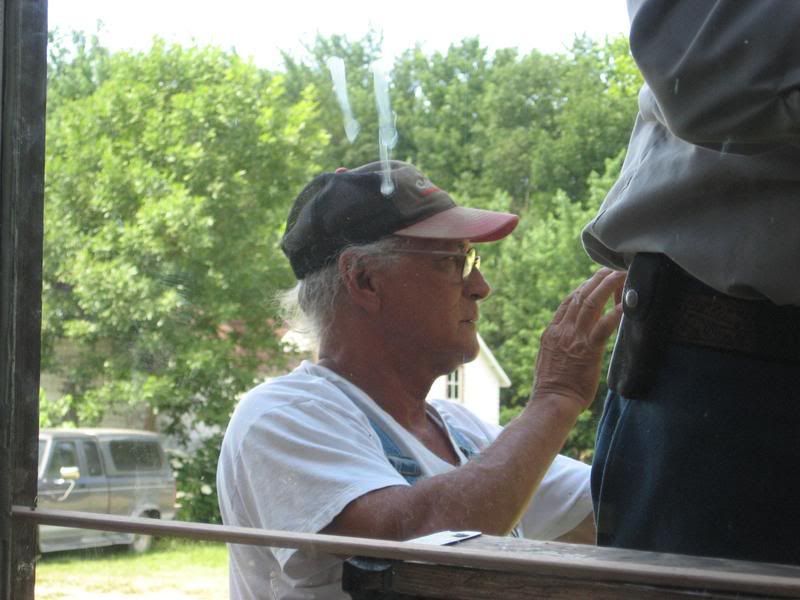 Fingerprints made by a smart-alecky brother-in-law
Even with fingerprints, the view is awesome! Thank you, Mom and Dad, for helping in this wonderful event.

Last night we had a picnic here with friends Katie and Wally. However, the humidity was pretty high so we decided to eat out picnic inside. It was very enjoyable with good food, if I might say so myself. We had hot dogs and hamburgers that were grilled outside by 3 excellent chefs. Potato salad, cole slaw and Busch's baked beans as well as pickles for Charles, who is addicted to homemade dill pickles. No desert was planned because we were heading to an Ice Cream Social, program and fireworks at a local area church.

The fireworks display was very good for a little church and the ice cream and pies were plentiful.
Notice how still the wind was!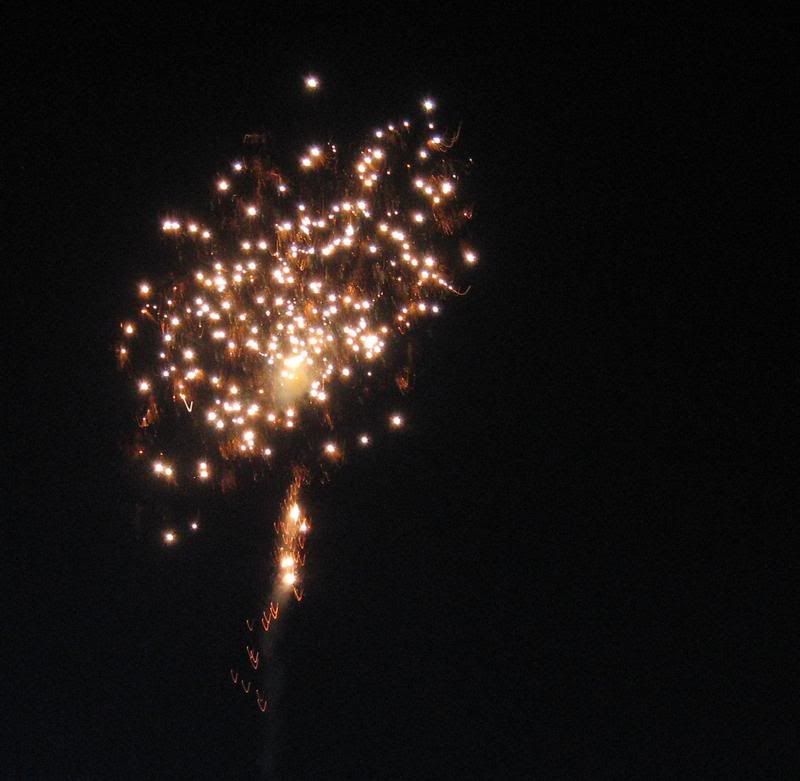 We 3 "children" gave the folks a Memory Frame for their anniversary. For those who don't know what it is, it's a cool electronic picture frame. You insert a camera memory card into the back of the frame and can watch pictures. It looks about like the slide show option that Windows has for the screen saver. You can have as many pictures as you want, depending on the size of the memory card. Really snazzy, this machine! Mom and Dad had never heard of one – well, neither had any of us 3 until Katie had mentioned it to me earlier this summer – and they were just fascinated with it. A good choice, if I don't say so myself!
I would like to take a minute to comment on the celebration of our great nation on this great day. As with most celebrations in the US, it has turned from remembering what special day it is to just a day for picnics and fireworks. I am surprised that Congress, in it's inestimable powers, have not made the "4th" into a generic "first Monday of July" holiday. You know what I mean – like "Memorial Day" – "Columbus Day" and all the other ones. I am afraid that it won't be too long before that happens.
Also, the amount of money spent on fireworks is horrendous, in my mind. I found that my friend
On the Shores of Carpenter Creek
agrees with me. With all the poverty and distress in the world, why are we spending $$ billions on something that burns and blows up?
Now, I am not one to say that NO fireworks should ever happen, but the small amount we saw at the church were pleasant, awe-inspiring, and very cheap, in comparison with other events. The general public donates to help pay for them at this church. There are no city, state or federal government funds for any of the fireworks. My tax money is not being burned up for someone else's delight.

I normally do NOT like to go to firework displays … the noise is usually pretty bad and there are normally bugs, wind, cold or heat to deal with. But this year, the weather was perfect, the company was great and we all had a beautiful day. You have a beautiful day!