That's a comment that is spoken by millions all over the US today. However, not me! Being retired and having a husband that is semi-retired, Friday is not a spectacularly special day for me. It's just another day! However, Saturday is a fun day for me as Norm does not go to work so we can "play" around the house a bit more and Prairie Home Companion is a wonderful excuse to put my feet up and cuddle with Peanut while I listen to Garrison Keillor and his wonderfully talented gang.

But this week has been rather stressful - but fun – and very busy. Friend Katie and I have a business called "Past Presentations." We developed a "camp" called "Victoria's Garden" for young ladies ages 9 to 13 where we teach them how young ladies lived and played in Victorian times. It was a 2 day camp with an overnight. We had a great time and I hope they did, too. We will have two more sessions this summer as well. Like I said, fun … but hard work, too. Both of us went home afterwards with hardly enough energy to unpack all of our things.
Katie and Micah in the kitchen

We had this camp at Shalom Hill Farm (where Norm works part-time). This is a church-retreat farm that offers retreats for groups, as well. There is a "Shed" that has bedrooms, gathering room with a fireplace and a full kitchen. We were all by ourselves for the entire two days, which was really nice. It was a small group – only two young ladies joined us for this first experience, but we have bookings for more the next times.

We had Katie's daughter, Takara, and another young lady, Micah, join us – they were a great help for keeping the girls entertained and "on track" with the tasks we gave them. We discussed famous women, table manners, other manners; we exchanged calling cards, practiced calling on each other and the women in the main office; we talked about and gathered flowers and herbs. The young ladies alternated being cooks and guests at tea parties. They learned proper table settings, embroidery and how to walk (and, yes, even go to the bathroom) in long skirts with pantaloons and petticoats underneath.
Micah taught them some Irish dances
Embroidery became an obsession with this young lady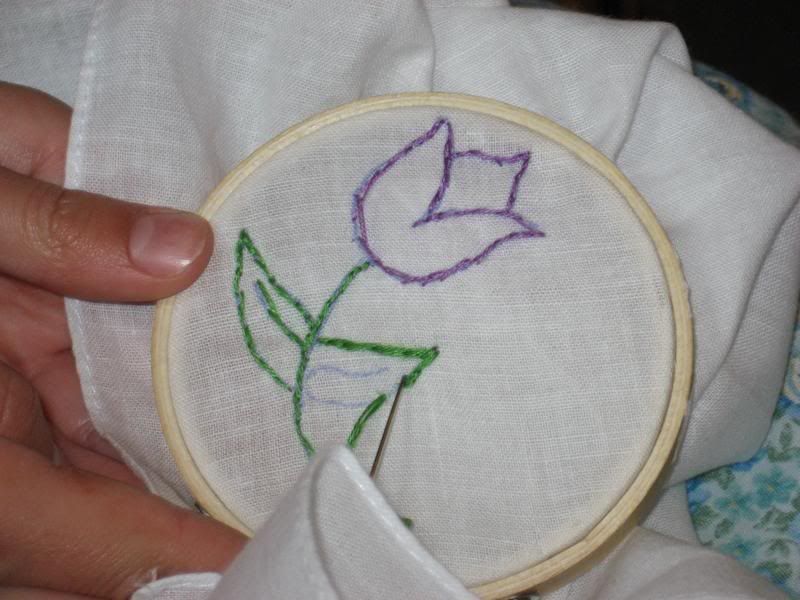 We started out with a tulip on a hankie
Every available corner and spot on the hankie and also on a tea towel was filled with her creative work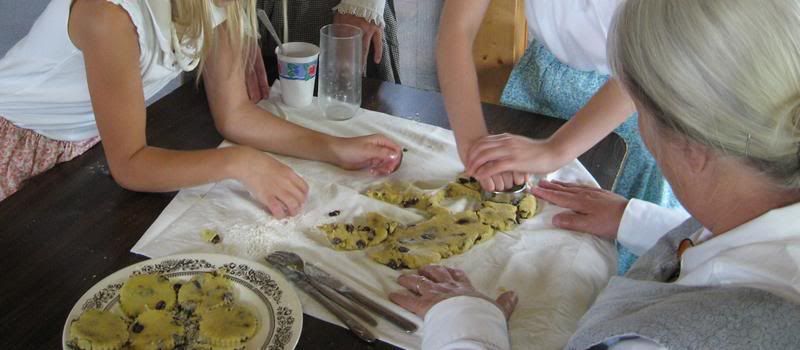 Welsh scones in the making

All in all, a pretty good experience for us all.

On another note, the chickens are 5 weeks old now. I have made a "date" for their visit to the butcher on July 10th. Then clean the pen and order more chickens, hopefully, for our second batch. The Buff Orpingtons are really growing well. They will be put in with the big chickens, but in their own, secure cage until the big ones get use to them. At least, that is the plan. I may keep them in the baby chicken pen, a little separately, until the new batch is grown larger and then let them grow with the new ones.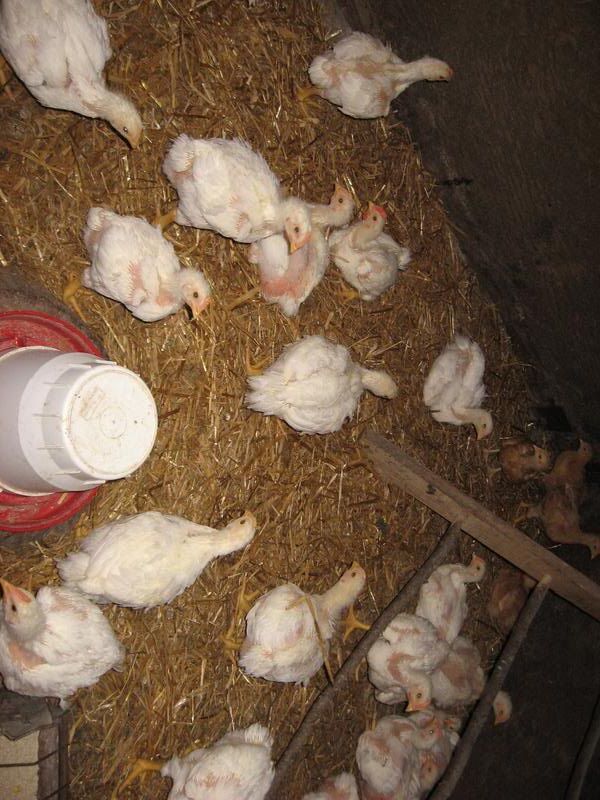 I also have an incubator from a friend and am going to put in about 12 eggs, mostly Aracauna, to raise more green-egg laying hens. Hopefully the percentage of hens to roosters in this batch will be high. If not, the roosters will join the new batch of broilers on their "date" to the butcher this fall.

And, on another, more exciting note, my niece and her daughter are moving out to this area. They will be arriving tomorrow with friends who are helping move her furniture and things. I am the "motel" for the ones who won't fit in Candy's house. I have sleeping "quarters" for 7 bodies. Brook decided that she needed to be closer to "home." A wise girl, an intelligent girl who knows that hearts need to be home, closer to mother! (Are you listening, Joy and Jill??????) Brook will be looking for a job and then for a home. We are positive that the job is out there, waiting for her, and also the right home. Until then, she and Erin will be living with Candy but visiting me, as well.

It is a beautiful day today – I must plant the oregano I got from Katie before it gets too hot! You have a beautiful day!