It's the first of June, already! Hard to believe, isn't it? Norm is home from his trip out west to see the families. And he brought a new addition to the farm – "Scooter."

The story behind her is this: my sister-in-law-in-law (my brother-in-law's wife), Mavis, is also one of my very best friends and is my oldest one (no, Mavis, not AGE-wise, TIME-wise!). She and Norm's brother, Darrell, live on the family ranch; Mavis is a cat lover and has many cats. Her job in life (among many) is to supply families with kittens – even if you don't WANT one, you usually end up getting one. During most of my time back in South Dakota I was supplied with a kitten every so often, usually because I fell in love with it. When we lived on Cactus Hill, I could have a lot of cats, too, as they kept the mice down and were fed milk every morning after milking, to keep the cat food prices down.

When we purchased Ash Lane Farm, I promised Mavis I would take one of her Calico cats. That was three years ago, but it's seven hours from here to there and we have never been in the right situation to take one.

As Norm left for home last week, he asked if I still wanted a cat from Mavis. I was surprised, as he "doesn't like cats!" but said of course – as long as it was Calico and was friendly.

When Norm arrived last night, he had "Scooter" in the front. She was Norm's choice and he named her. Niece Glenda (hi, Glenda, how was the pageant?) and he played with "Scooter" during the time they were at the ranch to make sure she was tamed down. I expected a teenager, at the least; Darrell told me she was a momma cat and all the kittens would come home with her. And this is what was in the crate last night!!!

She will be a barn cat but is staying in the entryway for a while so she gets to know the house and area before she is put in the barn. But, knowing the man who doesn't like cats, she might end up in the house once in a while, if nasty ol' Lucky lets her in!

While Norm was gone (and I didn't miss him a bit!), I made hamburger buns – from Auntie Pete's recipe. Now, these truly ARE the best hamburger buns I've ever made and I really do like them. (Thus speaks a woman who is addicted to soft, white, commercial bread and buns.) I made half a recipe, which is ample, and some of them I shaped into hot dog buns.




After they were done, I decided to foodsaver / vacuum them. But I am too cheap to use the expensive rolls of bags, so I use freezer bags with a straw to suck out the air. Because I will be in and out of a bag, grabbing one or two buns at a time, this is a better option for me. If I had a larger family and knew I'd use a whole bag of buns at one time, I would use the foodsaver bags.

But I "invented" a way to suck most of the air out of the freezer bag. I have a small straw that fits on the accessory hose; I zip lock close the bag except for a tiny place that the straw fits into, then I turn the foodsaver on and suck a lot of the air out, quickly pull the straw out and zip that tiny spot closed. Voila! Almost (but not quite) as good as using the expensive bags.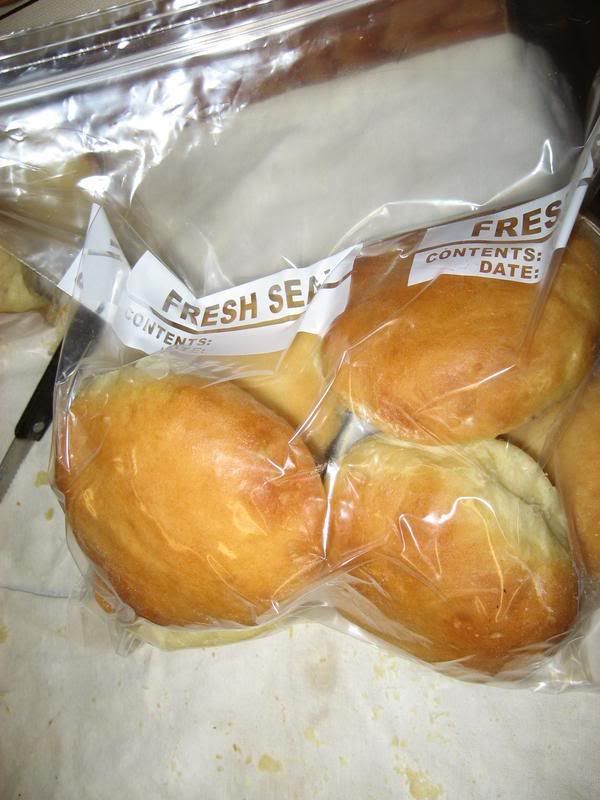 The chickens are a week old, now, and are getting their feathers. Right now the
Buffs are still a little larger but I expect in a few days that the Cornish will be over-taking them.




We had tornado warnings just east of us the other day. We had to watch to see if the storm got any closer to us. The clouds were awesome, but no tornado touched down anywhere. We got just a little bit of rain and lots (and lots and lots) of wind. Wayne had come over to have supper (Candy had gone "home" for a doctor's appointment and visit with the folks, so he was a bachelor at the same time I was a bachelorette); with the clouds and warning, he took his supper home so he could be there if something hit.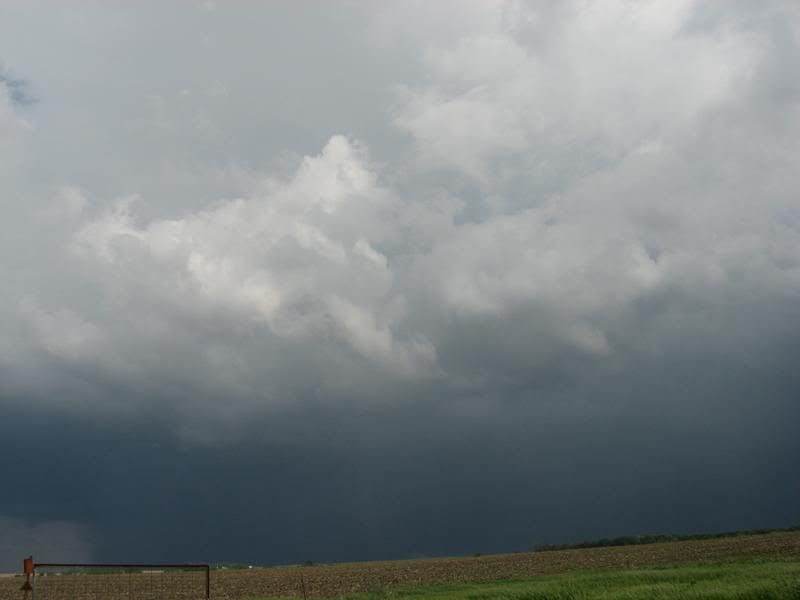 But now both Candy and Norm are home – things are starting to get into the normal swing, again, and all is well on the western front! It will be a beautiful day today – you have a beautiful day!