We made it to the Cities before dinner and surprised the girls; they knew Norm was coming but I had originally planned on going to South Dakota to be with my mother – she had been in the hospital for a blood clot, but it had been taken care of so I didn't "need" to go out. And no offence, Mom, but I'd rather be with the girls than you (you can have your time next week!).

Cuddles and hugs and kisses are so wonderful from such sweet, innocent children. It is constantly amazing that they return the love that I have for them!

Saturday morning was a picnic brunch for Ken's family; we were invited, so the girls helped me make a fruit salad on Friday night. Many hands make light work, especially when a lot of the fruit went into mouths instead of the bowl! I'm glad a brought extra – well, to be honest, I was pretty sure that would happen so PLANNED for extra!

It rained during the night, so we were worried about the picnic but Ken's Dad, Bill, called to reserve a covered area in case it continued to rain. However, the rain left, the sun came out and it was one of those gorgeous summer days that we often dream about.

Near the picnic tables was a pretty large box turtle; as we went closer to look we realized that it was a "she" and she was laying eggs. We stepped back and Jessica appointed herself as guardian of the turtle, keeping everyone away. We never saw the eggs but she left a pretty snazzy looking nest!




The food, as always at a potluck, was great and the company was the same. I have known Ken's sisters (three of them) since Ken and Joy got married twelve years ago and have visited with them often during family get-togethers, so it was not hard to pick up conversations that we had been on the last time we met.




One of Ken's sisters has a small farm, like us. But unlike us, they have animals that they raise for sale and milk and eggs. We just have chickens and eggs. But I have raised most everything that is on their farm so she generally has questions for me about something or t'other.

After eating, the little ones started playing soccer and the big boys sat and talked business with the men … they are Men, too, you know! The soccer field was the volleyball court with shoes for goals.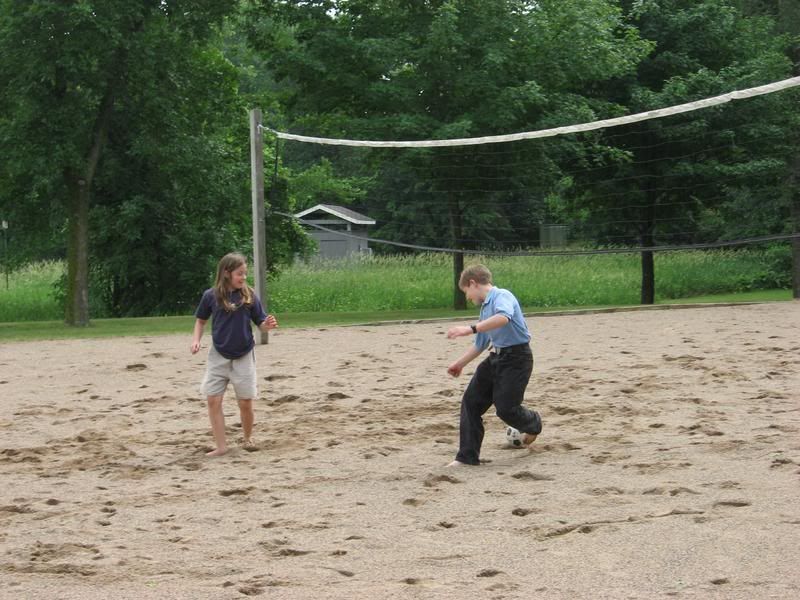 Ashley likes to run around with the cousins that are her age … all boys; Jessica loves her cousin that is the same age – they even look alike, in some ways. They call each other their twin!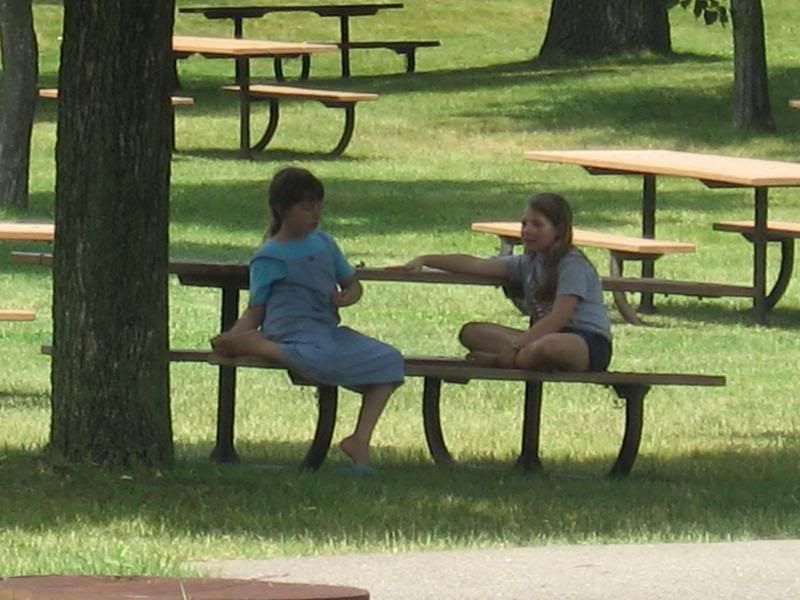 Some of the fathers decided that they needed to hit some golf balls so went that direction. The others decided that bicycle riding would be fun, on a bicycle built for two. Some also went on a canoe ride and some went on a paddle boat ride.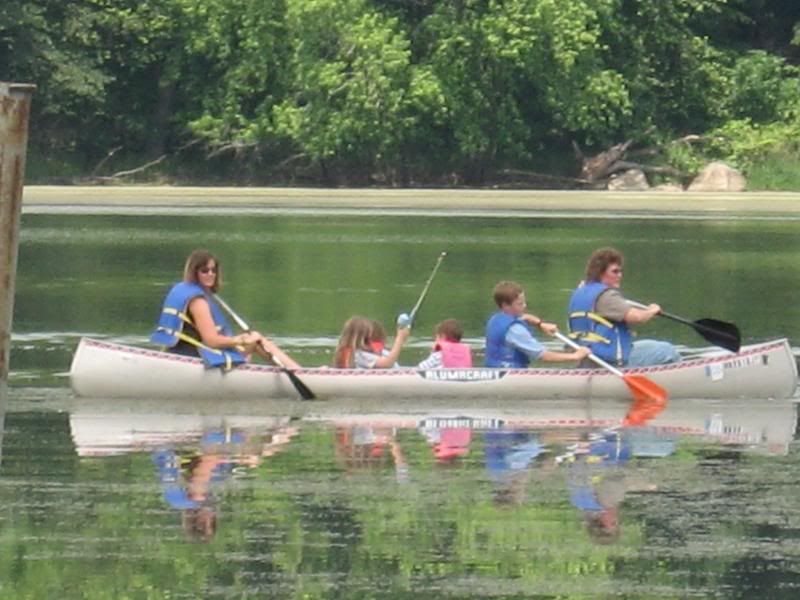 As for me, I was going to sit in the shade and embroider and take pictures. My plans changed when I was bit by two horseflies, one on each hand. I took a Claritin to help the swelling and sat watching symptoms and praying that the flies would not react like bees (although I have had some serious fly bites) so that I wouldn't have to go to the emergency room. Fortunately, thank all the good gods, I just had an afternoon of uncomfortable-ness and taking it easy. Most of the water pictures were taken by Norm. Didn't he do a great job?

Saturday night we had pizza by the bonfire; the daddies got to open Father's Day presents and Ashley got our birthday presents, since we will not be there for her birthday. We got her "Bananagrams," which is sort-of like scrabble. And a copy of Beethoven's Fifth! Jessica, Ashley and I played the game and danced (well, THEY did) to the music. My bedtime story that night was to tell them how the Fifth was used (and why) during WWII by Freedom Fighters.

Sunday was farewell time – the kids headed back to Florida and we headed back to the farm. Norm had a full pickup load of wood that Ken gave him. There were some long pallets and the girls and I tried to convince Norm that it should be my temporary porch until he built a real one.

It was a beautiful weekend. You have a beautiful day!