After arriving home on Friday night, the girls took their bag upstairs and organized their "suite."

This is an old house, basically. The original part was built in 1886; the upstairs bedrooms have been opened into one big room with a divider wall, a sink and stool and a large closet. The closet is what I use to store a lot of my craft stuff and our costumes. The rest is called the girls' suite … which they love. There are three beds – two twins for the girls and a double for Ken and Joy if they come when there is a full house. They have a child's size desk, several dressers, a rocking chair (of course! Someday I will take pictures of all my rockers!) as well as their doll buggy and umbrella stroller that they use for their dolls and teddies. It's amazing to watch them bring those down the steep stairs!

Soon after we got home, Candy and Wayne stopped by with Cricket (Toy Fox Terrier X) and Ren (Australian Cattledog) for us to baby-sit. Wayne's daughter was coming to visit; one of her sons is allergic to short, course-haired dogs. The dogs will remain here until the daughter leaves (tomorrow, I think). They are very well behaved but Ren is more active than I like; she needs a lot of exercise and I am too much of a computer potato to give it to her.

The girls had to go out to see the chickens, gather eggs and play with Scooter. Jessica had to go see "her" tree – the "sour apple" tree (crab apple) that has a perfect branch for little girls to sit on.

The chickens are almost three weeks old, now and are huge, compared to their first days. The girls enjoyed holding them, but the chickens are not as cuddly as a sweet kitten.
Supper on Friday was the traditional ….. Macaroni and Cheese, Grandma style! The girls can NOT survive without it at my house so I make it the first meal (unless it's breakfast, of course) that they are here.

Saturday was demonstration day. There was RiverFest this weekend so we had agreed to demonstrate at the Historical Museum. Ashley and Jessica have been raised in Living History so they are experts in the rules of behavior and talk. They are NOT shy and enjoyed visiting other inhabitants of our little "village." The museum director told me that the girls HAD to come back next year!
The Sons of Norway had an ethnic food tasting at the museum that is always a hit. I took some rice "soup" for my donation. Ashley convinced a member of the group to buy her some of it, which caused Jessica to convince Grandpa to get her some. I have been told I have to make some for Father's Day and take it to the Cities.

After we were done with demonstrating, we came home to pack the girls up and send them, with Norm, back to the Cities. Since they have not been home for so long, they needed to go to church to see all their friends. Norm will stay there until this morning – I was told they were going to have a bonfire last night so the girls would NOT allow him to come home last night.

On Saturday night, as I was considering what to have for supper, I got a phone call from my soon-to-be-neighbor, Don. He and Jody were down from the Cities to work on the "new" place; as Don was mowing, he found twin fawns and brought them to show Jody. They wanted pictures but Jody's camera is broken. So, I went down to their place (three miles away) to take pictures. I could show you gazillions of pictures because the fawns were so close, but I will resist temptation and just show a few. After we played with them, Don took them back to their nests, rubbed wild chamomile on their backs and left them for Mamma to find.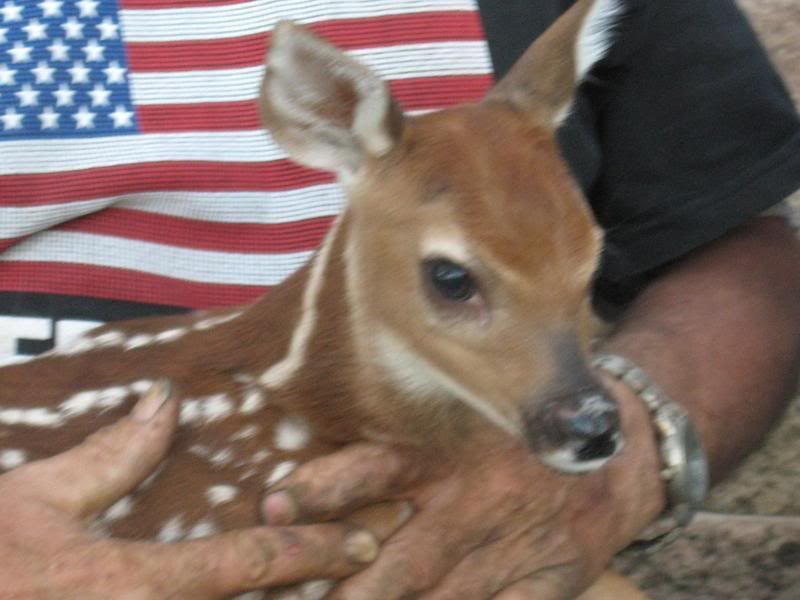 So, it's Monday morning … Yesterday was a quiet day for me, comparatively speaking. Cricket "hears" noises outside and starts barking, which starts Peanut as well, then three out of the four have to run to the door to see what is happening outside – nothing, of course! Goldie is getting so deaf that she either does not hear or ignores the noise and sleeps on.

This morning I am going to take some eggs over to Candy's and meet Wayne's daughter. She has fallen in love with "real" eggs so I promised I'd bring some for her to take back to Texas.

It will be a beautiful day today; you have a beautiful day!