We've had over three inches of rain since last Friday. More rain this first week of June that we had all of May! I am enjoying it but wish we could send some to drier parts of the country, like, maybe, my brother-in-law's ranch, which hasn't had any moisture to speak of for over eight years!

The rain here, though, is making it nice for my flowers and we are having lots of birds.
The other day, a Goldfinch perched on my window screen. We have one of those half-screens that fit under an open window, as our storm/screen window is missing. I had the window closed, so the screen was sitting exposed to the outside. And this little bird came to sit and look inside the house!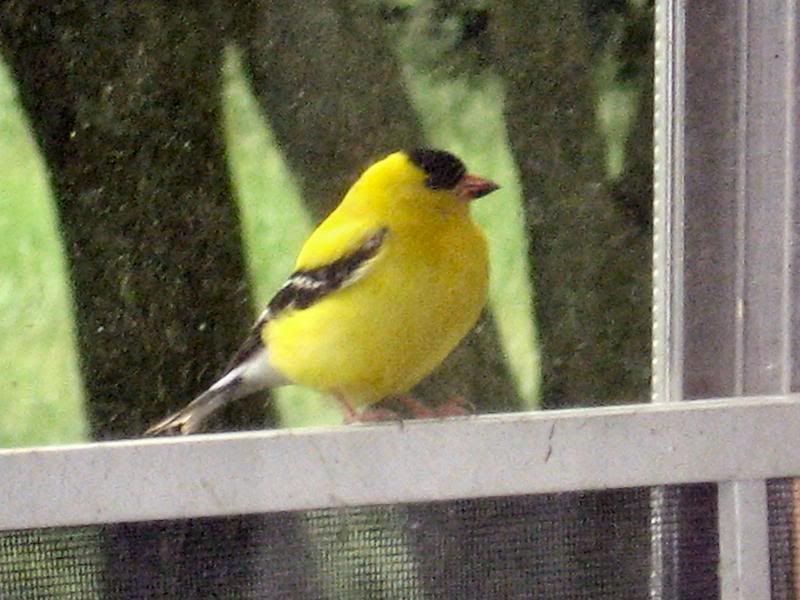 I have at least one Oriole, but can't get a good picture of him at the feeder. Seems like he hears me tiptoeing to the window and hears the camera turn on. Or something – I get close to the window and he's gone.
I saw a red-headed woodpecker today on the security light pole, but had no camera (of course), so you will have to take my word for that!
I have an Oriental Honeysuckle (I think that's the name) .. hummingbirds love it and I had seen one on this honeysuckle last year. But I have only seen one hummingbird this year at all .. it's been way to windy for them, I think!
Then there's my old fashioned roses; I have four different kinds. The pink is the only one blooming right now, and it is wind whipped.
I also have some clematis but they are wind whipped, too!
Today is a bright sunny day with very little wind. It is a day to treasure as there have not been many windless days this spring. You have a beautiful day.