Norm left this morning for our hometown. He is going to spend time with his brother and visit with the rest of his family that lives back there. He is also going to spend time with my folks and help my dad clean out his storage shed.

There is talk, from the folks, of moving to an apartment and selling their house. Just talk, right now, but they ARE slimming down on things in the house.

Today I have been bumming around and not doing much – enjoying my first day of "freedom." I've been checking on the chickens (we lost one this afternoon – sigh) and adding bird feed to the feeders, as the wind is less than it has been.

I put an oriole feeder up – it was brother-in-law Wayne's early Christmas present – he made one for Candy and one for a neighbor as well.
I saw a female oriole at the "old" orange just before I put the new feeder out.

I also saw my first hummingbird. The picture is not very good but it proves I have one!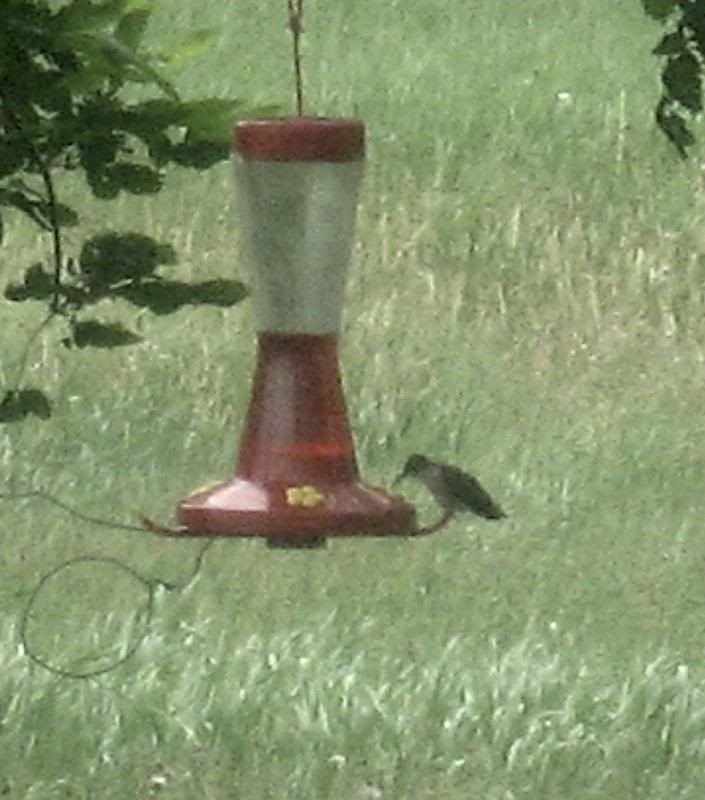 And I have put peanuts out, hoping to draw some Blue Jays in, but I had a surprise visitor this afternoon. We have only seen a few squirrels out by the mail box .. this is the first one I've seen close to the house.
It was a beautiful day – nice and restful – you have a beautiful day!