Aren't you glad? Aren't you thrilled? After today, I can get back to the humdrumness of my normal life and stop the traveling in my mind. Although I will remember and look back for a very, very long time!!

We got up early in Fayetteville, Arkansas, had breakfast at the motel – those continental breakfasts are really handy, even though there isn't much protein, which I really need to keep going. But it's a start and I can grab a handful of jerky to help with the protein needs for awhile.

We had done a mapquest study to see how long it would take us to get home and which path to take to make it home that night.

Heading north, always north, we hit Missouri very quickly and enjoyed another beautiful state. We had a few disappointments, however.

We saw a sign for the George Washington Carver museum; it was closed – not only because we were too early, but it looked like it was to be closed for a while because of construction or something – no explanation at all!

In St. Joseph, we found that the Pony Express Museum was somewhere there, but found that out after we had passed it and felt we shouldn't go back if we wanted to get home that night.

Also in St. Joseph we found that Jesse James had been born in the area, but it was somewhere east and, again, too far away for us to see if we wanted to get home at all!

I would have liked to see Mansfield, as well. This is where Laura Ingalls Wilder and her husband Almanzo lived out their last days. However, I didn't even THINK about it until we were far too north to even consider it! Guess I was getting brain dead by this last day!

We DID stop at an antique mall and enjoyed an hour of browsing – however I bought nothing for ME – just for others, and actually spent under $10 ... a first in a very long time!
We finally got into Iowa, which felt like the home stretch, but the road we chose was slower and more windy and jiggy-joggy than the interstate, so it seemed like Iowa was going on forever. There were also tornado warnings on the radio so we had rain that slowed us down even more.
Back to the square houses like I saw on the east side of Iowa
Finally we arrived at Spirit Lake – this is the "Great Lakes of Iowa" – a touristy place but close to home. We could feel like we would make it, for real!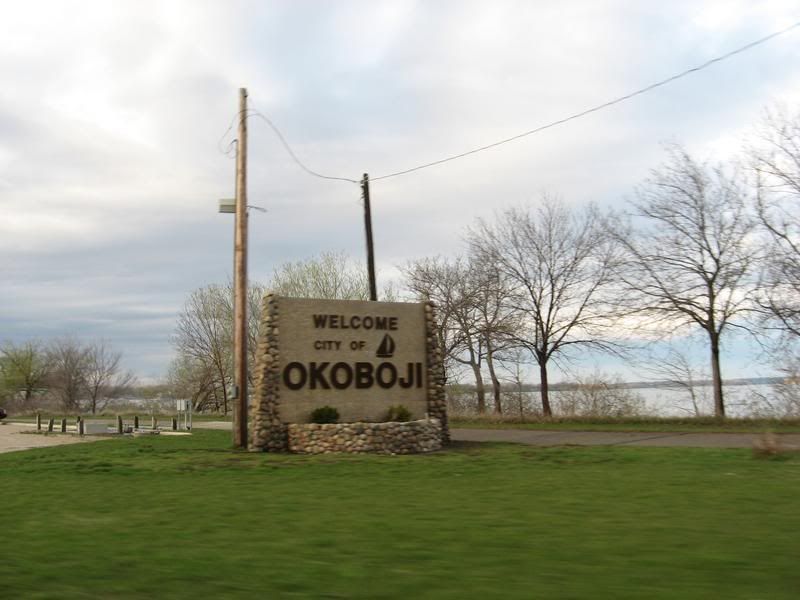 And the home stretch – through Spirit Lake (supper there), up to Jackson, Minnesota and up and up and home by 9:30 that night – only 13 hours on the road! Whew!!!

Home at last! A wonderful trip was over and now it was time to unpack, find everything we couldn't find in the car

Peanut was glad to be home, to be able to run around without a harness on, to recognize that she was HOME!

The chickens recognized me (yeah, right!) and were doing very well. We collected Goldie Monday and SHE recognized us and SHE was glad to see us and very glad to be home.

So, our trip is over. Thank you, again, for your patience!! I won't fill this blog up with it any more. I have hundreds of pictures and now need to gather my thoughts and the pictures. I hope to put them on a CD so I can share them with friends and family.

It was a beautiful trip – the weather was, for the most part, beautiful – just a few rainy days and only one really bad storm. Low humidity and not too hot for traveling. You have a beautiful day!!