Last fall I had a picture of my studio on my blog and my niece fell in love with the sweater that was hanging on a wall. She wanted the sweater but I cannot give it to her, as it is.

This sweater is of handspun wool that I did in Australia – and a dear friend knit the sweater for Norm. When Jill was in high school, she started wearing it; Norm washed it once and it now will fit a five-year-old, maybe! So poor Brook was disappointed.

However, Joy offered to knit a sweater if I spun the wool; I had some of Abigail's wool left (this was one of my Merino sheep at Historic Murphy's Landing) and had been using a lot of it for demonstration with no plan for the outcome. Joy agreed to the ply for the sweater, so we began to discuss colors with Brook and Candy (her mom).

Once all twenty-eight ounces were spun (finally!) the time to dye was at hand. Candy is experimenting with dye-ing in her new business, which IS specialty dye-ing of rovings and yarns and wool material for rug-hooking. She offered the dye and expertise in exchange for loom rental (another story).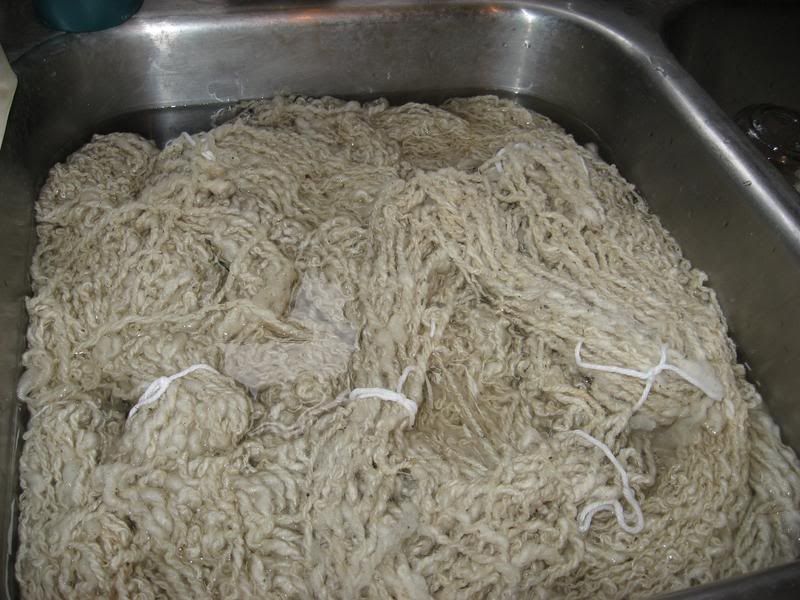 I brought the yarn down to Florida in a grocery bag to be wound up into bags – I also brought my ball winder to help Joy get her yarns wound up. We spent a lot of time, yesterday, looking at patterns for the sweater and finally chose one – we think. Joy may change her mind before she gets to the pattern part.
Winding the yarn (on the screened-in porch)

Joy has now started the neck and is working on it while doing work on the computer. Her "office" is in the living room where she can keep an eye on the girls with their school work, playing and working and having breakfast, etc.


I will keep you apprised of the way that the sweater is growing.

And Brook will have a sweater before she is a year older!

It is a beautiful day – you have a beautiful day!