Second disclaimer ... this is posted in the morning of the 3rd day, as I had to get the 1st day posted last night and ran out of energy.

We woke up to chilly weather but clear skies and it soon warmed up. We traveled down Illinois from our entry point last night Savanna to our exit into Indiana at Vincennes.

Now, I don't want to upset any Illinois-ians, but by GOLLY this is a long, long state!!! It took us 12 hours to get from Polo to Vincennes, Indiana. Other than the length of time, it was a great place to drive through. We watched trees starting to bloom and leaf out and saw daffodils and tulips blooming. It got up to 80° in some towns ... we are NOT used to that!!
Are these redbuds? Anyone? Anyone?

However, Illinois-ians ... where ARE the rest stops? Don't you need to stop and "rest" on your way across (or up or down) the state? I saw only 1 the entire day!

But now, boys and girls, let us discuss farm housing in Illinois. The favorite seems to be a square one – 2 ½ stories high. Some are the same, others have variations of porches, either enclosed or not, or wings to make the house larger. There are other farm houses, of course, but for a long stretch, there was one almost every mile.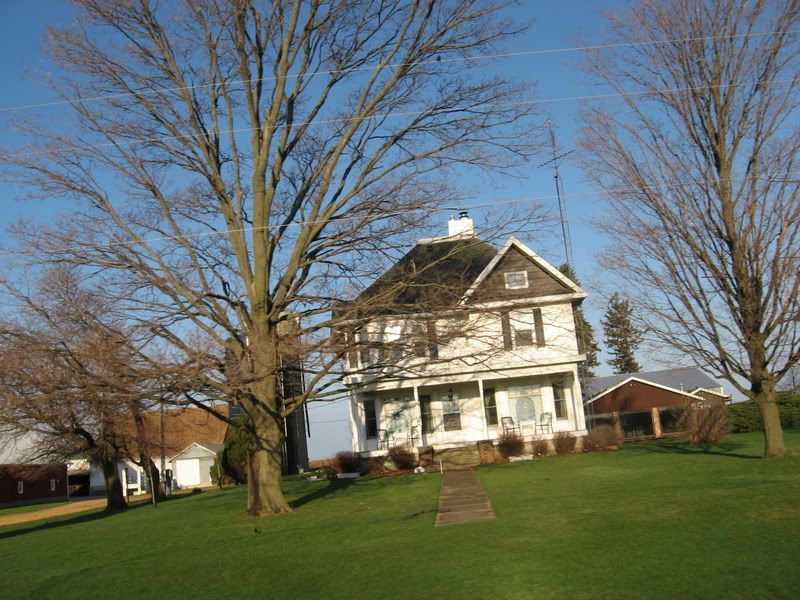 These houses are square, for the most part ...
two or three windows on first and second floor and a third "half" floor above.
And there are OIL WELLS in Illinois!! Who'da thunk? I never knew that, did you? We saw a lot of pumping wells along the way, in many different locations! But I couldn't get a good picture! (Sigh)

One thing I noticed in Illinois that I have not noticed before ... the tourist information on the roadsides. These are highway signs that are in nearly every little town along the way. And, yes, we went through little towns as we chose not to hit the interstates, for the most part, but take side roads and see the SIGHTS. And, yes, that is a cracked windshield ... just have never gotten around to replacing it!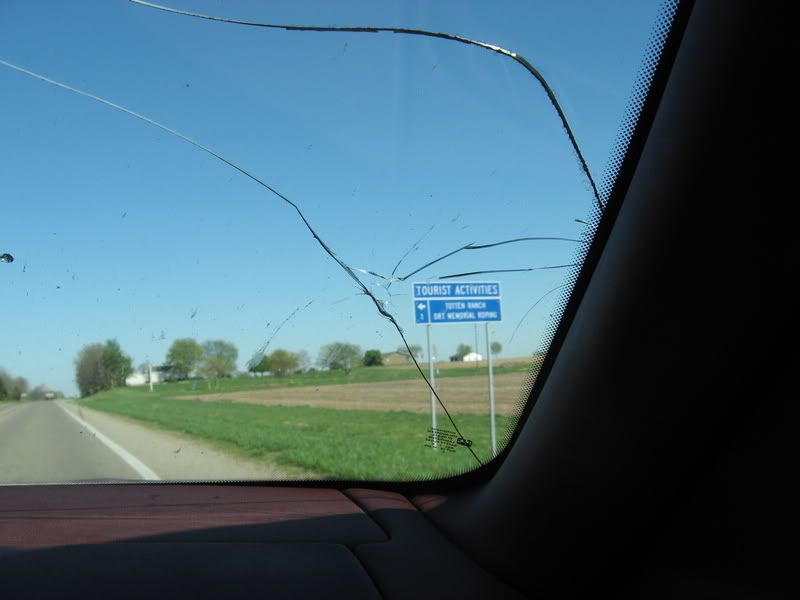 When we FINALLY made it to the Indiana border (wahoooooo! ... sorry, Illinois-ians!), I took over and drove for a few hours. We went through Indiana's hills and hollows – really cool and really beautiful and really hilly and really curvy roads!

Norm took a few pictures of the Indiana views. We went from flat, flat farm land to hills and dales and valleys and trees and swamps! When we were in the hills, I could have sworn there was a man standing by the road with a pet possum (maybe it was in my imagination!) ...

Then into Kentucky (WAHHOOOOOOOOOOOO!) ... it was late, we were hungry and we were tired. We followed some road into some suburb of Louisville and found a Holiday Inn that was more expensive than I had hoped, but took dogs.

Our Miss Cosmopolitan has taken in the trip very well. Here at the motel (hotel), she walks through sliding doors and into elevators with not a flinch! "Take me to Hollywood! I'm ready for the world!" She does approve of the king sized bed as there is plenty of room to root under a pillow and not be crowded by two humans in her desire to stretch out and snooze.

Peanut helps plan the next day's trip

It will be a beautiful day tomorrow .. you have a beautiful day!