Now that I am back on my feet, for the most part, I am going to do the Smokey Mountain trip today.



They are totally, totally awesome!!! Pictures can NOT give the feeling! Movies can NOT do justice to them. You have to drive through them and feel and smell and see the whole experience!! Even with urpy tummies, it is awesome!!!

We could see the beginning of the mountains before we got to Pigeon Forge which was exciting!!! I apologize, again, for the cracked windshield, but it was so easy to take the pictures through it instead of pulling over (where there WAS no pull-over) or stopping and getting rear-ended. This was the week of Spring Break for many schools, so the people, cars and activity was much more than normal, so we were told.



Pigeon Forge was a disappointment – it was all tourist stuff; big billboard signs, ads for Dollywood, helicopter rides, casinos, tee-shirts, on-and-on-and-on! I was hoping "tourist" – as described by my brother – would be Appalachian crafts and things like that. But nooooooooooooooooo!

However, the next town down the road, Gatlinburg, was a bit different. We stopped at the visitor's center and got a map of the town with directions to go to the Craft Village. We went to Apple Annie's .. a place where the craftswoman purchased antiques from homesteads and farms in the area and also took antique quilts that were shabby and no longer usable and made stuffed animals and dolls from the material. We then went to a house on the strip that was owned by several craftspersons and also sold, on commission, other crafts. The weaver and the spinner / dyer were not there, but I drooled over their wares and talked to the painter for a long time, as she was on duty that day.

Norm dragged me away – he had gone to visit a woodcarver and came back. We went through the touristy part of Gatlinburg and it was worse than Pigeon Forge. It was like a long carnival ... lights and music and even a "carnie" shouting his wares outside one of the buildings! The traffic was going about two miles an hour through the whole way, so it took us nearly thirty minutes to get through.

We then headed up into the mountains. We had lunch at the picnic area the painter had suggested and looked for the flowers she said might be around (they were).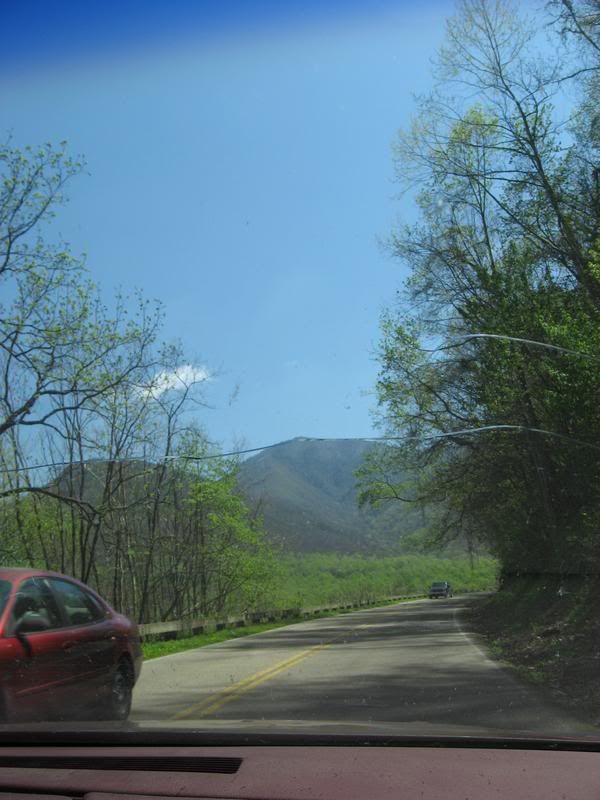 Heading in to the mountains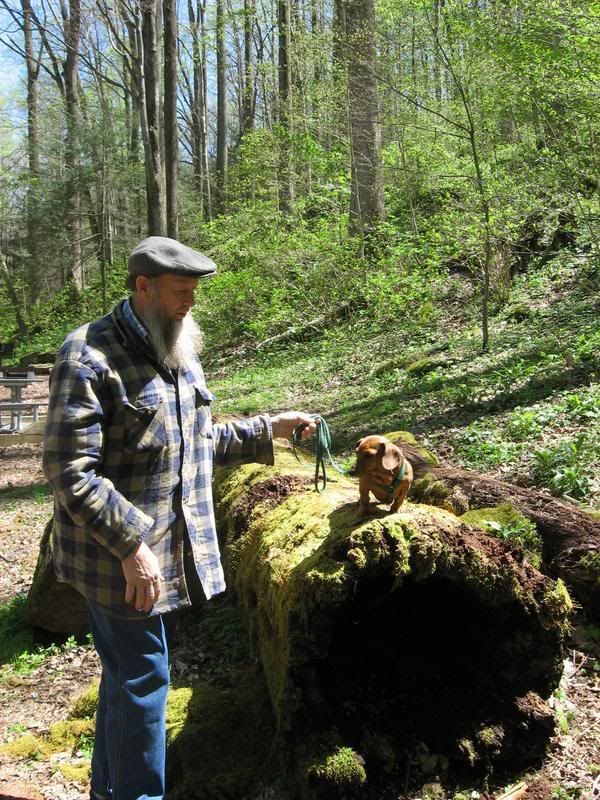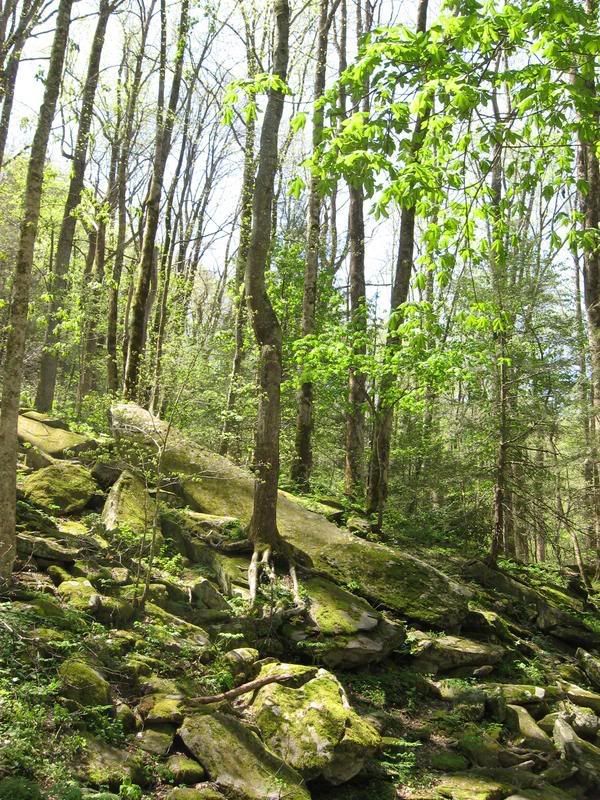 We climbed higher and higher into the mountains and followed the path up to the highest point allowable by car. We would have walked up to the top (one-half mile above the parking lot) but the wind and cold were hard to handle and by then I was getting pretty dizzy and not feeling to well, so didn't dare walk that far.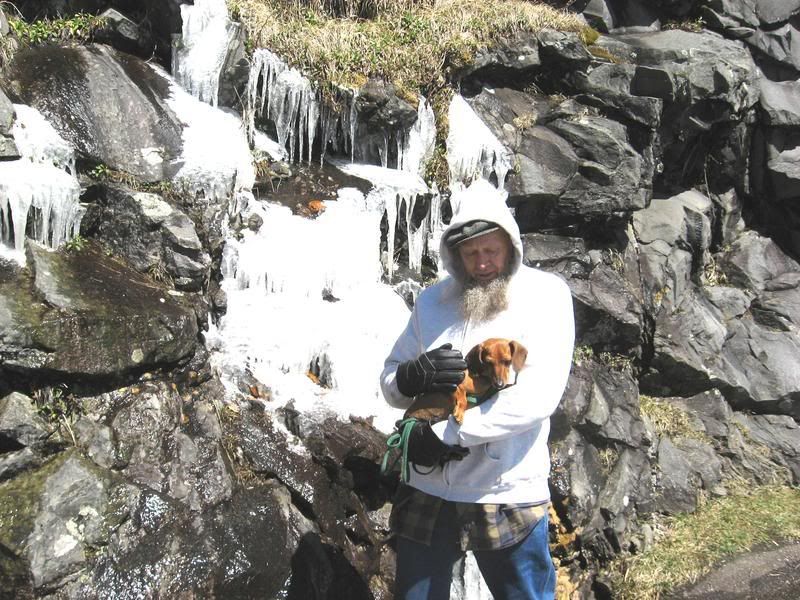 We were on the top of the world!

Then we rolled on down the mountain to the North Carolina side into the Cherokee reservation. The strip along the road was full of touristy things, as well. There were Indians in full regalia, but the fake stuff we "white people" expect them to wear. I even heard Indian drums and chanting and saw a glimpse of dancing on the street. Moccasins, head-dresses, Indian tourist wares all up and down the street. I told Norm that the Cherokees were "getting back at" we whites.

After we got out of the mountains, we could actually get phone service again. We called Joy who has been our tour guide along the way – going onto map quest to help us in corners and areas that were grey in our decision making.

The plan WAS to head to Atlanta and see Stone Mountain. Scratch that!!! If we had done that, it would have added at least six hours onto the trip, not counting the touring around the area and AT Stone Mountain. If we did that, we would have to plan on getting to Joy's on Monday, not Sunday. Joy then plotted a course straight through North and South Carolina to Savannah, Georgia and straight down Interstate 95 to his sister's on Friday night.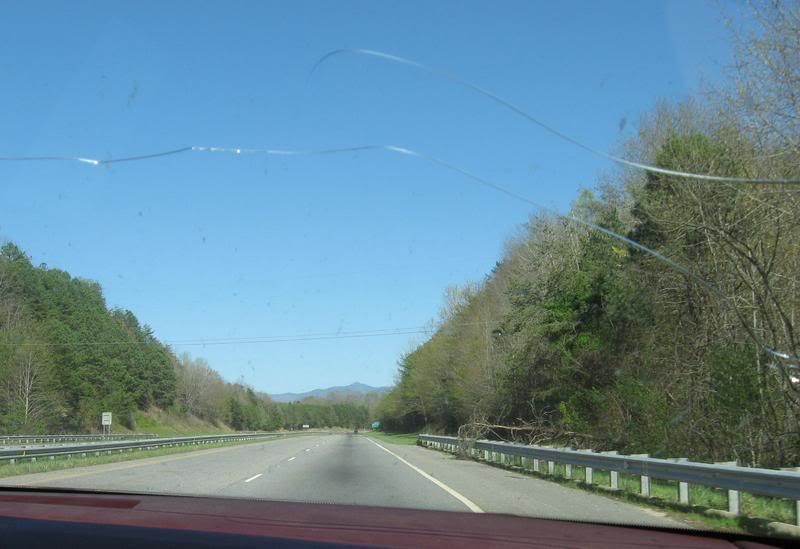 North Carolina

But this was still Thursday .. so we stopped at Spartanburg,NC; I could travel no further! Norm went to get some supper and brought me some chicken noodle soup and crackers.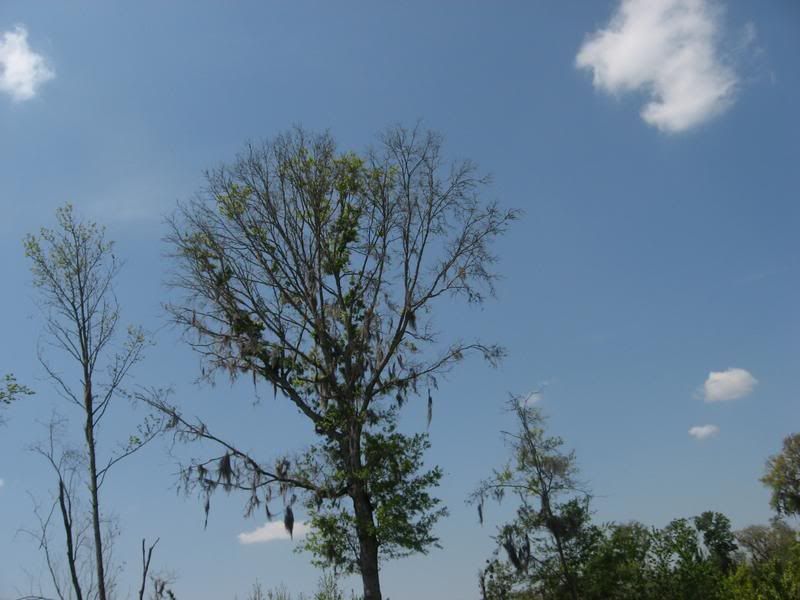 The next morning we got on the way and got to Eunice's by supper time. Norm and she went out to a nice seafood spot and I crawled into bed. But was feeling a bit better by morning.

We headed out about noon to arrive here Saturday afternoon.

Truck load of grapefruit!!

So, now we are here – I am better and Norm got sick last night so it wasn't something I ate, it was a bug of some kind. He is better, already, thank goodness, and we are both on the mend. Thank you all for your good wishes on my health – it made me feel much better.

We will be here for at least a week, so the geography lesson is over, Heb!!! But I will keep posting fun things we do for those who want to know. And we will continue the lessons and geography in a while.

It's a beautiful day and I already have burned my arms in the sun!! You have a beautiful day!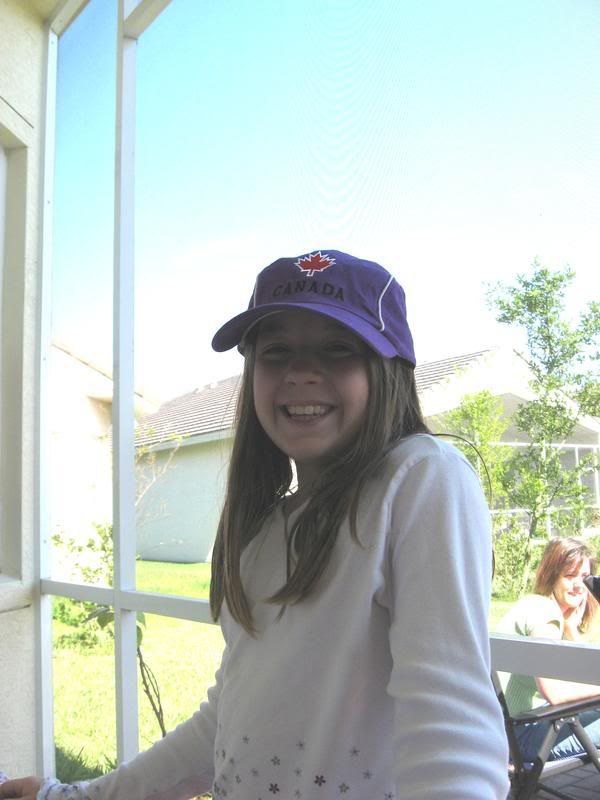 Thanks for the hats, Heb!!