Disclaimer ... I have no internet service tonight – April First, so this will have to be posted another day – hopefully Monday night!



Well, we are on our way! We left home early this morning and headed to McGregor, Iowa. This, and Marquette, Iowa, are just across the Mississippi from Prairie du Chien, Wisconsin. We have friend, Patience and Harley, who belong to the Old West Society of Minnesota. The Society, as well as other groups around the area, meet at McGregor for an Old West weekend – a ball, fun and games and a large Trader's sale.

We got there in time to visit for awhile. When we got to the Exotic Animal Farm where the sale was being held, it was so difficult to find a place to park that Norm chose to park on the grass. Unfortunately, the weather has been very wet all over the area – we have had rain for at least three days – and the grass was very muddy underneath.

After visiting and purchasing something for sister Candy (can you guess what it is, Candy? If you don't want it, I'll keep it myself!! You have about three weeks to decide!), we went out to head down to the River City Junction store. We got in and Norm started back, then forward, then back and forward! Finally he got out and found the man in the large tractor to pull us out!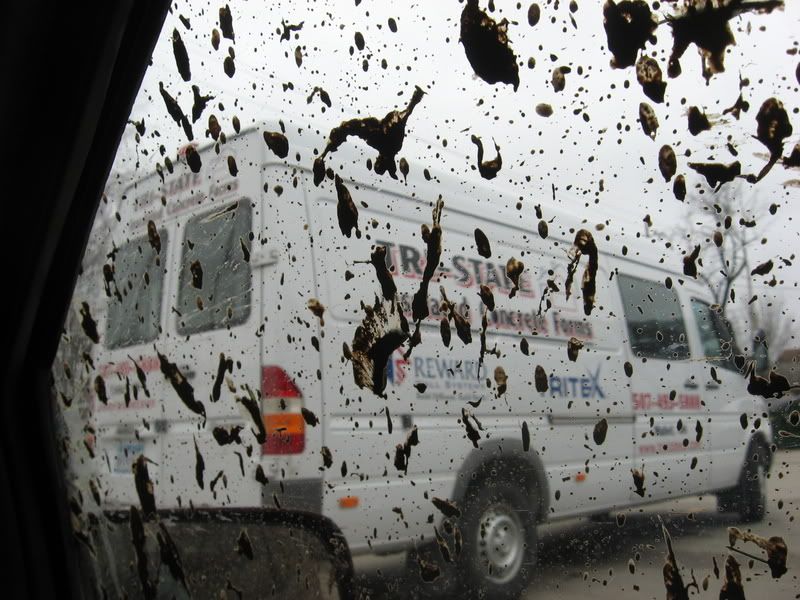 Others see through a glass darkly! I saw through a glass muddily.
River Junction
Trade Company is a mail-order, on-line order store as well as an actual "General" store ... there are two buildings with the warehouse and office between; one is for the women, one is for the men. It was great fun to go into the store and drool! I almost got Katie something but made the choice to NOT (sorry, Katie) because I wanted to save my money for something different along the road.
On the way, we stopped at the "Little Brown Church in the Vale" – this is a church that had a popular song written about – it was one that was very popular when I was growing up. Perhaps you remember it or have heard it ... "Oh, come, come, come to the little brown church in the vale!"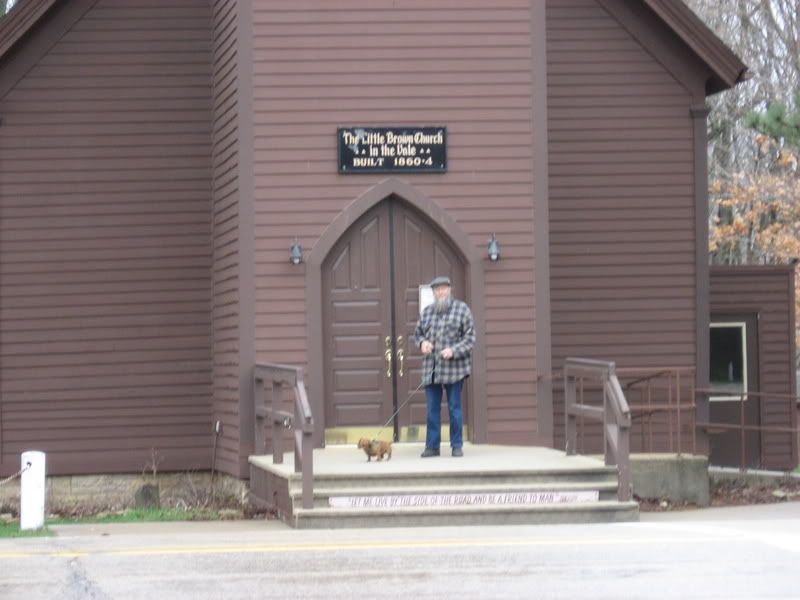 We spent time visiting with Patience and Harley at the store, and suffered the laughter over our muddy, muddy car! Then headed over the river to Prairie du Chien and headed down river to Dubuque. We crossed back over into Iowa and followed the river down further (after supper at Subway), then crossed into Illinois.


Here is a cool river boat on the Mississippi.

Now, lest some of you think we are richer than King Midas for taking this trip, we are going to try to save money in many ways. I have packed lunches for us – some of Auntie Pete's recipe of sandwich buns, lunchmeat and fixin's to feed us at noon. Most places we will stay will hopefully have the Continental breakfasts to save us from buying breakfast. So all we will need to REALLY spend for is suppers, and those will be at the less expensive places, like Arby's, Subways, etc.

Peanut has traveled well. We are using her traveling crate with her new bed in it for her bed. That way when we stop and don't take her, we can crate her so she will be less jumpy and sleep rather than whining, crying and trying to get out the window of the car. It works very well. I gave her some quality lap time this afternoon so she wouldn't feel 'abused' on the trip.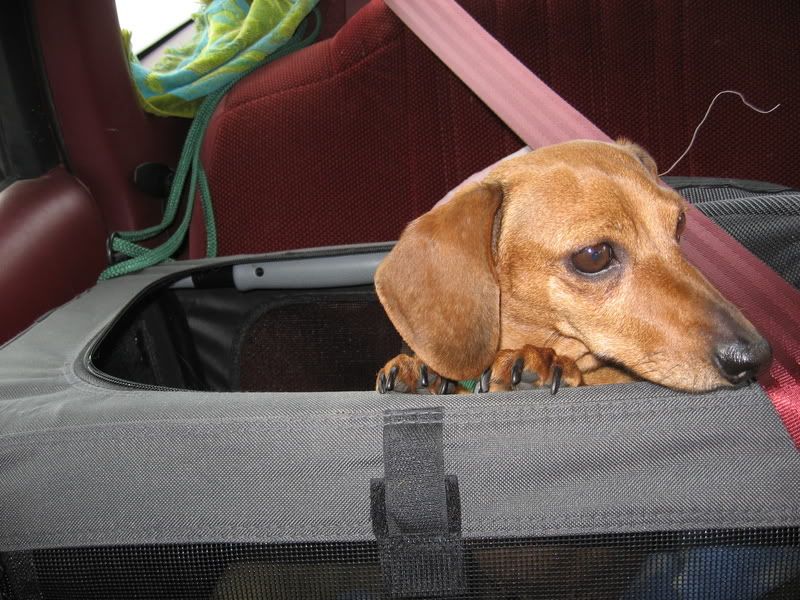 Right now she is in bed with Norm. She normally sleeps in her own bed, but she tried to convince Norm that she needs to be in bed with us, and he agreed (the old softy!).

So, now to sleep – We are in Polo, Illinois and head to Kentucky through Indiana tomorrow. We have traveled through Minnesota, Iowa, and now Illinois. It was rainy and overcast and chilly all day long. We stopped here in Polo, at a small "strip" motel – the old fashioned ones that are one level, each one a separate room and you park right outside your door (Deanna, this one was cleaner and tidier and WARMER than the one we stayed in on our trip!), but it does not have internet service and the wireless is not close enough for me to connect to anyone. I have hopes for tomorrow night!

The rain has stopped and hopefully we will have sun tomorrow. It should be a beautiful day ... you have a beautiful day!